DRIVEN
By Glenn Thompson
To observe a gifted athlete develop is remarkable. To observe a gifted athlete with an even greater amount of resolve is inspiring.

Such it is with Ryan Whiting, the top returning scholastic shot and discus thrower from the 2004 season. Now a senior, Ryan is already in the process of doing some very special things. Ryan won the Pennsylvania indoor State championship with a 68-11¼" effort that was long on adrenaline, and short on technique. That PR was a state record and the fourth best indoor high school throw of all-time.

Many will read of Ryan's exploits this spring and wonder about all that is quantifiable about him. Namely, his physical talents. And they are immense, as you will read later. But to know Ryan is to understand his inner-drive. He has a focus that few possess. Don't ever tell him that he can't do something. That only throws 94 octane on the fire that already quietly rages within.

Ryan spent most of his youth playing soccer, but eventually outgrew the sport. He then turned to football in the fall while taking up throwing at the urging of one of his best friends. It just so happened that I knew that friend (and teammate) of Ryan's and he was forever telling me about this Whiting kid. Little did I know that our paths would one day cross.

"At the same time that I was getting into football, my best friend invited me to come out and be on the throwing team," recalls Ryan. "I had a lot of fun my first year in track. I broke both the shot and discus records for my school. I threw 45'6" in the shot in 8

th grade and 151"1" in the discus out of the wheel."
Whiting's 2005 indoor campaign was topped by a 68-11 effort. (photo from Don Rich)
I clearly remember the first time I met Ryan. He was referred to me by Kurt Dunkel. Ryan had attended his throws camp at Shippensburg (PA) University. Ryan's mother Jill contacted me and told me he would be attending our Long & Strong Throwers Classic later that summer (2002) where we could talk. As soon as he came into sight at the meet, I knew he was the second coming. I had sworn that I would never see a kid as talented in my coaching life as Jeremy Silverman, a 65-4 prep putter (186' DT, currently at UCLA, July, 2001 issue of LSTJ) who had graduated in 2001. But here I was again, twice blessed with this raw kid with the seemingly limitless physical potential.
Ryan had the undefined face of a 15-year old attached to the frame of a man. Make that a big man, at 6'3" and then approximately 270 pounds. Technically Ryan was raw, no doubt about it. To that point, he had minimal throwing experience or coaching and had gotten by purely on his natural strength. He rarely attempted full throws. He was strong and relied on that strength as a crutch to the detriment of his technique.
Ryan returned to football camp for his sophomore year after we had spent several weeks working together. I feared losing valuable good weather and time to the gridiron. However, after a few days of grinding it out on the defensive line, he concluded the gridiron was not for him and that throwing would be his future. This was definitely football's loss, as I've seen Ryan casually perform some amazing athletic feats. Like kicking a soccer ball or football a country mile. Or casually leap-frog a girl approximately 5'7" with no more than an easy run-up. Yup, right over the top of her head. He can now dunk a basketball two-handed from a standing start. As an Eagles fan, I'm thinking of a middle linebacker with Jeremiah Trotter'size and more athleticism.
Ryan's drive would lead to continual progress over the years. Failure was never an option for him.
He worked tirelessly in the weight room and in the circle. He had definitive goals and long and short-term plans on how to achieve them. He met some success his sophomore year, and really began to turn heads as a junior, winning a state discus title and smashing the state record. He also finished third and fourth respectively in the shot and discus at the National Scholastic Outdoor Championships last June.
Although the indoor season has brought notice to his shot prowess, Ryan is a true double threat. He nailed a 196' PR last summer that never leveled off in flight and actually landed on its side.
Ryan's ascension has not always been smooth, however. He's had some bitter disappointments to contend with. Usually quiet, fun-loving and reserved, I've seen him enraged, crushed, and several hues in between. But he's always been able to digest those hard times and grow from them.
"My sophomore year, I was at Indoor States," he recalls of his first serious setback. "I had been spinning for about six months. I threw all of my three throws, and all of them were fouls, I came into the meet seeded second. After I threw my last throw, I was pretty upset. I tore my jersey and kicked my shot bag across the shot area."
As with everything else in his life, Ryan used this experience and others to make him stronger mentally. A case in point was the 2005 National Indoor Championships, where Ryan was a sure bet to win and the 70' barrier was tantalizingly close. He slipped out of the back on his first throw and quickly found himself in a funk. Instead of dominating, he struggled to throw 61'. The heavy favorite found himself in fourth place when he entered the ring for his final throw.
"This time it seemed different," recalls Ryan. "This is the sort of thing you practice for. Before my last throw in the finals, I could just see on the pages of my lifting journal for the past month: DON'T DROP THE LEFT SIDE!!!!! That is all I thought about doing going into my last throw."
Instead of folding under the weight of tremendous expectations, he found mental strength to augment the physical. A 65'1" final heave saved the day and added another chapter to the maturation of Ryan Whiting.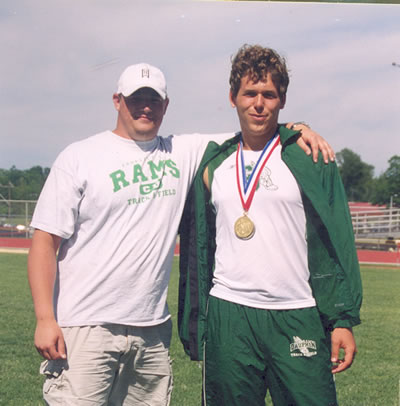 Ryan with Central Dauphin throws coach Mike Sage.
As you'll read in Ryan's piece that follows, he is very confident of his abilities. However he manages to carry that confidence without treading on his opponents' egos. It is very common to see him engaged in conversation with his competitors between flights or during warm-ups.
I've had the blessing of working with Ryan in a joint effort with his high school coach for the last three years, whom I knew when he was Ryan's age. Although I never coached him, it was always apparent that Mike Sage had a focus similar to Ryan's.
When Sage graduated from Central Dauphin High School in 1997 as a Pennsylvania state champion in the shot, he had every reason to believe that his school record 61'7" would go untouched for a decade or two. Little did he know that he would be eclipsed in a few short years by a kid still learning his times tables in one of the district's feeder elementary schools. And certainly he did not know that he would have the opportunity to coach that phenom. But so it came to pass when Sage graduated from Shippensburg (PA) University in December of 2002 and returned to his alma mater to pass along his knowledge.
"I have been around throwing for many years, and I can truly say that I have never seen an individual more dedicated to throwing than Ryan," says Sage. "It seems like if he is not throwing, he is lifting, running, cross-training, watching tape, or doing plyometrics. I think Ryan is such a good thrower because he is a student of the sport."

Sage credits Ryan with being a "good student and team leader. He is always willing to help out with the team when I am not able to be there. Ryan will lead the team in stretching, line drills, and even will help other throwers with their technique. Ryan is not just a throwing team leader but he is also a track team leader. He pushes athletes in other events to excel and reach their full potential. In my eye he is the definition of a student-athlete. I know Ryan will continue to excel in throwing because he has such a strong drive to be the best."

Along with his athletic progress, Ryan has developed as a human being. As a 16-year old he was exceedingly quiet. We would travel to a gym during the winter 40 minutes away to throw, and I would make sure to have copies of Milo and Powerlifting USA in the car to stimulate conversation. The few words he uttered centered around weightlifting and "Can we stop at Burger King?" This kid wore shorts to school his entire sophomore year. Yup, that includes the blustery single digit temperature days.
With the help of his parents, Jill and Kent, he leads a full and well-rounded life that is much more than athletics. Ryan has a great sense of humor, which is often self-deprecating. He even has a few off the wall hobbies that he probably does just for the shock value. Like knitting. You heard me right…knitting. He had friends paying him for scarves this winter. He even knitted a shot carrier for a teammate.
"My parents supported me when I quit football, and pretty much support me 110% in anything I choose to do," says Ryan. " I don't know that they have missed a meet without a very good excuse in a long time. My grandparents, my brothers, and my girlfriend Sandy have also been there as much as they can. It helps to have a lot of support in what you do, and to have someone to be proud of your accomplishments even when you aren't."
Ryan even wears pants to school now, thanks mostly to Sandy. But he can probably leave the slacks at home next fall when he matriculates to Arizona State to study architecture and pursue his throwing dreams under the direction of Sun Devil throws coach Dave Dumble.

If you ever have a chance to meet Ryan, or watch him compete, don't dwell too long on his physical development or the distance of his throws. While they may be spectacular, if there is a reason to be impressed by Ryan Whiting, you must first look a little deeper.
I've been fortunate enough to watch him develop as a person. And that has been every bit as spectacular.
*LSTJ*