YOUTH MOVEMENT
STEEL THRoWERS CLUB
By
Glenn Thompson
A job transfer led Masters thrower and coach James Brown to Nashville, TN from Maryland. Despite the adaptations and adjustments that come with a move, the new environs did not lessen Brown's commitment to the throws; it strengthened it.
Brown has competed in field events for more than 30 years and has served as a throwing coach since 2001 with youth athletes through collegiates. While in Maryland, Brown served as an assistant coach at Bowie State University. While at Marshall University, he was All-Southern Conference in both the hammer and the 35lb weight, and has gone on to accumulate several national titles in Masters competition.
In 2007, Coach Brown and a group of volunteers incorporated the Steel Throwers Club, Inc., a non-profit organization (b) dedicated to training young people to compete at the highest levels in field events. 
"We started the club after accepting the fact that our athletes were not getting the attention they deserved by being members of a track club," recalls Brown. "The throwers were doing well, but the program was driven by runners. The kids were getting discouraged and the parents were frustrated. So I talked with a couple of the parents and we got the ball rolling. It has been very good for us as a group."
The club decided to focus on athletes who have a commitment to excelling; in life.
Brown says, "because we have a very short summer season, our training time is valuable."
To that end, the organization is a select club, only accepting athletes who have demonstrated the desire to compete at a regional or national level, are good students (3.0 GPA minimum), have positive attitudes and thrive on competing.
Club members participate in all the throwing events, minus the javelin. "We have limited space, time and resources. We decided to pass on the javelin until we have a qualified coach who is able to properly teach the event."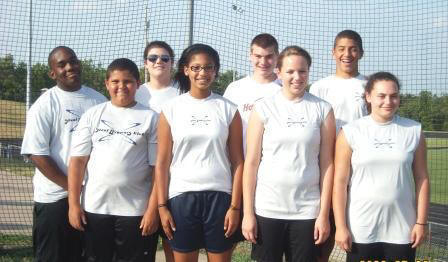 The 2008 Steel Throwers
Club members range in age from 11 years to 17. Amongst those members are Brown's two sons, Cameron and Caleb.
Practice time is structured as once a week during January and February focusing on core and movement, then conditioning and movement once a week through May. Once the scholastic calendar ends, club members practice three to four times a week in preparation for a slate of summer meets that culminate at USATF Youth Nationals. All of the 8 club members who participated in the meet posted top 10 finishes at Youth Nationals, including a discus silver from Brown's son Cameron (Youth division), and a hammer gold by Liz Thompson (Intermediate division).
Brown is working on sponsors despite the tough economic times. For its inception year, the club charged a reasonable $300.00 per athlete for the season, which included shoes, warm-ups, practice shirt, competition uniform, all entry fees and USATF membership. The club has chosen not to pursue traditional fundraising because of limited time and resources.
During the off-season the club members participate in community public service projects. "Although we are focused on competing in the ring, we recognize that we have been blessed with talent. And have a responsibility to help others who are in circumstances different than ours."
Brown offers several pieces of advice to others who would like to establish their own youth throws clubs:  
· Get organized with a board of directors before you start.
· Be flexible.
· Get educated in the throws as well as track and field in general. Require all of your coaches to at least be USATF Level I certified or have significant collegiate experience.
· Encourage your parents to be certified officials.
· Be selective, very selective; you don't need distractions. Be cautious of allowing football players who 'just want to get in shape' on your team. Learning to throw takes time, it is unfair for an athlete who is dedicated to throwing to have to share time with someone who is just passing time.
· Have a long range plan, e.g., a vision, for your club.
· Be more than a throwing club; participate in the community.
Although he initiated the movement, Steel Throwers is not a Jim Brown solo act. "We have four assistant coaches: Anvil Nelson, Leonard Jordan, Jen Morgan, and newcomer Mark Stephens. Anvil threw in high school, Leonard has been coaching youth athletes for years, Jen is an aspiring multi-event athlete, and Mark brings an extensive resume from his college experience."
"Anvil and Leonard initially got involved because their kids are team members," says Brown . "They are members of our board of directors and are both successful business owners. Among the many assets they bring to the club is that they share the vision of success for young men and women both in and out of the circle. Jen is a full-time fitness trainer and has been a huge help in developing our year-round fitness and athleticism plan. She also serves as a role model for our young ladies that being a successful thrower is not an image (social) negative."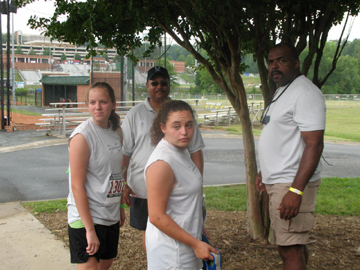 Coaches Brown (right) and Nelson
Brown acknowledges parental support is critical. "Because we are a small club, we would not be able to survive without the support from our parents. As a club we ask our parents to participate, as either officials at meets, photographers or keeping the stats. I am very proud of the support and willingness to step up that our parents have displayed."
The Steel Throwers currently are using the facilities of the Franklin Road Academy in Nashville, a private school, "that has been very gracious to allow us to practice at their facility for the past two years. Coach David Tucker and the FRA administration have been huge supporters in the growth of our club."
During the winter months the Cool Springs YMCA allows the group to use their facilities to do basic drill work.
"The club was organized to promote the throws at all levels," says Brown. "We have a succession plan that provides for long term growth and continued success. We are not dependent on a single individual's participation. We organized in this manner because the reality is that as parents, our athletes will get older and go on to other pursuits. Our goal is to have a system in place which will enable the club to continue and succeed regardless of the individual personalities involved."
Brown readily admits that "as a throws coach, you have to be willing accept that success is not only measured in distance, but in teaching solid, fundamental technique."
"I would like to see the majority of our athletes eventually compete successfully at the college level," continues Brown. "If we can accomplish this, we will have long-term success. I want our athletes to be technically sound, able to accept coaching, maintain a desire to improve, and most importantly, be outstanding young men and women."
To learn more about the Steel Throwers Club, visit their website at http://www.steelthrowers.com. *L&S*