VOLUME 6, ISSUE
4
APRIL
, 2004
TABLE OF CONTENTS
PRELUDE TO HUNGARY
Cantwell and Hoffa in a dress rehearsal...
NEW BLOOD IN BUDAPEST
...for the big show in Hungary
NCAA'S
Dominant in their fields
THE INCOMPARABLE DALLAS LONG
A blazing shot star from a golden era
CHANGES
Catching Up With Andy Bloom
BATHROOM HUMOR
Tales from the john
THROWS MAN(UAL)
Author of the classic tutorial
THE JOURNEY FOR OLYMPIC GOLD
Memoir excerpt from Harold Connolly
OUT OF THE CLOSET
The renaissance of the American youth hammer
FAMILY TRADITION
This time its Leif breaking records in Utah
ANDERS AXLID
Chatting with the Swedish throws coach
THE RIGHT LEG IN DISCUS THROWING
Maximizing leg sweep for better technique
CASTING A LARGE SHADOW
The Twilight Throwers have a model worth following
A BLUEPRINT FOR THROWING SUCCESS
Key considerations for your training plan
CASTING A LARGE SHADOW
By Glenn Thompson
In the realm of throwers, Jim Chamberas' physical stature does not command attention. He's no 6'4", 300-pound behemoth breaking American and World records. But to sit and chat with him at a track setting, such as I did at the 2004 USATF Masters Indoor Championships, you get a true sense of the large shadow this man casts. No more than two minutes pass between athletes pausing to say hello or ask a question.
So just who is Jim Chamberas? He's the founder of the Twilight Throwers, a non-sanctioned group of weightmen in New England, and just as importantly, the meet director for the Twilight Throwers series, which are an important developmental and competitive outlet for many athletes in the region.

Dawn Of The Twilight
Chamberas was a successful high school thrower in Poughkeepsie, New York, focusing on the shot and discus. After matriculating to Springfield College (MA), he switched his concentration from the shot to the javelin while continuing to throw the discus.
After graduating from Springfield, Chamberas went into education, serving in many different administrative capacities. He eventually left education to own and manage real estate, which he continues to do.
When Chamberas turned 50, he became aware of the Massachusetts State Senior Games. "That opened my eyes to how many people were actually out there that were still involved with track and field," he recalls. "It was that first Senior Games meet at Springfield College, my alma mater, that got me hooked."
He was so excited about his "new awakening" that he began to search for events to attend. Then came the "rude awakening" that there wasn't much around. Events, at the time, were mostly annual, and nothing local on a regular basis. This reality, plus the feedback he was getting from many of the athletes themselves who were also searching, somehow "got me to thinking," he says.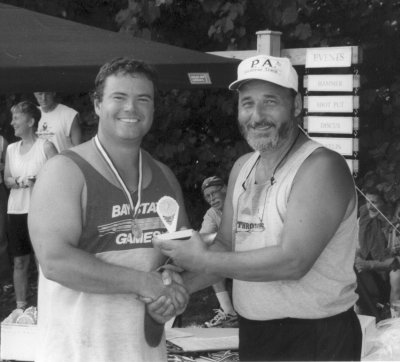 Bill Cotter (left) accepts an award from Jim Chamberas.
Chamberas founded the Twilight Throwers in 1998. "To coin a few phrases, maybe we've got to take the bull by the horns, and maybe if we build it they will come, and I guess that 'maybe', to some degree at least, has become a reality for seven years now."
Chamberas started out with six throwers, and now has 122 on his mailing list. Until last year the meets were contested once a week, on Wednesdays. Three events (shot, javelin, discus, weight, hammer) were contested each week on a rotating basis from late May into August.
In 2003, Chamberas made the move to a twice a week schedule, shortening the season to end in early July. The series ends in early July with a weight pentathlon, including awards. Chamberas, himself an annual Masters All-American in the weight pentathlon, passes out the awards.
"I think its worked pretty well thus far," says Chamberas of the USATF sanctioned series. "When we threw once a week, it was possible that your event might be rotated out and you would not throw for again for a couple weeks. The twice-a-week schedule keeps everyone throwing without prolonged gaps."
The Where and How
A typical 'Twilight' week begins Tuesday night, around 4:45 PM, when Chamberas, who coached at Chelmsford High for 10 years and now coaches at Phillips Andover and Westford academies, arrives at Chelmsford to begin setting up. The events kick off at 5:30 PM, and pending the amount of sunlight, funnel 12 to 18 athletes through their favored disciplines by around 8:30 PM. Chamberas leaves shortly thereafter, returning the next day to tend to the little things like cropping the grass around the circles. Then Tuesday becomes Thursday as another set of competitors roll in for the next rotation of events. The flexibility of his current occupation allows him the time to stay on top of this hectic mid-week schedule.
"One of the most interesting aspects of the program is the unique composition of the group which, in itself, makes for some very exciting dynamics," says Chamberas of the participants, who are anywhere from novice to national class athletes. "We have participants from eleven years old all the way to 82. I don't know of many programs that 'blend' in this way."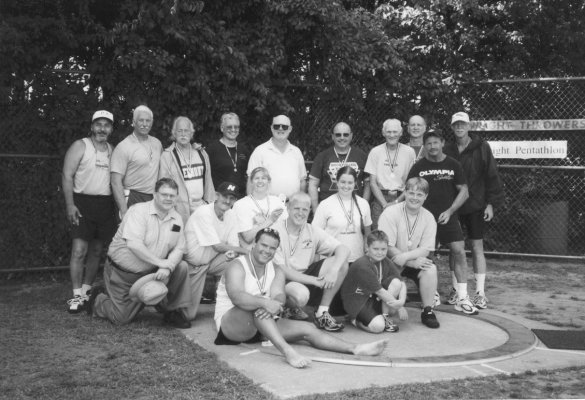 The 2003 Twilight Throwers weight pentathlon participants took a few moments to pause for a group photo.
"What's interesting about it, and personally rewarding, is to see the patience and the interplay among the throwers," he continues. "Even though the meets themselves generate competition within each age group, there is a sense of perspective during the meet which allows for differences and a genuine exchange of advice on technique and training."
The impact of the series is not just in terms of PR's and medals. "I've had feedback from parents on how much they appreciate the atmosphere that exists within the group," says Chamberas. "Their son or daughter never feels threatened or self-conscious while participating, unlike other competitive team situations that have been demanding, critical and full of pressure. They tell me that the fact that they are in a very supportive environment is very meaningful and worthwhile for their self esteem."

Chelmsford High offers a unique environment for the throwers, with many an impromptu spectator drawn to the goings-on. "Often we are throwing from areas that are adjacent to the outdoor basketball, tennis, and in-line hockey courts, says Chamberas. "It's really cool to see the spectators of these activities turn their attention to the hammer, shot, discus, javelin and weight. Youth in particular are seeing these implements and these 'type' of people probably for the first time in their life. In some cases, they will wander over or drag mom or dad to have a closer look. Then of course, they proceed to ask, 'What's this?', 'How heavy is that?' or 'Can I lift it?'."

Competing together on a regular basis makes for a tightly knit community. A Twilight regular is now serving in Iraq. The young man remains on the group's mailing list as a way of saying they are, "expecting him back soon, safe and sound."

Chamberas derives great satisfaction from the camaraderie that prevails within the group. "It is obvious to me," he says, "that this is becoming more than a throwing group. When I see fathers and mothers, sons and daughters, college classmates and teammates, coaches and athletes, uncles and aunts, and grandfathers and grandmothers, literally coming together in the ring or on the runway under a common bond...to experience and enjoy themselves through the art of throwing - then it is indeed worth the effort and preparation to see this happen."
Why Not You?
I asked Jim about the barriers others might face in following his footsteps and starting their own throws club or series.
"First I would say, 'Why not?', he answers. "I have found some obstacles can be overcome, some cannot. Don't sell the potential of an idea short until you've exhausted all the possibilities and have looked at as many creative options as possible."
"If then it doesn't seem feasible, look for something out there to attend and be part of," he continues. "Don't give up the search to throw. If you do, you will hibernate even further and you will regret it. Get involved in Masters events, state senior games, local or regional programs like our own, or even create an informal throws group if you can arrange a time and place. If we already know that throwers come in all sizes, in all skill levels, and at all ages, then we should have as our credo: to throw as far as we can, wherever we can, for as long as we can. Hopefully it's grass roots programs around the country that can somehow put something out there
for throwers to get attached to again or for the first time, that will somehow make a difference."
Through my competitive and journalistic experiences, I've come to admire many a man or woman for reasons such as their extraordinary talent or competitive spirit. But no man stands taller in the throwing game than Chamberas, who from nothing, built something that he could share with others. Through Chamberas' efforts, the Twilight Throwers are the dawn of something new. *LSTJ*