VOLUME 9
ISSUE 4
APRIL , 2007


TABLE OF CONTENTS

LETTER FROM THE EDITOR
Keepin' It Real

USATF CHAMPS
Kruger, Camarena Repeat

NCAA CHAMPS
Big weights in Fayetteville & Boston

DEVELOPING THE FEELING


Koji Murofushi is one of throwing's most beloved figures

TEAM SMITH
STEPPING OUT OF THE SHADOWS
World records are becoming routine in Carbondale

MAKE ROOM


Dan Taylor has made the U.S. elite forces into a quintet.

ANDREAS THORKILDSEN
A little Q&A with the Olympic champ

SIMPLISTIC APPROACH TO WEIGHT TRAINING
Plan for effective workouts

LIFE IN A FISHBOWL
Brian Robison is under a different spotlight now

BREAUX BEING BREAUX
On his health, desert life, and more

DEVELOPING SPEED AND VERTICAL JUMP
Explosive concepts for throwers

THE KERRIFIC KRAYCHIRS
Freemans, Midles', and now meet this SoCal brood

ANALYZING THE NEEDS OF DISCUS THROWERS
The 'First Principles' Approach

THE ABC'S OF THROWING: JUMPS
Plyos for power
BRIAN ROBISON
LIFE IN A FISHBOWL
By Glenn Thompson
University of Texas senior Brian Robison, known as "B-Rob" to his friends, knows a little about pressure. He's played in a Bowl Championship Series (BCS) championship game with a national title on the line late in the contest with the entire nation watching. As a senior shot putter he shouldered that load alone each time he entered the circle, eventually nabbing a silver medal at D1's behind Florida State's Garrett Johnson.
And now Robison is facing a different type of pressure as he prepares for the NFL draft. He has foregone his senior track campaign in favor of pursuing his gridiron dream, and the prying eyes of the NFL are upon him. This is a new kind of pressure for the Texas native, but as he's shown before on the athletic field, he's more than up for the challenge.
LSTJ: Tell us about your high school athletic career.

BR: I went to Splendora High school in Splendora, TX. My first two years in High School I did five sports (football, basketball, baseball, powerlifting and track). I made varsity in all five as a freshman. I was best in football and track in my first two years, but I was a very good pitcher in baseball. I earned All-District honors in football, basketball, and baseball as a sophomore. I also earned All-County and All-Area honors in football. I won district in both shot put and discus as a sophomore in a meet in which I also did triple jump and long jump. I ended up winning Regionals and strained my pectoral muscle at State and still finished second. After my second year. I narrowed the sports down to football, basketball and track. My junior year in football I earned All-District, All-Area, All-County and All-State honors. In basketball I earned all district honors, and in track I won District and Regionals in both shot put and discus and at State I won the discus and got fourth in the shot. My senior year in football I ended up earning All-District honors as well as all state. I was the Defensive Player of the Year in my area and earned All-American awards as well. In track I was a two-time All-American and my senior year I had the full sweep of winning District, Regionals and State in both shot and disc. I had the number one throw in the country in the discus and threw the state's farthest throw ever. My high school years were built around a lot of hard work but it all paid off.

LSTJ: How were you introduced to track and field?

BR: I actually decided to do shot and disc my 8th grade year. A guy named Danny Roberts happened to be at the meet and taught me how to throw. He worked with me throughout high school so I owe everything to him.

LSTJ: What was the recruiting process like for you? Why did you pick UT?

BR: It was very short because I committed very early, and I chose UT because it just seemed like the best fit for me.

LSTJ: Can you tell us about life in a 'football factory?' How demanding is the commitment to play football at the highest levels of Division I football?

BR: Most people know that football in Texas is a way of life so for me it was a dream to play the game at the level in which I did. In order to be great at the level of D1 football, you have to be committed and have a great work ethic.

LSTJ: Most serious football players, including those who intend to participate in track, eventually give in to pressure to participate in Spring ball. What was your experience like at UT?

BR: I competed in both so really for me it was like there really were two separate track seasons because I had to practice football so sometimes I had to pull double duty and practice football and then go across the street and compete in a track meet, but I was never really all track until after spring ball was over. That's when I began to make big strides in becoming a great thrower.

LSTJ: What do you relish the most about beating USC and winning the National Championship?

BR: I think the play on 4th and 2 knowing that I was the first guy to hit the running back to make the stop and get the ball back to our offense to win the game and see the clock click down to zero.

LSTJ: I confess to being a Tennessee Titans fan. What was it like playing with Vince Young?

BR: It was great. He keeps everyone relaxed and is so confident that it spreads to all the members of the team. He is just a great guy to be around.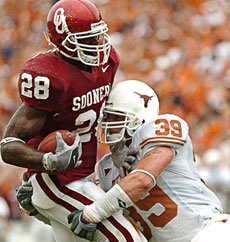 Robison was a three-year starter who began his college career at middle linebacker.

LSTJ: Contrast your feelings for football versus track. Imagine that a career in track presented an equal financial reward. What would be your pick then, and why?

BR: Regardless of pay, football has always been a dream of mine and I will do anything to make it come true. I would love to do both, but I have been playing football for so long that it has become part of my life and I hope to continue that. Sometimes you just have to go after what you want.

LSTJ: Compare the emotional rush of playing in front of up to 100,000 fans in pads and helmet versus having the spotlight yourself when you step into the circle, albeit in front of a much more intimate audience.

BR: Personally I think that after having the spotlight on you in the ring, it makes the nerves in football games and other sports so much less. The best way I can explain is what happened my junior year at Conference: You have been leading the meet all day long and the two throwers in front of you have just passed you; now you are in third place; everybody is watching you as you step in the ring; you know that you have to throw 2 feet farther than you have ever thrown in order to win. You step in and you see hundreds of fans looking at you. Your heart is pounding and adrenaline is pumping, you calm yourself down and do the technique you know and you win the meet. If you can go through that then, all other sports moments are a piece of cake.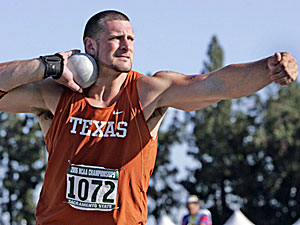 Robison showed great promise in the ring in '06, looking like another future American 70-footer.
LSTJ: What is your major and how far away from graduation are you?

BR: My major is kinesiology and I have 9 hours left which I will go back and get done.
LSTJ: You left school for the spring semester to prepare for the NFL combine and draft. Where are you training? How does that training differ from what you've undergone for football and track?

BR: I am currently training in Houston, TX, at a place called PLEX with a guy named Danny Arnold. The training is more like the training for track as far as the explosive movements, but it also does a lot of football stuff like footwork and hips things that are very important in football. Danny and his staff have done a tremendous job with me for my football this spring.

LSTJ: Can you walk us through the Combine experience? Were you pleased with your performance in Indianapolis? I saw your numbers and they are very impressive.

BR: I got into Indianapolis for the Combine on Friday. The first thing we had to do was get checked in and everything, put our bags down and put on our numbered sweatshirts and shorts. I came back downstairs and got in the Cybex machine, which tests the ratio between your quad and hamstring. As soon as we got done with that, we went to the hospital, and I was there for about 4.5 hours, taking X-rays and all sorts of stuff.

On the second day, Saturday, I woke up at 4:45 a.m., and we went downstairs to take a drug test at 5 a.m. After that, I had breakfast and everything, with maybe a little downtime afterward (30 minutes or so). Then we had to do interviews immediately with teams and do our weigh-ins. I weighed in at 259 pounds and was measured at 6-foot-3. Then as soon as we did that, we went straight over to the machine that measures body fat, which I never got the results of. They took us to the RCA Dome, where we got poked and prodded for all our physicals. It was about 12 different doctors all looking for any little thing wrong. They even had people take CT scans, which I did because they thought something was wrong with my lower back, but nothing came of it. I think they just wanted to send me over; everything was fine after I did that. Then I talked to some teams and of course later that night, we had our interviews.

All in all, I met with four teams for formal interviews: Philadelphia, New England, Dallas and San Francisco. For informal interviews, I met with the other 28 teams. They went great—they asked a lot of questions, to draw up defenses and stuff like that and they tried to get in your head and mentally wear you down. I didn't really get back into bed until about 11 p.m., and then I had to wake up at about 5 a.m. Sunday.

On Sunday morning, all we did was more interviews with teams. Then, I did the bench press at about 2 p.m. In the bench press, I did really badly for what I usually do in the bench. I expected to get at least 30 reps, but truthfully I didn't work a whole lot on the bench because I've always been strong. In the vertical jump, I expected to go higher; I was a little unlucky on the second try. I expected to go higher than that, but I expected some of the other guys to go a little higher, too. As soon as we were done with the vertical, we ran over to do the broad jump. I was trying to make sure that I did the things I wanted to do and make sure I was happy with what I did.

For the 40-yard dash, I was glad to get the vertical and broad jumps over with first because it kind of calmed my nerves a little bit. Having that track background kind of helped, too. I really wanted to hit a 4.5 or at least a low 4.6, but I gave it my best shot and that's all I can ask for.

Once I got through with all my workouts, I went back to the hotel and got to bed late that night, right around 10:45 p.m. or so. I had to get up at 6 a.m. the next morning, so I went to do workouts and that was really about it. My flight out of Indy was at 3 p.m. on Monday.

LSTJ: The NFL Draft is a major annual event on the national sports agenda with months on end of speculation. There are lots of eyes out there, and seemingly even more opinions. Do you read what so-called draft experts write about you? Do you need to have a bit of a thick skin to deal with it all?

BR: You have to have very thick skin. I think people are finally starting to realize I am the athlete that I always knew I was. The big thing is people don't realize I played literally my whole senior season banged up. I didn't really play one game fully healthy. I started off with pneumonia, and then I had a bone bruise until about three or four weeks into the season. As soon as I started to feel healthy again, I sprained my ankle. I didn't play one healthy game this whole season, which hurt me a lot because I wasn't able to truly show the type of football player I am, but I try to stay out of the media and the only way I listen to it is for motivation.

LSTJ: I've read that you may be considered a bit small to play DE on Sundays and that you're willing to move to linebacker if necessary. What are your preferences regarding position?

BR: I think that I really can play either because I have the strength, speed and explosiveness to play both positions. If you look around the league, there are much smaller DE's than myself.

LSTJ: What round are you hearing you will be drafted in? Any favorite destinations?

BR: I hear many different theories, but none of it matters until they call my name. I have always been a Dallas fan, but I think my favorite destination will be the team that drafts me. (laughs)

LSTJ: Do you see yourself returning to throwing someday? Are you leaving behind any unfinished business in track and field?

BR: I do see myself throwing again, but when I do not know. Hopefully a team will allow me to do it, but if not, I will come back when my business is finished in football. As of right now, I think I am leaving behind some unfinished business. *LSTJ*
** Read more about Brian Robison in the print issue of LSTJ.