KIBWE JOHNSON
MAKING HIS OWN WAY
By GLENN THOMPSON
Kibwe Johnson has taken a long, sometimes meandering path to completing his undergraduate degree, and in conjunction, hammer stardom. His path as a student athlete has taken him from Georgia to California and finally Jud Loganís program at Ashland University in Ohio.
Johnson has always stood apart from the competition. His pure athleticism and blinding speed make him a unique. Harnessing and molding those gifts into world-class performances have been the charge of his coach at Ashland University (OH), four-time Olympian Jud Logan.
Johnson has settled in well in Ashland, personally, academically and athletically. And he has become a fixture on the podiums at U.S. championships since 2005. Johnson is set to complete his undergraduate requirements this spring. And after capturing his first USATF title in February in the weight throw, could a place on an international podium be in the offing?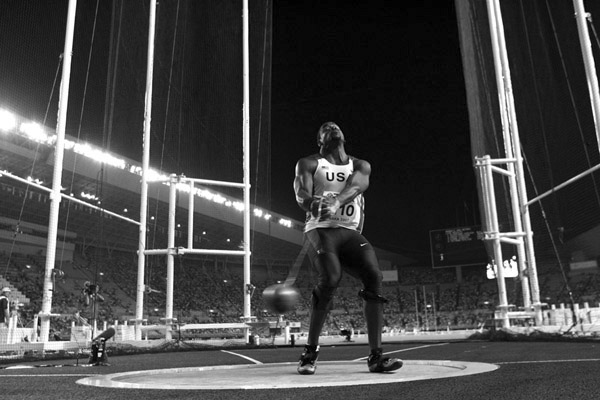 Johnson views his Osaka experience as a growth opportunity.

Long &Strong: Where did you grow up? 

Kibwe Johnson: Well, itís a long story! When I was young, I moved around frequently, so when I am asked about it, people say, "Are you an army brat?" Iím not, but

my dad is a doctor and we moved a lot. I was born in San Francisco and grew up in Oakland, California. From there I moved to Washington, DC, back to Oakland, to Teaneck, NJ, Aurora, CO, Atlanta, Moorpark, California and finally to where I reside now in Ohio.

L&S: You are insanely quick.  Did you play other sports in high school?

KJ: I did track and football all four years of high school. I tried basketball in 7

th or 8th grade; it wasnít my cup of tea. Football was always my favorite in high school, even when it became apparent that track was going to pay for my university education. I started track in 8th grade as a sprinter. Lots of people in my family did track so it has always been a part of my life. My grandparents have been to every Summer Olympic Games since Montreal. I started throwing one day because I had a hip injury and sprinting was not going to happen that day. I discovered the shot put, and then the discus. I continued to sprint and throw until I went to college where throwing took precedent.

L&S: Tell us about your long and winding journey (after high school) to Ashland.

KJ: I started college at the University of Georgia. It was my first time away from home, with little rules, and that landed me right out of university due to poor academics. Athletically, it was great. Don [Babbitt] is a great coach and the training group was phenomenal. I couldnít have asked for anything better as a college freshman. Since I was no longer at Georgia, I had to make a pretty serious decision. I worked the summer while I figured out what I needed to do. I basically decided that I needed to go back to school or join the military and get my Associates that way. The four-year requirement was too much for me to commit to because my plan was to earn my Associates and transfer to another school to continue throwing. I met the MacKay family my senior year of high school at the Arcadia Invitational in California and decided to take the step and make the call. Within two weeks of that first phone call, I moved to Moorpark, enrolled in classes, and began training with Coach MacKay. I completed classes, gained success at the junior college level, and accepted a scholarship to Ashland. I loved Judís intensity and believed he could develop me as a top hammer thrower in the United States.

Thankfully, the rule in Division II for eligibility is that you have ten full time semesters to compete. I moved to Ashland with four semesters of eligibility left. After my own mishaps, and some major academic advising mistakes, I was left with one season of eligibility. I made the most of it, claiming three national championships, and a National Collegiate All-Division Record. I enjoyed every moment competing for the Eagles and I am so appreciative for the opportunity to help Jud take the Eagles to their highest placing in his tenure at Ashland.

So, the moral of the story is, If I had to do it all over again, I wouldnít change a thing. I believe that my life experiences, good and bad, have made me the man I am. I have met many people, coaches and supporters that I will take with me for all time.

L&S: What was up with that Canada singlet a couple years back at USATF Indoors?

KJ: Funny you should ask. My fiancťe Crystal had just come off of a Canadian National Team. Like most of us on national teams, she traded to get some sweet stuff. Among some of the things she got was a large menís Canada singlet that she gave to me as a gift for Christmas. I thought the shirt was sweet and it looked good on me so I wore it. Thatís pretty much it. I wish more people had asked me about it then. It was really innocent, but in hindsight, I would not have worn it at a national level meet.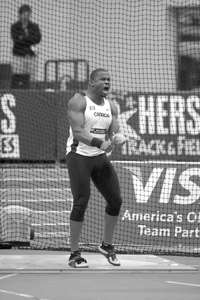 Kibwe's interesting singlet choice in 2006.

L&S: Iím sure you had hoped for better results in Osaka.  Can you share your experience there?

KJ: Osaka was absolutely amazing. I was extremely proud with how I competed. I was unlucky on my two slight toe fouls but hey, stay in the ring, right?! In the last month of season I grew to become a better hammer thrower than I had the last season or so. My spring season competing for Ashland wasnít as good as I wanted it to be. I was a little let down in my performance and I used that to prepare for USA Outdoors. I was happy with my performance there where I had seasonal bests on my first and last throw of the meet. From there I was going through some technical changes and that led to a personal best about a week later. That personal best led me into a silver medal finish at Pan-American Games in Rio de Janeiro, Brazil. Being that it was my first international competition ever, I was really pleased, although I knew there was more in the tank. So, I was throwing really well going into Osaka. Three-fouling wasnít exactly what I had in mind. I took it as almost destiny. Everything happens for a reason. We protested my last throw because I didnít feel the foul and our staff didnít see it. So they measured it and reviewed it later (to no avail). The throw was 74.53m. This throw would have ranked me 13

th, one position out of making finals, which would have been the highest placing by an American at a major world event since Lanceís silver in Atlanta. So when discussing my experience with Jud and the staff in Osaka, I was happy and ready to tackle my fall training! I also had some very kind words of encouragement from Tore Gustafsson and Koji Murofushi. They gave me additional technical expertise and just overall advice. I used this along with Judís critique for the base of my fall training. My experiences in Osaka led me to my best fall training yet and put me on track for some big throws this Olympic season.

L&S: Iíve been to Ashland and itís not exactly a diverse, vibrant metropolis. Whatís to do when youíre not training?   

KJ: Well you are right about that. But what Ashland does have is the training group and the fact that everyone shares the same common goal at being the best we can be at our events. So, when not training, we watch a lot of movies on our sweet new flat screen. Crystal and I joke that we treat the TV like our kid. We also play a lot of Guitar Hero and Rock Band. Most of the time when Iím not training, I just find myself daydreaming about the hammer. I think I have a problemÖ.

L&S: If you could be Olympic gold medalist in either the disc or hammer, which would you pick, and why?

KJ: Iím pretty sure I would pick the hammer. Discus is my first love, but I am just in love with the hammer lately. I love the history of it and I especially love the challenge that we face as Americans in todayís track scene of producing guys who can compete on the world level and push for medals. I like, and can really appreciate, where our discus guys are going right now. I want to lead the way to take U.S. menís hammer where discus is now, and eventually for both to dominate on a world level as the shot does. The groundwork has been laid with our youth, juniors and me personally, Iím still pretty "young" in this hammer game. I got my first taste of being on a podium in front of a packed stadium in Brazil. I want that Olympic medal!

L&S: Do you have a preference between the weight and hammer?  What do you consider to be the major technical differences between the two?

KJ: My preference is the hammer. I am personally not that big a fan of the weight. I had never thrown it until I moved to Ashland. I never liked it because it hurt my body too much to throw it, and I threw it poorly. It doesnít hurt my body anymore, so now instead it is a reminder that it isnít outdoor season yet and its 0 degrees outside for the hammer, which is always fun. The weight can be a vital tool in training for the hammer, but it must be thrown like the athletesí hammer technique. I trained in practice with four turns this last season but just couldnít get my timing down once the adrenaline got going on meet day. This bodes well though because I threw the weight much farther in training off of four turns than I did off of three.

L&S: Can you give us some specs on yourself? 

KJ:

6í2" 232/105k

Bench Ė 390/177k

Back Squat Ė 595/272k

Front Squat Ė 425X3/192k

Dead Lift Ė 655/297

Push Press Ė 315/143k

Behind Neck Jerk Ė 390/177k

Clean Ė 385X2/175k

Incline Bench Ė 325X2/147k

Snatch Ė 286/130k

Quad test:

3 Hop Ė 9.90m

Overhead shot Ė 19.94m

Standing long jump Ė 3.44m

30m Ė 3.54

L&S: What does/would a perfect hammer throw feel like?  

KJ: The perfect throw as I see it in my head 30,000 times a day starts with the hammer feeling super light on my cast going into the winds. The rest would be kind of a blur. I would have an easy, solid first toe turn with a smooth transition to the heel and the ridiculous counter accelerating the ball at stupid speeds for four turns until it just "leaps" out of my hands and I yell for about seven seconds before the ball hits the ground. P.S., seven seconds would be like a 94 meter throw. No big deal.

Of course, this is all totally hypothetical, Iím not sure what it would feel like, but itís something that I strive for everyday.

L&S: Name three things a throws fan wouldnít know about you.

KJ: I try to be as open as possible so I think the only things most people might not know are what my name means. Kibwe is Swahili for "stone". However, a couple years ago Crystal found out from her cousinsí Kenyan wife that in a different dialect of Swahili it meant "big fox". My favorite band is Outkast. The majority of my immediate family all graduated from California-Berkeley. Go Bears!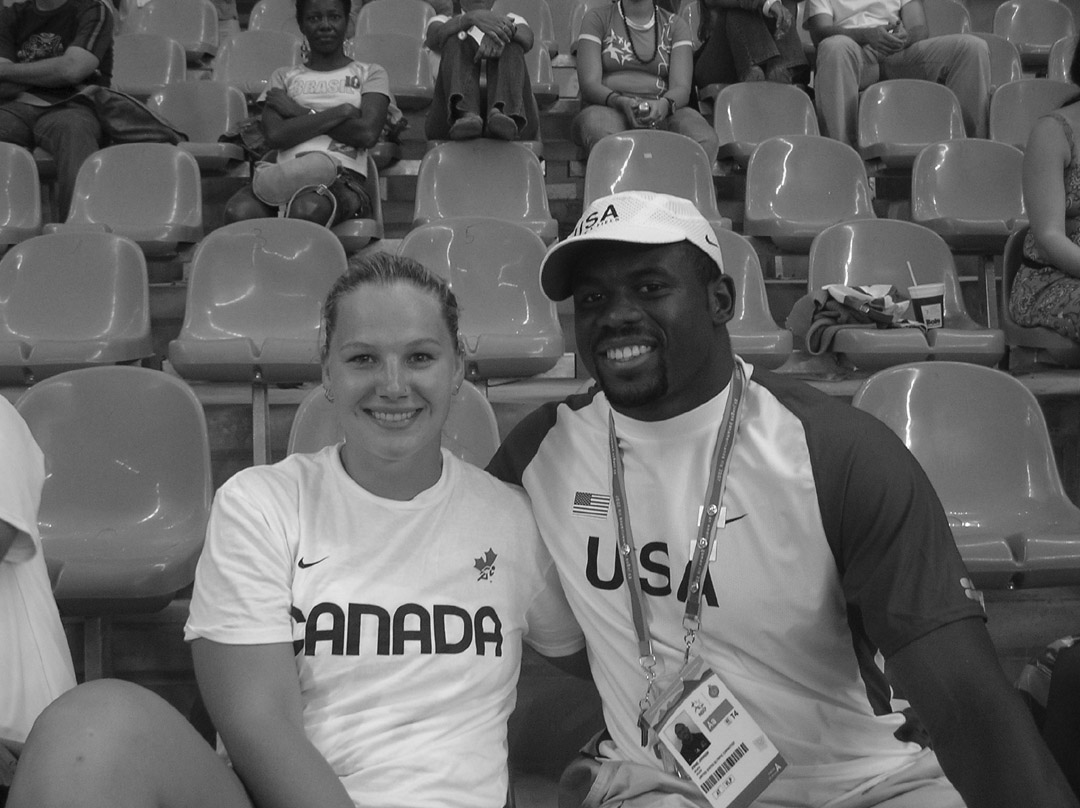 Johnson and fiancee Crystal Smith.
L&S: Whoís currently training in Ashland besides yourself and A.G.?  What is the training environment like when your biggest competition is training right beside you?
KJ: Currently, our post collegiate training group consists of Canadian hammer record holder, a.k.a. my fiancťe) Crystal Smith and shot putter Steve Manz. Steve moved to Ashland last summer to prepare for the coming Olympic year. Having Steve here has really infused an excitement into the training group this year. And I cannot forget the other important part of the training group, which is the college team! Jud has assembled such a great group of athletes, theyíre a hoot to hang out with and train just as hard as we do. Laughs abound, there is never a dull day. (shout out!)
The training environment is a good one. A.G. and I throw together on days that we work with Jud. All of my lifting is done with Crystal and Steve because A.G. is on a different training plan. I have been privileged to learn from some of the best coaches and athletes in the world. Before I moved to Ashland, I had developed the core of the type of athlete that I am striving to be. That being said, my competition lies within myself. I donít concern myself with things that I canít control. (I can thank Coach Mac [Bob Mackay] for burning that one into my brain!!). One of my favorite quotes from Yuri might say it best, "I watch no one in competition... everyone watches me." My interpretation of this is that if I focus on what Iím doing and handle my business, thatís the way it ends up. How someone else is training or competing doesnít affect how I prepare and carry myself. I definitely think that I might not be in the same position I am in today if it wasnít for all aspects of the training group.
L&S: Who do you think are the most technically proficient throwers (past or present) and why?
KJ: My favorite throwers of the past to watch have been Sedykh, Litvinov, and Nikulin. These guys were just so powerful and impressive to watch. More recently, I like to watch Koji and Primoz throw. I feel like I can relate much better to the throwers of today. It is so hard to pinpoint favorite throwers though. In general, I am a huge fan of all throws; I just like to see throwers do what they do best. As a discus thrower, I didnít really have any specific technical throwers I tried to model after. I just appreciated them for making the darn thing go far.
L&S: You never touched a hammer until college, correct?  If you were starting a novice thrower, what would you emphasize to them initially?
KJ: Correct, I never threw the hammer until I went to Georgia. And I never trained it seriously until Moorpark. At Georgia the hammer was thrown about once a week to break up the monotony of my discus days, as I was a main event discus thrower.
If I were starting a novice thrower I would start with A LOT of turns, and focus on the importance of the entry. I think the younger the athlete is, the less the specific lifting needs to be. Throws and abdominal work are supreme until well into high school. Thatís how Iíll train my kids. But if they end up race walkers, Iím outta luck!
L&S: What are your major technical deficiencies and how do you address them?
KJ: I have been told and still believe that my greatest strength and weakness is my speed. This is something that I am continually working on. This gets better yearly as I get a better "feeling" for the hammer. I have gotten better at "poooshing" the ball this last half year and it has shown in my distances in training.
L&S: Are you a full-time thrower, or do you work also?  What are your long-term plans, athletically and otherwise?
KJ: Yes and no. I am not a full time thrower in that it isnít the only thing I doÖ..I wish. I am currently in my last semester of school here at Ashland and I will finally be graduated. When I say finally, I mean finally! Iíll be getting a job after I graduate, but the main focus is most certainly my throwing career. My plans athletically are to respectfully overtake the American hammer record. Another dream I have for my career is to be a 70m/80m man in the discus and hammer. To my knowledge, it hasnít been done. That would be a great way to cement a legacy.
When I do enter the real world job market, I want to be a throws coach, and eventually work my way to a head coach position. *L&S*