VOLUME 1,
ISSUE 4
April, 1999
TABLE OF CONTENTS
LETTER FROM THE
EDITOR Nonsense from me... READER RESPONSES More nonsense from you! BITS AND PIECES
What's happening? INTERVIEW WITH LANCE DEAL Don't count him out just yet START YOUR OWN THROWERS CLUB Be a self-starter A LITTLE SLICE OF HEAVEN Weltklasse Am Rhein INTERVIEW WITH LISA MISAPEKA
Truly a class act GET BIG OR GET LOST
Gary England and American Big Guys are on the move FOCUS, FOCUS, FOCUS Esko Mikkola THE RIGHT TO LEFT RYTHM GLIDE Technique advice from the Smiths SUPPLEMENTING THE
STRENGTH ATHLETE Good advice on how to get the biggest bang for your buck

HOMEGROWN HIGHLANDER Alistair Gunn comes from a long line of Scottish athletes

THE THROW BY DRILL 35 pound-weight advice A LITTLE UNFINISHED BUSINESS Masters Champion Carol Finsrud puts a whuppin' on the young-uns LOUISIANA LIGHTNING The future is bright for Reggie Griffith THE LINEAR SHOT Jerry "Moose" Miller shares some tips
Christian Erb/Weltklasse am Rhein

A LITTLE SLICE OF HEAVEN

By Glenn Thompson

HEAVEN: the vault of sky overhanging the earth: the dwelling place of the Deity and the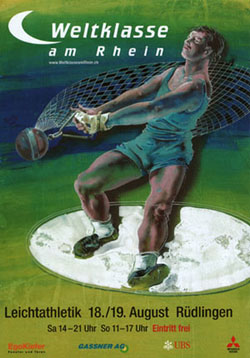 blessed. [Webster'sDictionary]

There's an old saying, "If it sounds too good to be real...". Well my friends. I am asking you to take a leap of faith with me, because yes indeed, there is just such a place. Have I ever been there myself? Well, no, but I've seen pictures and know people who have made the pilgrimage to the place known not as Mecca, but as Ròdlingen.

Ròdlingen is a picturesque Swiss hamlet on the German border with a population of about 600. The town overlooks the Rhine river and relies primarily on farming and its vineyards. But each year this town with all of four restaurants, a post office, a local shop and a single hotel, is invaded by some of the greatest throwing talents on the planet.

The story starts back in 1992, prior to the Barcelona Olympics. Christian Erb, a Swiss shot and disc man and Ramona Pagel, long-time American shotput great, were looking for a throwers meet. With nothing available, Erb decided to take matters into his own hands. On July 26, 1992, fifteen athletes from four nations took part in the inaugural Weltklasse am Rhein (World Class on the Rhine). Erb hosted the meet on his own property, making use of his two shot put and two discus circles, complete with cages and floodlights.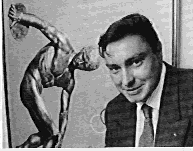 So who is this Christian Erb, this organizer extraordinaire? For starters, he remains the Swiss national record holder in the discus at 64.04 meters. During his peak years, he competed at a bodyweight between 90 and 103 kilograms (198- 227 pounds) on a 182 cm ( 5'11 ½" ) frame. He trained with and learned from throws luminaries such as Gezja Valent, Helena Fibringerova, Wolfgang Schmidt and Pagel. Erb is blessed to be financially secure. His family has been in the automobile business for over 70 years. At his competitive peak, he worked ten-hour days while mixing in 20 hours of training a week. "The more success I had at my work", says Erb, "the farther I threw the discus. I sometimes have a problem understanding throwers who give up the sport because of their work."
Unfortunately, Erb's career was cut short before he reached his full potential when he was paralyzed from the waist down in a serious car accident in May of 1994. But instead of growing despondent and abandoning athletics, he focused on coaching (his stable includes Swiss hammer champion Patric Suter [PR- 70.65 meters]). Says Erb, "Life has to go on, I am a fighter. As a sportsman you are used to fighting, so there was no big problem at the beginning. Of course it was tough. I lost 22 kilos in 4 weeks, and was at the clinic nearly half a year. But some of my athletes came by and I started coaching right at the clinic after 2 months. Fortunately they had a track just beside the clinic." Regarding his physical goals now, Christian says, "I swim, do wheelchair racing, but only for myself, no competition. I drive a quad and still lift weights. My goal for this year is to lift 180 kilos at 85 kilo bodyweight. I have recently done 8 x 150 kg."
He has also continued to sponsor the meet he founded, and it has grown to truly become a world-class affair. Erb was not content to just contest the shot put and discus. The hammer throw was added as well as a number of specialty events such as the 50 Kilogram Stone Throw (thrown with one or both hands over the head or shoulder), the 56 Pound Weight Throw, and the Antique Discus Throw (a 5 kilogram plate is thrown from a standing position). In an effort to complete the affair, Erb is looking into installing a tartan runway to introduce the javelin.
But its not only the competition out on the field that makes Weltklasse a first class event. It begins with sponsorship from multiple sources. The secret to securing sponsorship? Erb learned that," First you have to start small, and you increase every year. You have to have good sponsoring documents and offer the sponsors a lot." But sometimes good salesmanship is not enough, and Erb must rely on less refined methods. "I have a business and all of the delievery companies that we work with must support the meet," Christian confides. "I am sometimes tough with them and I tell them straight out that they lose us as a customer if they do not sponsor." Erb also offers a luncheon at the meet from one of the finest gourmet restaurants in the area. Sponsors can invite nine guests at a rate of $2,000 per group. This V.I.P. area comes with some choice real estate, as it is situated on a platform beside the shotput circle.
There is a professionally done meet program containing nearly 90 pages of meet information,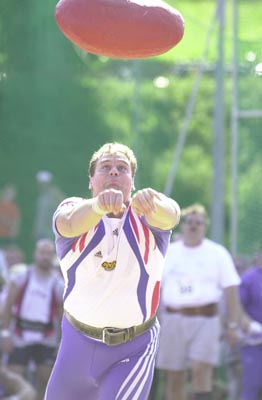 athlete biographies, photos, and advertisements. Athletes are enticed by prize money of $2,000 for first place, $1,000 for second, and $500 for third (as well as medals). There is also a prize for team competition among the participating nations. There is regional television coverage, and coverage on Czech TV as well.
Over the years, the list of competitors at Weltklasse reads like a who's-who in the throws world: Randy Barnes, Olga Kuzenkova, Paolo Dal Soglio, Aleksander Bagach, Romas Ubartus, Konstantin Astapkovich, Heinz Weiss, Judith Oakes, Vita Pavlish, Adam Setliff, Andy Bloom, Michaela Melinte, Allesandro Andrei, Zdenka Silhava (former world record holder in the discus), Igor Nikulin, and many, many more. Retired discus thrower (and former world record holder) Ludvik Danek enjoyed his 1998 stint as the Czechoslovokian team leader so much that he organized a Czech Republic Stone Put, Antique Discus Throw, and 35pound weight throw championships. Unfortunately, Danek passed away from a heart attack only two months later.
As for the future, Erb hopes to "attract more spectators and grow every year. Maybe to highlight it with a sprint, man against horse or something new in that direction. Implement the Highland Games, or anything that attracts alot of spectators. World records alone are not a guarantee for having lots of spectators. I need some Swiss throwers as well, which could be under the best, but since Werner [Gunthor] retired it will be difficult. I was even thinking of letting Werner throw once more with a light shot. I've even considered the idea of playing music during the competition." In a spirit of true creativeness [applauded by the author] Erb adds, "you have to make the throws more attractive, so last year I had Miss Switzerland giving out the medals. I'll make sure that something spectacular is happening. Once I run out of ideas, it will be the end of the meet."
To all those doubters, non-believers, and other assorted throws atheists and agnostics, I offer Weltklasse Am Rhein as proof of such a heavenly place. The rings may not be made of gold, and athletes may not have wings, but Christian Erb is sitting on a throne in scenic Switzerland overlooking the proceedings, and he is pleased.
HEAVEN: a celestial place where implements never land and throwers reign supreme. [Long & Strong Unabridged Dictionary] *LSTJ*