2007 IAAF hammer throw world champion Betty Heidler is adjusting to life in the spotlight. Heidler came to last year's World Championships in Osaka with minimal hype, yet realized her athletic promise with a victory by the narrowest of margins over Cuban Yipsi Moreno.

A year later the 25-year-old German fully embraces the challenge of confirming her Osaka gold with more of the same in the pressure cooker that will be the Beijing Olympics come August.

Heidler took some time to talk to Long & Strong about her training, technique and career.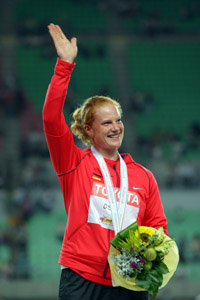 Long & Strong: You are a Berlin native, correct? For those of us that have never been there, tell us about your home town.

Betty Heidler: Yes, I was born in Berlin! It´s the capital of Germany and one of my favorite cities! After my sports career, I would like to move back to Berlin!<![if !supportLineBreakNewLine]>
<![endif]>

L&S: Talk about your athletic background as a youth. When were you introduced to track and field and the hammer?

BH: In 1997 I began with athletics! I did everything: running, jumping, and throwing including the hammer throw. In 1998 I made a competition in Berlin and a Hammer coach asked me if I would like to train hammer throw and I said- yes! I will try it! And since 1998 I´m training hammer throw!

L&S: At what point did you begin to understand that you had the potential to be a national-class, then world-class, thrower?

BH: I thought this in my youth, in my first years as a hammer thrower! Every year I improved myself and my best marks, and this not just in centimeters! In 2001, I changed coaches and moved to Frankfurt to train with Michael Deyhle. I thought I could be a national and world-class thrower- he told that to me. Every year I was the German champion- as a junior, and now as senior. And now, I´m the World Champion!

L&S: Were there certain hammer throwers you admired as a youth? Who, and why so?

BH: I have an idol- it´s Marianne Buggenhagen! Have a look in the internet and you will know why!!

L&S: Share with our readers some of your physical attributes, such as your height, weight, running speed, jumping ability, personal bests in the major lifts, etc.

BH: I´m 175cm, my weight is 81kg and my personal bests in training…that's my secret (laughs).

L&S: Describe your technical style. What are your points of emphasis? What does a perfect throw feel like?

BH: Oh, it´s impossible to describe the perfect throw! It feels very easy- like nothing! You make four turns and see how the hammer flies and you know that this must be a good one, but the feeling of a good throw?! Everybody who has felt this knows what I mean!

I would describe my technique in a few words: powerful, fast, and good! Not every time, but very often!

L&S: From a technique standpoint, are there certain things that you struggle with?

BH: No, there aren´t special things I struggle with. We always try to do the right rhythm and start. That's our most important concentration point! But I do not have any special problems with this!

L&S: Are you in a training group with other throwers?

BH: Yes, I´m training with other throwers: we are five girls- all hammer throwers! Kathrin Klaas (2nd in Germany) and Andrea Bunjes (3rd in Germany) train with me, and two younger girls- Kristin Steinert (21) and Gabi Wohlfahrt (19). Somebody could think, "Oh my God, only girls," but that's perfect because we push ourselves to new personal bests and help each other in training! I think my coach can tell you also something about that!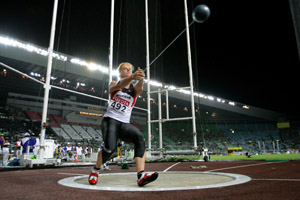 L&S: Can you tell us about your training program, both in the weight room and otherwise?

BH: Our training changes every year! My coach tries new things every year! Most of the things are the same: throwing with 3 till 9 kg, weightlifting and athletics! We have special exercises for throwing - that´s our secret! In general, I train 8-10 times a week for about 2.5 hours!

L&S: You had a great season last year with multiple personal bests. What were the keys to your success?

BH: I think I had success because of our good training and because of my mind! Also, when you´re not the champion- you have to think like one! Every time I think, 'I want to be the best!' And in training, every time I want to improve myself! And I organize my whole life around sports. I´m working in a special program with the German Federal Police and they allow me to train 11 months without working! That means my training is my work! And that's one of the best things! So my mind is able to concentrate on just sports!

A few years ago I couldn´t imagine working for the police- it was never in my mind! When I heard about this possibility - learning with the border police and training without any problems and (also important) earning money - I tried to do this and it was the best I could do!

I love this job and while I learned there, I recognized this would be my dream work! When I finished the education I thought about all the time which I had then for training. I didn´t only want to train for the police; I need the education. So I was looking for a possibility to study something like that, but I also wanted to have enough time for training and regeneration! I found a good system at the Fernuniversität in Hagen and since last year I've studied there! After my sports career, I would like to work for the German Border police!

L&S: Can you describe the competition in Osaka for us? I'm sure the victory must have been very satisfying, but winning by such a narrow margin over Moreno must have been very stressful, especially as her last throw landed just 2cm short of yours. Did you watch her throw and the measurement?

BH: I didn´t see Moreno's last throw. I wasn´t able to watch. I heard her screaming and I thought; 'Now you are second!' On the big screen you couldn´t see how far it was, it was directly over the red line. It was very close. I watched the result and was just happy when I saw second place. A few moments later, I recognized that it was just 2cm behind me!

I was happy and couldn´t believe this, I was totally surprised! Sure I wanted to be the winner, but I never thought that this could happen in Osaka! I was in good shape, but 74.76m would be enough for gold?! At the victory ceremony I was very excited and I couldn´t believe it. That's the reason I shook my head when I was standing outside. Yes, it was totally satisfying.
<![if !supportLineBreakNewLine]>
<![endif]> L&S: I have to admit, I didn't know much about you prior to your victory in Osaka. Has becoming the world champion changed your life in and out of the circle?
<![if !supportLineBreakNewLine]>
<![endif]> BH: Yes, it changed my life! More people know me and I get invitations for events. I have to do a lot more work for newspapers such as photo shoots.

.But it also changed my mind a little bit. I now know more than ever before that I have to train hard and well to be the champion for longer than two years, and everybody will be looking at me this summer! It´s easier to be second or third in the world, but it will be a good experience to be the best in the world! *L&S*