VOLUME 10
ISSUE 2
OCTOBER , 2007


TABLE OF CONTENTS

BEIJING FORESHADOWED
Did Osaka give any Olympic clues?

1 GOLD, 1 SILVER, 1 BRONZE
Did the U.S. under-perform in Osaka?

NUMBER ONE GUY
Hoffa is king of the world...and Athens

ON THE MEND
John Godina: healthy again and ready to go

SUMMER PIERSON


Highland & Discus Champion

ON THE RISE
Larry Brock is a new breed Highlander

BALANCE & CONTROL


And their importance in the discus

THE JAVELIN THROW


A scientific approach

MUSCLE RECRUITMENT
Neuromuscular training

CLEANING OUT THE CLOSET
This and that

"I LOVE WHAT I DO"
From behind the lens

JURISPRUDENCE
What a meet organizer should know

DATA MAN


Brains behind Mastersrankings.com

AMERICAN YOUTH HAMMER
Thoughts from Harold Connolly
REESE HOFFA
NUMBER ONE GUY
By GLENN THOMPSON
Reese Hoffa's 2007 was a Secretariat kind of year, notching a Triple Crown of his own. Hoffa blasted through the outdoor season sweeping the U.S. and World Championships, with a huge PR in London in between. It could only be bigger in an Olympic year.

After concluding his season, Hoffa talked with L&S about his PR, championships victories, and planning for 2008.

L&S: You have to admit, you've had one helluva season. So how do you prepare for next year? Are there things you could have done better this year?

RH: The way I will prepare for next year will be the same as I did this year. I am a big believer in not changing a thing, because everything over the last five years has been so good with high throwing performances and a number one ranking. I think Don [Coach Babbitt, University of Georgia] does a great job of putting the right amount of lifting and throwing early in the year so that I can continue to get stronger and continue to work on my technique without feeling too run down. This is a key for me to continue to put up big numbers in the ring and stay consistent.



One thing I would change is to not do as many meets. I think that I did too many meets back to back without enough rest and recovery. I did have some technical flaw in my technique that started during indoors, but I was too afraid to go back and try to fix the problems. Luckily for me I went to Madrid and had a technical meltdown. The performance in Madrid made me fix the problem and the rest is history. I also feel that I should have brought my wife over to Europe at least one time because she is missing out on some cool things that the meets are doing specifically for the shot put. Like in London when they put the shot in the middle of the field.

L&S: What do you think were the keys to your success this year? Stronger? Technique? Better competitor?

RH: The key to my success is to not follow the latest fad in training and doing what makes me great which is following the same routine as I have done for the last eight years. I can definitely say that I have gotten stronger but I have not made big jumps in strength. As I improve in the weight room I also make improvements in the ring. For me they have to go hand and hand because if I get too strong too fast then I would loss my feel in the ring and lose control of how I throw. My technique on the other hand is always a work in progress I have some aspects of my throw that are staying the same but I have made slight changes in the way that I come out of the back of the ring and even foot position out the back of the ring. I have changed a few cues to help me with the feel of my body as it moves through the ring. I am very much a feel thrower, and for some reason I cannot focus on something while I am throwing. To me, it is as if when I hit the single leg out the back of the ring I go blind all I have is the feel of where my arm or foot is in the ring I cannot see them to make sure they are in the right position. It is all of the little things that Don and I do during the season that has dictated my success and consistency over the course of this year.

L&S: Would you consider Osaka the highlight of your year? If so, what would you rank it on a scale of 1 to 10 (highest). And how would you rank your monster throw in London and the USATF victory?

RH: Osaka would have to be the highlight of the year. I would have to give it a '10' in terms of where I am in my career to date. I hope to have more throws at important meets that are equal to or better than the mark at Worlds. The performance that I gave on that day is incredible. I would give London a '9' because I did not expect to throw that far. I was only hoping for something that was just far enough to win. The mark at London just showed me a little bit of what I can do if I am properly motivated. It also showed me that one small technical change could yield a monster throw. USA Nationals was more of a '7' because not all throwers were on that day. I think that I went into that meet and focused on the throw, not the wet ring. I hope that next year we will have dry conditions and all the throwers can put on a show for the fans during the OlympicTrials. I definitely want show the people in the U.S. that I can throw 22 meters on American soil.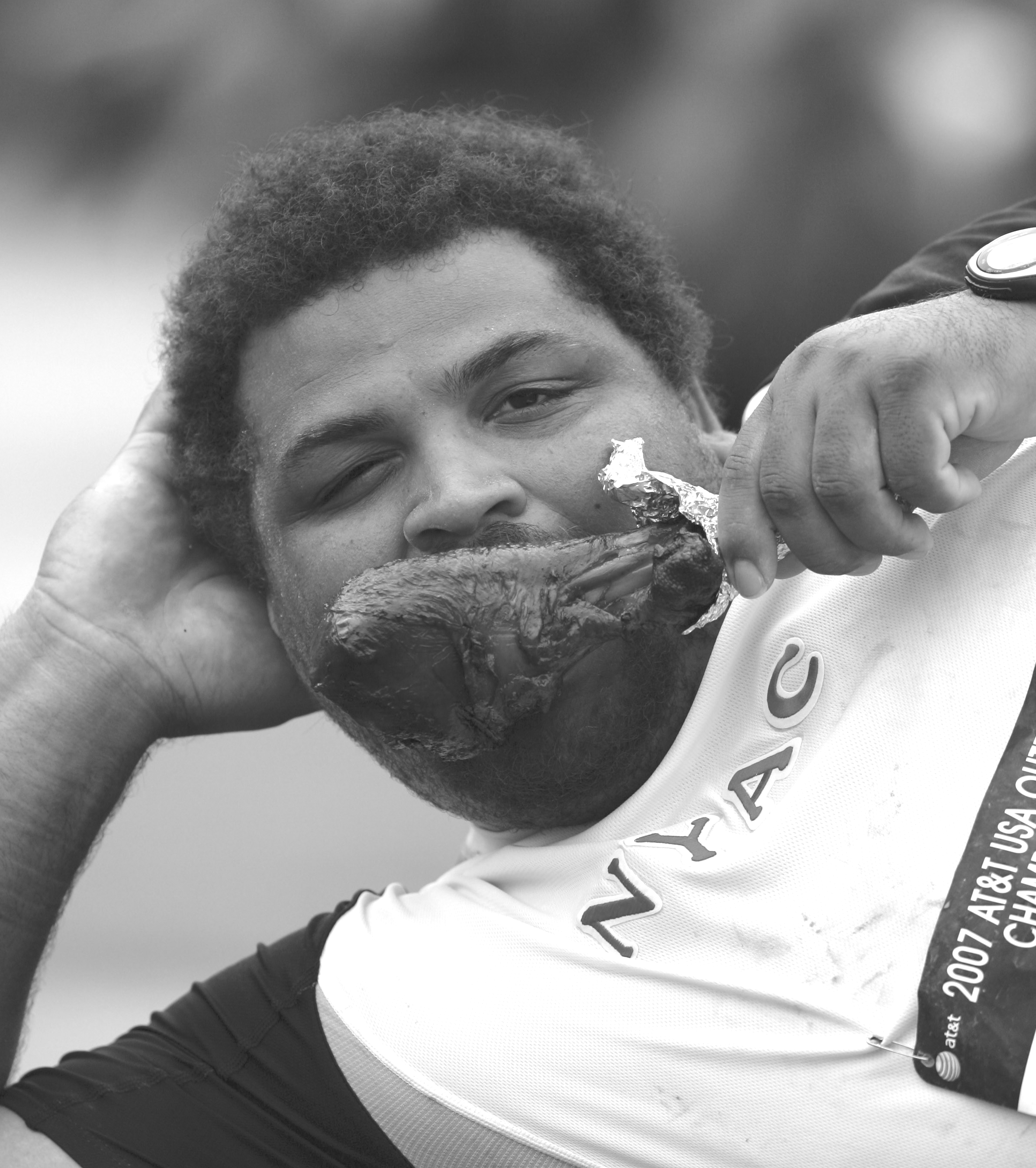 Most prefer cigars...Hoffa does turkey legs after a big victory.
L&S: Tell us about your new PR effort (73-7). Did you know it was a bomb when you hit it? The new PR has to be one of those days in the office where it all came together on one throw.

RH: When I went to London I was in good shape. I think I was in better shape at Pre, but for some reason the ball just flew at London. The week before London I was struggling with my technique, so Don and I sat down and talked about what I did in the past when I was throwing well. Then we modified my technique over two practices to reflect what I used to do right. When I went into the London meet I did not know what to expect. I thought it could be Madrid all over again, but to my surprise, it turned out great. As the meet started I got more comfortable with the changes that we made and I hit the ball hard. When the ball left my hand I did not know that it was going to go as far as it did. I was thinking more 21.70m to 21.8m range, which would have won. When 22.43m came up, I could not believe that I pushed the ball that far. After the throw, I knew that I put myself in position to get the gold at Worlds. All in all it was a great throw, but I could only enjoy the throw for as long as it took for me to get on the plane back to Georgia. I had to focus on Worlds and I had to treat that throw as if it was just another throw. I couldn't let it consume me as a throw I will do all the time. I had to put the throw into perspective because the throw that I needed to win Worlds was just 22 meters and not 22.43m.

L&S: With Adam gone to Virginia, has your training routine changed at all? Did the two of you train/throw together that much when he was in Athens?

RH: When Adam left for Virginia not much changed here in Athens for me. I took over as the top guy and became the face of the training group here. In some ways with Adam here I was the number two guy and in a small way it got to me, because everyone wants to be number one. While Adam was here we trained a little bit together, but for the most part I trained by myself. Usually I would see Adam when he was ready to throw far and those where the days that I miss the most while he was here. For me it was a reminder that if I did not stay on top of my training, I would not be able to keep up with the best in the world. I have to hand it to Adam, he knows how to train to throw far in a short period of time and that is one of the things I learned from him.
I miss Adam here in Athens, but I do think it is best for him to do his own thing in Virginia. I now have a new training partner, Rhuben Williams, to whom I am passing on my knowledge of throwing. *L&S*