RINGMASTER
By Glenn Thompson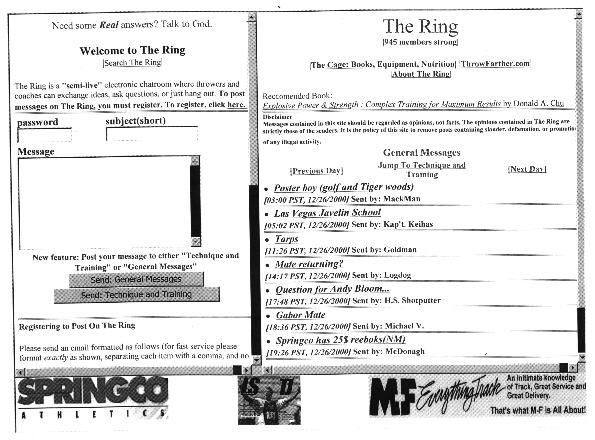 Kevin Carr's name is known throughout serious throwing circles. But curiously enough, despite discus throwing that has earned him national rankings and many honors, most throwers would never recognize him in person and barely know of his athletic credentials.
This is because Kevin's greatest contribution to throwing was made with a keyboard, and not a discus, in hand. As founder of the internet site THE RING (http://voyager.georgefox.edu/kcarr/dischat.html), Carr established the first widely used semi-live chatroom/message board for throwers.
Carr began his throwing career in 9th grade in Colorado throwing the discus. His prep PR of 151' won the small school state title in 1982. Kevin recalls his high school coach Tony Canali who "who knows nothing of throwing but was a great motivator and got me to believe in myself."
Carr matriculated to Colorado State where he progressed rapidly to 174'3" his sophomore year. Some of Carr's highlights included, "throwing with Jay Silvester at a small meet in Provo and competing with the late Stefan Fernholm several times in the WAC Conference."
To improve his opportunities, Carr transferred to the University of Oregon where he became one of hammer guru Stewart Togher's few non-hammer throwing disciples. Carr credits Togher with stressing good fundamentals. "He taught me to throw using my gifts, which are long levers [6'6"] and explosive pull strength," says Carr. "I was doing 70'-plus in the overhead shot. I made All-American in 1986, throwing with teammates Ken Flax, Greg Aitkenhead and Brian Crouser." Carr finished with an impressive collegiate best of 198'11".
An early post-collegiate highlight was throwing in the 1986 TAC (predecessor to USATF) Championship meet in Eugene, where he qualified for the finals and threw against the likes of John Powell and Al Oerter. Carr reflects on the experience, simply saying, "Wow, that was great."
After graduating from Oregon, Carr moved to Roseburg, Oregon where he began teaching high school physics. Carr threw one more year and made the Olympic Trials in 1988 with a 201'4". "The Trials themselves were a miserable experience for me"; reflects Carr. "I consider it a miracle I was able to take part. It is neat to look back at the tape and see myself competing with Mac Wilkins, John Powell, Ben Plucknett, Ken Stadel, Art Swartz, a young Tony Washington, Mike Buncic, and Randy Heisler. But there is really no way to throw at the world-class level and be a high school teacher. I know Tony Washington believes that it's possible, but he has never taught high school."
After one year of giving it his all both athletically and as a teacher, Carr found himself, "completely burned out on throwing."
In 1990 he went with Athletes in Action to Scandinavia for a low-key series of meets. "I was throwing about 175' without really training much," he recalls. "It was fun. I got to throw against Luis Delis and traded him my Nike CrossTrainers for his Cuban team jacket. I won small meets and earned the title 'International Champion.' At least its fun to think that, and it makes for a good story."
Then Carr completely quit throwing. He got married to his wife Lisa in 1991. In a complete turn of athletic direction, Carr ran the 1993 and 1994 Portland Marathons. "After a couple of years not throwing in 1992 I was bored and needed a new and different goal", says Carr. "I had always run a little bit, maybe 2-3 miles a day. There is a good marathon in Portland, so I thought, "Why not?" Carr took 16 months to get ready until he was up to 15 miles in workouts.
"In the Portland Marathon they have a division for 'big' runners, the 'Clydesdale Division'," says Carr. "In the case of runners, 'big' starts at 175 pounds. After 225 pounds you become a 'super-heavyweight'.
Carr recalls running well in 1993 until about 15 miles when he went into "'lock body' and basically crawled the last six." Carr beat the only other competitor in his category, finishing in 4:59 and was officially declared a marathon champion, garnering a plaque. The next year he repeated his win as the only competitor in his division. "I ran the same slow time so I figured that was enough. Within five months I was back throwing the discus in the 170's." Carr ran at a weight of 260 pounds, down from his competition weight of 275.
In 1994 he left high school teaching and he and Lisa went back to graduate school in Idaho. Carr got his PhD in Physics and Science Education.
"While I was at Idaho I got back into throwing due to the advice of Tim Taylor, a 60m discus man and throws coach at the University of Idaho," says Carr. "In 1995 I was back throwing, setting a 'new' PR of 177'11" throwing against Dan O'Brien in a made-for-TV event that was part of the Prefontaine Classic. They did a mini-decathlon and recruited a couple of us from the 'day meet' to fill out the discus. It was great fun."
The next year (1996) Carr threw 191' and narrowly missed the Olympic Trials. In 1997 he threw 194'10" at Modesto, and placed 7th at the USATF Championships in Indianapolis with a best of 191'8". Carr was ranked 9th in the U.S. by Track and Field News. In 1998 he threw 195'1", but was only 12th at the USATF Championships in New Orleans.
After graduation Carr became a professor at George Fox University in Newberg, OR. He now has two daughters (2 years old and four months). "Kids really take it out of you, he says. "My throwing dropped to 188' (1999) and 181' with a hurt shoulder (2000). But I love my wife and girls so much I don't lose any sleep over throwing these days. I can honestly say I enjoy the sport more now at 36 than ever."
"I started THE RING in 1995 because I was curious about the whole web page thing," he recalls. "I put up a page with a photo sequence of Mac Wilkins I got from my 1988 Trials tape. I don't know how people found it, but it started getting a few hits."
Pleased, but not satisfied, with his creation, Carr yearned to learn internet skills that could be used for education. "I learned to program enough to make a message board," he says. "At first there were only about six people on it, but gradually it picked up momentum. More people by far know me from the THE RING than from any throwing I have done. It's fun to go to meets and hear, 'Lets go Ringmaster!' from the crowd."
THE RING has had its difficulties stemming from posters hiding behind their anonymity. Malicious rumors, often unfounded were not uncommon. "Rumors led to a threat of a lawsuit twice," says Carr. "The first time I was still at of Idaho as a grad student. I told the concerned party who was threatening to 'sue the website', to ignore the posts and let them go away. I felt, and still feel, that there is little/nothing they could do legally. But a year later I had moved into my professorship here at George Fox University, and it started happening again."
Carr was on a trip to the Bay area when he got an urgent email from another complainant asking him to take off posts, and again threatening legal action. "I was very worried that one call to my employer, whether founded or not, could get me in trouble. I 'unplugged' THE RING, and let everyone know why."
Carr got a flood of e-mails offering to take over THE RING, suggesting passwords, even offering off-shore web hosting immune to any legal problems. "I decided to give passwords a try," he says. "I had about 300 posters back on-line within two weeks, and the number has steadily gained. I think the information on THE RING is generally better now. Most of the 'pure venom' was pure BS, not 'inside information.' There have been a few other 'problem posters', but only two people have been kicked off entirely in two years."
Reflecting on the impact of his creation, Carr says, "I think THE RING has helped some people. Not so much because of he raw information it contains, but because of the connections people make. I think that just having a sense of community with people who have achieved what you dream of achieving makes your dreams far closer to reality." *LSTJ*