VOLUME 7,
ISSUE
3

JANUARY
, 200
5

TABLE OF CONTENTS
LETTER FROM THE EDITOR
Random Thoughts

BROTHERS IN ARMS
Rivals Ian Waltz and Jarred Rome share a goal, and a friendship

COME TOGETHER


2004 National Throws Coaches Association Conference

KEY ELEMENTS OF WORLD RECORD DISCUS TECHNIQUE
Fundamentals from the Danish national coach

TRAINING THE OLYMPIC LIFTS IN SEASON
A smart approach to explosive training

MEDICINE BALL TRAINING FOR THROWERS
Effectively working the core

THE DISCUS WORLD'S SHOOTING STAR
Olympian Dick Cochran's brief, but very successful career

2004 SUMMER JAVELIN FESTIVAL


Another successful clinic and competition

THE TOE TURN IN THE HAMMER
An alternative entry for the hammer

MEDICINE BALL TRAINING FOR THROWERS
Effectively working the core

DEVELOPMENT OF THE SOFT-STEP JAVELIN TECHNIQUE
Maximizing your finish with the spear

A SHORT/LONG GLIDE FOR THE YOUNG THROWER
Part two in the series

JAVELIN SEQUENCE
Roald Bradstock breaks himself down

CAMP WOODSKE
Hammer road trippin' to Ashland

OUT OF THE FOG
A national perspective on the youth hammer

WASHINGTON HAMMER: THE 2004 SEASON
Recapping a successful year in the Pacific Northwest

REMEMBERING IN A BIG WAY
A special athlete is commemorated at a special meet
COME TOGETHER
By Glenn Thompson
You need git up, git out and git somethin
How will you make it if you never even try?
You need to git up, git out and git somethin
Cuz you and I got to do for you and I
Git Up, Git Out- Outkast (1996)
I had the pleasure of attending the second annual National Throws Coaches Association conference in Columbus, OH, over the weekend of November 12-14. I was quite excited about the opportunity, having missed the first get-together in California in 2003. I was attending as both a vendor (LSTJ) and coach, so I was planning on a very busy and enriching weekend.
I packed up my Dodge Stratus (147,000 miles and going strong) and headed west on the Pennsylvania Turnpike and I-70 through West Virginia and southern Ohio. After some torrential rains cleared, it was a smooth ride through the hills of western Pennsylvania, past Wheeling and into Buckeye country, with XM radio to keep me company along the non-stop five-plus hour ride.
So hyped was I that I barely missed skipping lunch and dinner, fueled only by vacuum-packed beef and cheese in accordance with my Atkins diet.
I rolled into the Columbus Northwest Marriot just before 4:00 PM. After setting up my table, it was time to mingle and talk throwing with LSTJ readers (your energy keeps me going!), coaches and athletes whom I only get to see at national clinics or competitions.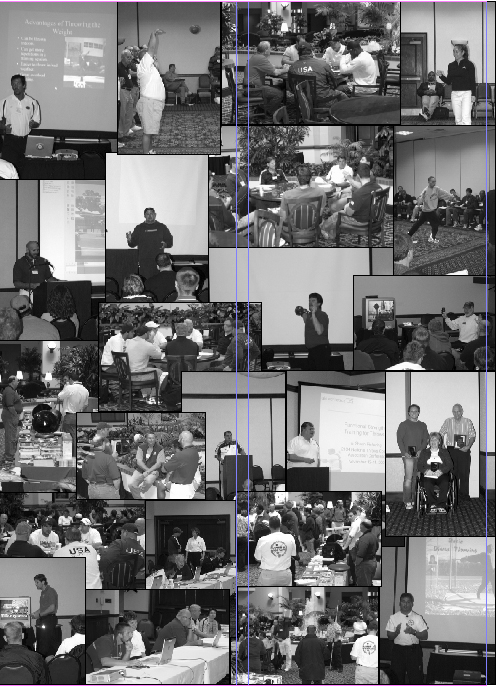 Elite athletes such as Carl Brown, Ian Waltz, Jarred Rome, Reese Hoffa, James Parker, A.G. Kruger, Travis Nutter, Lucais Mackay, Derek Woodske, Kibwe Johnson, Adriane Blewitt, Jackie Jeschelnig, among others, were seen making the rounds, freely interacting with conference attendees.
One observation, which was driven home again to me, is that not all elite athletes are outsized homosapien freaks. Hoffa, Parker, Waltz, Blewitt and Jeschelnig are all gifted champions who do not physically tower over their peers.
It was great to meet athletes such as Hoffa, Brown, Waltz and Rome, all of whom have been featured in this publication. It was also great to renew acquaintances with Parker, Blewitt and Jeschelnig, three great people that are easy to cheer for.
After the opening session at 6:30 PM, and the awards presentation and mixer that followed, it was back to the hotel. The lack of calories had caught up to me and I passed out like a sailor after a long night of shore leave.
I was back at it first thing Saturday morning. Two presentations were given during each session, so the challenge became to pick which of the two presentations in any session were of greater value. My weekend was focused on learning more about the hammer and weight and exploring advanced training alternatives. There were several presentations I missed which I was told were excellent.
At the end of Saturday's agenda, a bunch of us made it over to a nearby steakhouse and chowed down. It was a great experience to break bread with Hoffa, Bob "Coach Mac" Mackay, Anna Swisher (Williams College and LSTJ contributor), Mark Gottdenker (PSU), Lacy Johnson (Lock Haven- PA), and Mohammed Satara (N. Arizona). The great meal and conversation was topped by the bill that never came…"Dr. Bob" Silverman (father of UCLA's shot putter Jeremy) picked up the whole tab!
Sunday morning's sessions opened with a behind the scenes recap of the Athens/Olympia experience by Criss Somerlot, the U.S. Olympic Throws Coach for 2004 (see LSTJ- October, 2004).
By noon time, I was on the road, headed back to Pennsylvania. The weather was better on the way back, but that was negated by a wrong turn on the Pennsylvania Turnpike, which I realized maybe an hour too late. Oh well, I always wanted to see what Pittsburgh looked like.
I can best summarize the NTCA and my conference experience by recalling something from the radio. After dinner Saturday night, I did a little souvenir shopping for the family (did you know Sponge Bob Squarepants is a Buckeye fan?) and took a drive into Columbus and around the metropolitan area. While tooling around in my payment-free Dodge, listening to XM, the Godfather of Soul saild it all so well:
I don't want nobody,
To give me nothin',
Open up the door,
I'll get it myself.
I Don't Want Nobody (To Give Me Nothin')-
James Brown (1970)
*LSTJ*