ROLF OESTERREICH
WEATHERING THE STORM
By Torsten Huelsemann
If you donít know the name Rolf Oesterreich, donít be ashamed. A native of East Germany, the under-sized shot putter (1.81m [5-11ľ]/99kg [218]) competed curing the 1970ís, but never represented the DDR. Oesterreich was treated as an outsider by the East German bureaucracy during the height of the cold war. While never imprisoned like Wolfgang Schmidt, he was denied the grand stage his talents deserved, as well as the validation of one truly special performance.
Oesterreich persevered in the face of athletic persecution and continued on as a trainer in Germany. Oesterreich was something of a rotational pioneer in his country, and continues today as a successful private coach.
LSTJ: How did you end up putting the shot?
RO: I started late with athletics. Until I was 14 years old, there was only soccer for me. I was always good in throwing, and because of that I participated in district championships for athletics and won gold in the discus and silver in the javelin. This success encouraged me to start real training.
Since there was no athletics club in my hometown, I had to go to a neighboring city for training. From the beginning I was obsessed with the throws disciplines. It was also important to me to expand my knowledge throughout my training. Specialty books about the throws and power training gave me the opportunity to expand my knowledge to constantly improve my training.
After a few years, at age 18, I started to participate in county competitions in the discus and javelin for men. I was thinking about becoming a trainer. Because of that I attended college to become a sports teacher. I discovered very fast, that our high school team had a retired professional who was still able to throw the spear 70m, and because of that did not see a chance in that discipline. But the best shot putter just barely made 12.80m (42-0). That was my future. This was decided by coincidence.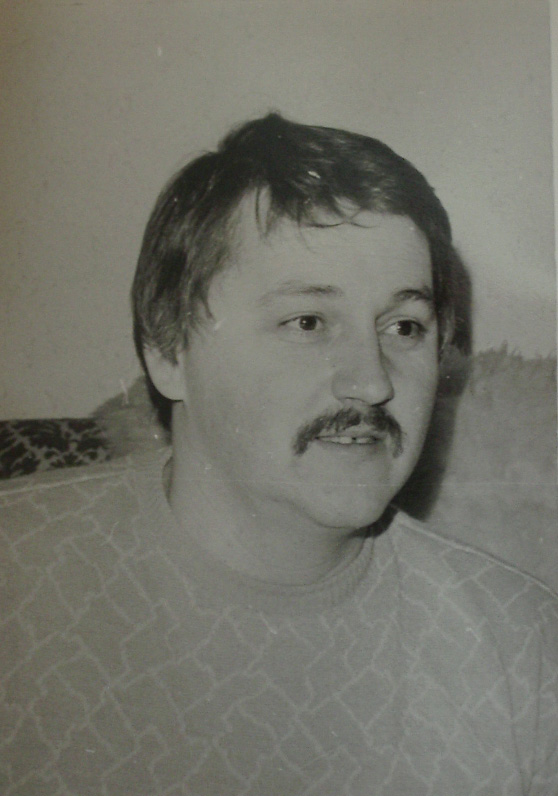 Rolf Oesterreich
LSTJ: How was your performance development as a shot putter after you dedicated yourself to this discipline?
RO: At the beginning it slowly went ahead, because I didnít agree with the trainer from the high school team and his limp training method, which resulted often in disagreements.
After approximately six months, with mutual agreement, I went my own way and my performance in the shot and discus got better, as did my motivation after I started intensive training. I won for the first time in the district competition.
Every year I raised my goal with the shot about 1.80m. After I reached 16m the first time in 1974, I was looking for training methods and technique improvement to better my performance even more. I also looked at the spin technique.
I had a row of pictures from Baryshnikow and Oldfield, as an example. I tried it and to my surprise, the shot flew the first day as far as with the glide technique. The turn with the shot was easy for me, since I had the discus technique pretty well under control.
In training I was able to get a pleasant result with 18.05m (59-2), but almost nothing worked in competition. I was too excited and was asking for too much. I often took my last throw from a standing position or glide, which most of the times would not work. Therefore, in 1975 I registered an official competition performance of 15.64m (51-4). My stand performance from training was 15.98m (52-5).
With the shot I was set back, but the discus flew surprisingly 54.26m. With this performance I was entitled for the first time to participate in the DDR (German Democratic Republic) Championships.
The twelth place finish wasnít much, but it gave me confidence to increase my effort. After that, I had lots of time in the winter half-year to think about it, and for experiments.
I realized that I had large reserves in the spin technique. I increased my power training again and discovered the importance of the special power for the spin technique. I accomplished a training performance of 19.60m (64-3) in winter. I did not participate in any inside competition.
Together with that I had an important experience that influenced my consideration of power training. I watched the European championship in weightlifting as a spectator very closely. At that time in middle heavyweight (up to 90kg), David Riegert managed 220kg in clean and jerk.
After the competition, this small athlete jumped from standing up to the 1.20m tall winners podium. I remembered the power weight proportion and that is how I realized that you can increase your power without a high bodyweight, as most of the shot put colleagues had. So I found a way to improve even more my speed-power performance.
In the spring of 1976 I was able to train at a high level without any injuries and my competition performances (20.74m [68-0], 21.46m [70-5] and in the autumn, 22.11m [72-6.5]) spoke for themselves.
LSTJ: Your technical idols were Barryshnikow and Oldfield. Did you try to copy them exactly, or did you try your own ways?
RO: Of course I have tried at the beginning to copy my two idols. With my model of Baryshnikov, I had lots of problems, because he didnít hold his head vertical during the turn. I often lost my orientation.
In comparison Oldfieldís technique was better. Every technique has its strengths and weaknesses, so you are never able to take over a technique exactly. From the first week on I used my own right leg swing from the discus throw and felt comfortable. The frame by frames did not play a role anymore. I always counted on my feelings, and because of that I created my own spin technique.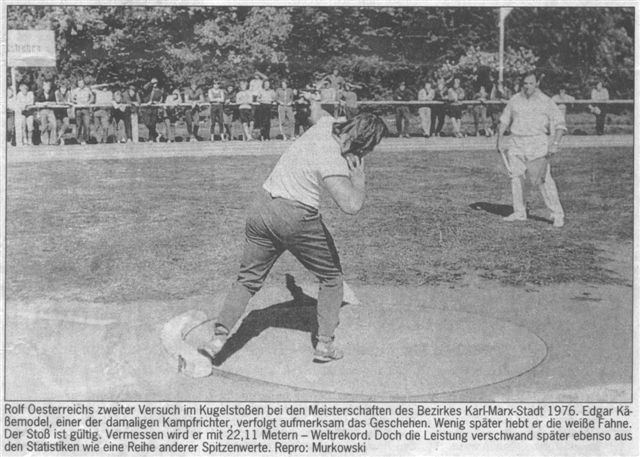 Oesterreich's unofficial WR was captured in a local news account, but never recognized by the DDR.
LSTJ: Did you expect a performance of 20.74m (68-0.5) at the beginning of the season (May 2, 1976 in Ehrenfriedersdorf)? What was your best training performance at that time?
RO: I never expected a performance like that at the beginning of the season. My best performance during training was 19.80m (64-11.5). I was hoping silently to reach the 20m (65-7.5) mark.
I couldnít forget and get over my failures from last year at the competition. When the judge announced the distance, I almost didnít believe him and he had to say it a second time to convince me.
LSTJ: How was your series in this competition?
RO: In the first try I had 20.74m, and the second attempt I wanted more, and I hurt myself pretty bad. With lots of power, the turn technique proved a failure most of the time. With that, my competition ended.
LSTJ: How did your goal setting change after this performance?
RO: Since I knew which performances the other DDR shot putters had until then (only a few centimeters more), I had in my head the subject of the Olympics. A couple of days later, I was called to SC Karl-Marx-Stadt and there they encouraged me in the direction of Olympics. I took the challenge.
LSTJ: Did you experience any promotion or encouragement?
RO: As of May 9, 1976, I was excused from work. Because of that I had much more time that I could be treated every day by physiotherapy. The excuse from work was a very important point for my performance development. For this special treatment I had to thank the district authority. But because of the influence of Berlin, they immediately withdrew this promotion.
LSTJ: The first result of the season from 20.74m, and three-and-a-half weeks later it was 21.46m. That should have caused some awareness in the DDR. How was the reaction of the Union?
RO: These results definitely caused awareness. I was immediately courted by all the big sports clubs. It seemed that the union was almost helpless, but in the background they already pulled strings.
What really happened, I didnít find out until after the turn (uniting East and West) when I was able to take a look at the Stasi file (that is a file which was put together by the DDRís highest secret intelligence, the Stasi, which was like FBI). For me there were just other rules, but nobody knew them before.
To qualify for the Olympics, the qualification distance was 20.90m (68-8.75), but for me it was 21.85m (71-8.25) - they asked from me the world record! [The world record of 21.85m was reached on February 21, 1976 by Terry Albritton of the USA]
LSTJ: Did you believe at that time, that you were able to make it to the Olympic games in Montreal?
RO: When I didnít know that the qualification distance of 20.90m (68-7) had no meaning, I had big hopes to accomplish the jump to the Olympic Games. When I discovered that only a world record would make Montreal, all my dreams died. But they came alive one more time, when I reached 21.46m (70-5).
LSTJ: What made your short flames of hope go out completely?
RO: One week before the Olympic qualification, they let me know that the doctor of sports and medicine disqualified me with the reason that my body could not handle the permanent load of stress. That meant for insurance technical reasons, I couldnít get nominated for international competition for the DDR team. With that I also was not able to become officially a Performance Athlete in the DDR, which was necessary to compete in larger or international competitions. With not taking part of the Olympic qualification, a lot of the officials later on took that as I was afraid to compete with the Ďbig opponents.í
LSTJ: Juergen Bloss wrote in his documentary about your performance that an injury was also the reason that you were not able to be part of the Olympic qualification.
RO: I did have had an injury. I had a tear in my back muscle. That happened three days before the qualification, because I didnít keep a clear head during my training anymore. This injury was officially announced to the officials as the reason for me not taking part. The disqualification by the doctor was never brought into public light. The disqualification by the doctor I only mentioned again when I had proof - the Stasi files.
LSTJ: With what kind of feelings did you follow the Olympic Games in Montreal on TV?
RO: On one side I followed the exciting competition with enthusiasm, because with surprise Udo Beyer won. Otherwise it was nostalgia to see what kind of role the two other DDR participants played at the competition.
LSTJ: Was there any reaction from the side of the other athletes from DVfl (German Democratic Republic Athletic Association) in regard to your case??
RO: Of course I was talking to the other athletes about my problem. I experienced very different reactions. The negative experiences with this situation I would not like to mention here, because most likely they happened because of ignorance. The athletes were only given the same official information as the public about myself. The most positive experience I had was with Udo Beyer. He was interested in my problem and stood by me, even though he was not always able to show this in public in the DDR at that time. We are still good friends.
LSTJ: This of course explains why you wished him good luck at the Olympic Games. This was not naturally in your situation. Did you ever have a chance to compete with Udo Beyer directly?
RO: I never had the chance to compare myself to Udo in competition. There were several more quality competitions, but they were only by invitation. Only official Performance Athletes were able to compete. I was never a Performance Athlete. Two years later there was a chance to meet Udo at a competition, but that again was prevented by the unfair ways of the union officials. *LSTJ *
This interview is available in its entirety in print in the January 2007 issue of LSTJ.
* German to English translation by Kerstin Hocker.
* Oesterreich images courtesy of MacThrows.com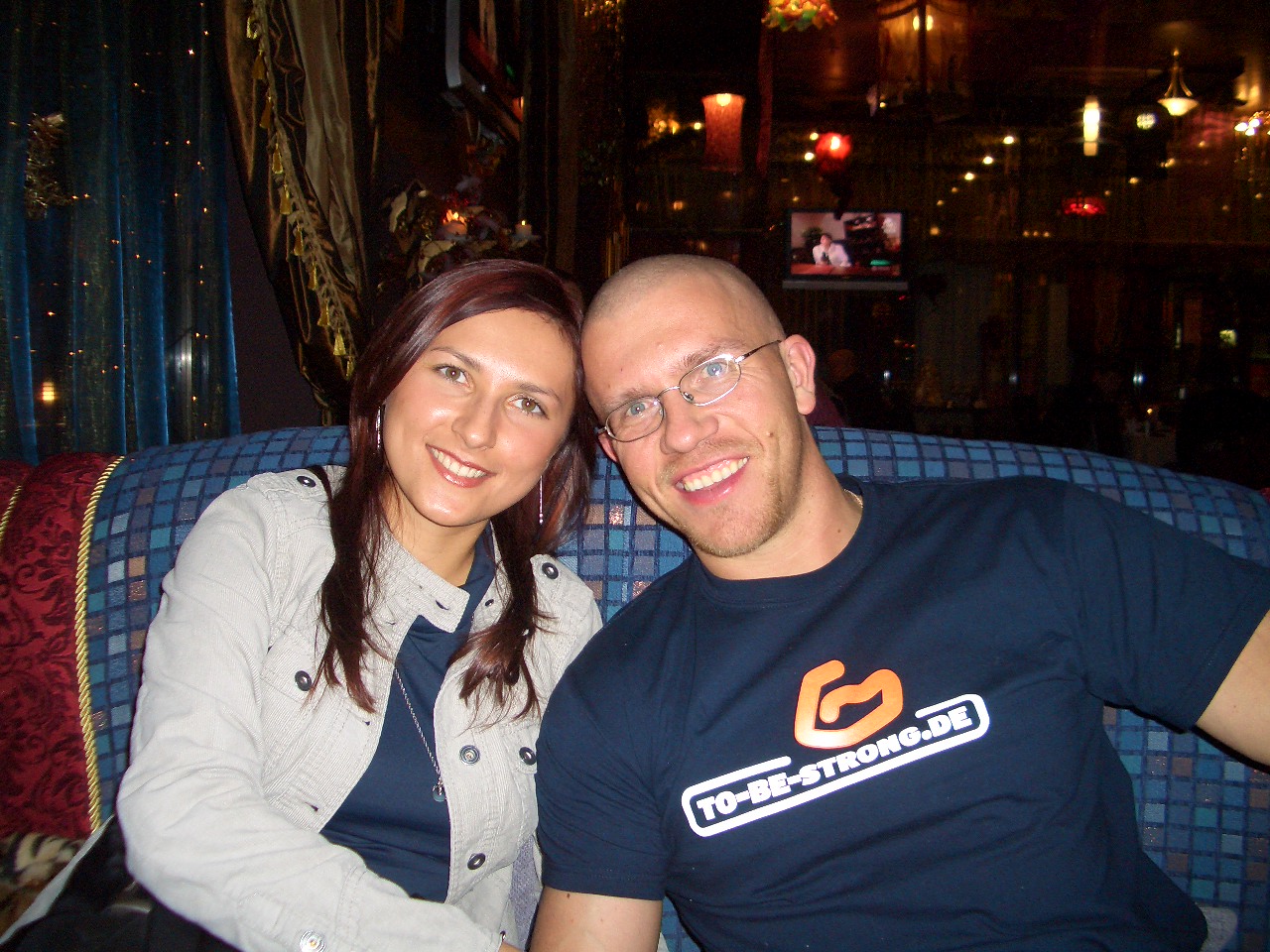 Torsten with wife Nataly