VOLUME 4, ISSUE 1
July, 2001
TABLE OF CONTENTS
Changing of the guard in Eugene

Wowin' 'Em in Eugene

Robberts rocks the world, D2 and D3 reports

Brad Reid talks with Robberts

A perennial favorite regroups as a post collegian

USATF discusses track and field and throwing

Babbitt's Battalion

Talent en masse in Athens, GA

The German spear WR holder chats with Jeff Gorski

Throwing for Better Living

Prep star Jeremy Silverman tells of his transformation

Squatting for Young Throwers

Dan McQuaid gets down to the basics

Beating Mother Nature

Recap of the L&S Throwers Classic
Throwing For Better Living

By Jeremy Silverman
My freshman year in high school was definitely a memorable one, and in a way something I'm ashamed of. As a result of extremely bad eating habits, lack of exercise, and a family history of obesity, I left my freshman year five feet eleven inches tall, bearing a 48 inch waist, and tipping the scales near 320 pounds! Not only was this a very unhealthy way to live, it was affecting my life both socially and athletically. I had been prodded quite a bit from family members to try to start a diet, but my ambition to lose the weight only started after I finished my first year in High School. Most people who want to cut a few pounds usually turn to traditional forms of exercise such as running, swimming, or biking. I turned to something I loved; throwing.
I had an overwhelming desire to lose weight knowing that the loss would not only help me look and feel better, but it would also increase my throwing performance. As an inspiration to eat only the right foods, I posted my school picture on the refrigerator with a phrase stating, "THROW 60!" The main key to my first round of weight loss was the newly discovered Atkins protein diet. When you are heavy and you love to eat, cutting back is one of the hardest things to do; however, the protein diet allowed me to eat as much as I wanted as long as it didn't contain carbohydrates. Since this method was extremely new and lacked the medical studies many other diets have had, I felt it was in my best interest to only stay on the diet for a total of three months. An amazing three months they were too! Struggling through the lack of variety in food, I dropped sixty-five pounds and walked into school my sophomore year weighing 255 pounds.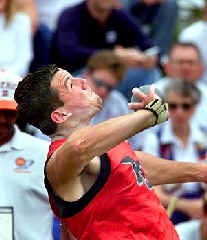 My sophomore year was a decent year for track, but I didn't have the dedication to get in the weight room or do any training other than throwing during practice. My personal bests were 53'11" in shot put and 148' 0" in discus. I placed sixth at the state meet in shot put and was fairly happy with what I had done, realizing I had a lot of room to get better. By the summer, my weight had crept up to about 265 pounds.
During my junior year, I started my season indoors and I was still only seeing low 50's numbers in the shot. I had done absolutely no weight lifting or training over the summer. My coach Glenn Thompson had opened my eyes to the Louie Simmons workout over the winter, and I did this about twice a week, if I was lucky, until the end of my spring season. I felt the Simmons band work that I was doing was beneficial to my explosiveness, but with very low base strength, I hit a barrier quickly. My best lifts at the time were probably 265 in the bench and high 300s in the squat. I did improve my throws a little during my junior year, but it wasn't what I was hoping for. I increased my PR's to 55' 11", 166'2", placed fourth at states in discus, and was the runner-up in shot put. The state meet during the shot put competition was absolutely my turning point from having a little dedication to succeed to being 100% dedicated to making myself the best that I could become. I watched the winner that year glide 59'11" off of a 55' stand throw, and I then knew that I couldn't rely on just my technique anymore, I needed to hit the weights HARD! I knew that I could guarantee myself at least ten feet between my stand throw and my full spin, which meant that I needed to improve my 43'-44' stand to 50' if I wanted to achieve my goals. One person who really inspired me to lift hard and made me realize I could throw sixty feet was Bud Rasmussin at the IronWood Throws Camp in Spokane, Washington. I attended that amazing camp the summer after my junior year where Bud told me, "Jeremy, if you ever got serious about lifting weights, you could easily throw sixty feet, if not more!" I took that to heart.
First things first; I needed to find somewhere to lift. My first intention was to use my school's weight room, but that was out of the question because it is about the size of my closet. My second try was at a local gym near my house that I saw a lot of people from my school attending. I tried lifting there for one week before I realized that the majority of people who lifted there spent more time moving their lips than they did working. I needed a place where I could lift and go nuts, with no interruptions. My basement looked like the prime target for what I needed. My father, being the great guy he is, bought me a set of Olympic weights, dumbbells, a big squat rack, and a bench. At this time I was 6'3'' and my weight was up to about 280 pounds. I got together with my coach, mentor, and good friend Glenn Thompson and worked out an excellent program for me to do up until the middle of my indoor season. In my basement, by myself, with Metallica blasting, I worked my ass off! I put my heart into every lift and I was reminded every second by the inspirational postings I had on the wall why I was doing it. I lifted for two hours, four days a week, and on the weekends I would put a harness on and either do sprints pulling a weighted sled or I would pull my father around in his SUV.
When it was all said and done, I entered my spring season weighing 230 pounds, had a 38 inch waist, and had a PR of 58'2" from indoor states. My lift PR's also came up and they were 320 in the bench, 490 in the squat, and 275 in the hang clean. At this point I started the Simmons program again twice a week and brought some explosiveness to the strength I had gained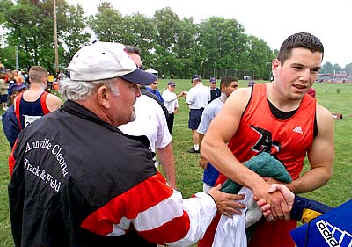 during the off-season. All the hard work I had done, without a doubt paid off. Glenn helped me amazingly refine my technique to a level that I had never seen. I exceeded every goal I had set for myself, and pushed my personal best's to 185'4" in discus and 65'4 ½" in shot put off of a 52' stand throw. I broke the discus records at my school, county, and league meets and in shot put I broke the records at my school, county, league, district and state meets. I was state champ in both events, I'm currently fourth in the nation in shot put and I'm attending Virginia Tech next year on an athletic scholarship.
I learned what it meant to be dedicated to a sport, and I used that philosophy to make myself a better athlete and a healthier person. *LSTJ*