COMING INTO HER OWN
<Image from Randy Miyazaki/DitPhoto.com (may not be used without permission)>
By Glenn Thompson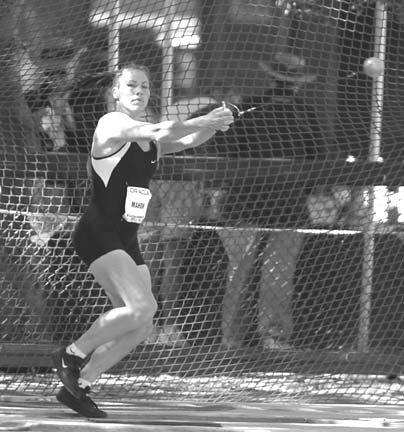 Anna Norgren Mahon is on a roll. Thus far in 2002 she has gained USATF Indoor and Outdoor titles as well as an American Record in the hammer. Mahon's achievements have come while balancing marriage, teaching and world-class athletics. Anna took some time out of her busy schedule to participate in a rolling interview with LSTJ throughout the spring. As the results show, she's a master juggler.
Long & Strong: Let's talk about your American Record (at the Holmdel International meet at West Point, New York on June 9, Mahon set the American record twice: 71.06m (233 feet, 2 inches) in the fourth round, breaking Dawn Ellerbe's 2001 record of 70.62m (231-8), then bettered the record with a throw of 71.64m (235-0) in the sixth round). Based on your spring season prior to Holmdel, did you see a possible AR coming?
Anna Mahon: My frame of mind is that I want to throw far- really far. I definitely thought 71 meters was realistic, but I have been trying to work on some things technically that will lead me to far throws. I have been working for a feel and it wasn't until this last meet that it began to click. For the first part of the season I didn't really feel like I had a rhythm so I wanted to get that rhythm to click.
LSTJ: Describe the day and your two record breaking efforts.
AM: The day was beautiful, and in terms of facilities West Point is the best ever. You have the whole Hudson as a 180 degree focal point, so what could be better? Both my parents were there which was especially nice considering my mother's battle with cancer the last few months. My family is the most important part of my life and it is so wonderful that they all support me. The competition was great because both Bethany [Hart, her training partner] and I were beginning to tap into something big. On her fourth throw she had a huge PR of 65.06m, which followed my PR of 69.72m. After that we let loose. It was a lot of fun and a nice staging for Nationals. We hope to keep consistent and have fun at Nationals.
LSTJ: Was hurdling your primary event is high school? How were you first exposed to the throws, and what were your prep bests?
AM: Hurdling was my primary event for track and field, however, I was only a track athlete for the outdoor season of my junior year and indoor/outdoor of my senior year. I was a swimmer for four years in high school. My school team was run with everyone doing a variety of disciplines, so I also threw the shot (32') and a little disc (110') my senior year. I occasionally long jumped (15') and ran on the 4 X 400m (64 second split), but my main event was the 300m hurdles (49 seconds).

LSTJ: Talk about your first experiences with the hammer at the University of Vermont. What were your bests while in college?
AM: I became strictly a thrower in college, and for my first two years I was awful in the hammer. I went up to about 38' in the shot by the end of my freshman year, but only threw 125' in the hammer. I improved to about 140' my sophomore year but had a huge fear of competition. I got it under control the summer before my junior year when I worked with a sports psychologist. I came back my junior year and threw 169' and by my senior year qualified for the 1996 Olympic Trials and threw 182'7", which is still the school record.
LSTJ: Talk about your transition from Vermont to post-collegiate throwing. Was it difficult for you to advance your throwing while adjusting to life in the real world?
I had a fairly smooth transition because of two things: (1) I went back to grad school so I was still on the collegiate academic schedule, and (2) I wasn't super serious about the hammer. I decided after I made the Trials in '96 that I would like to train until 2000, and at that point, I thought that would be it. Teaching works out really well in terms of the schedule, and I have a really supportive system. The difficulty lies in funding and putting together a competition schedule. I sort of learned as I went. I PR'ed my first year out (grad school year) at 189' even. My next year (first year of teaching and training with Bill Sutherland (Southern Conneticuit State throws coach) I threw 63.64 (209'-plus). I have PR'ed every year, but none as big as that jump between 1997 and 1998.
LSTJ: Can you talk about your work with a sports psychologist in terms of what you worked on and how it has benefitted you?
AM: I worked with a sports psychologist for the first time between my sophomore and junior years. Being a psychology major, I was always interested in the idea and at that point I was struggling with major performance anxiety. I had seemed to master it in school (which had also been a problem for me) but I was having trouble competing. The work I did with the first psychologist in Amherst (Massachusetts) focused on visualizing techniques and major deep imaging, which really helped me at the time.
In 2000, I began working with another psychologist, Dr. Shane Murphy, in Trumbull, Connecticut. He and I did a lot of talking and game planning. We would discuss issues I had (like training on my own) and create plans of how to make things work, with tons of back up scenarios and plan B's. It was helpful because although I would often try to guess where he was going with something, it is always good to have a non-partisan party to talk to and to help learn about yourself through. He was more of a sounding board than anything else. I would talk to him and feel as though I had figured out a lot of things. It was really helpful- one of the building blocks.
LSTJ: You went back to the coaching of Bill Sutherland after a 2½ year hiatus. How has that benefited you?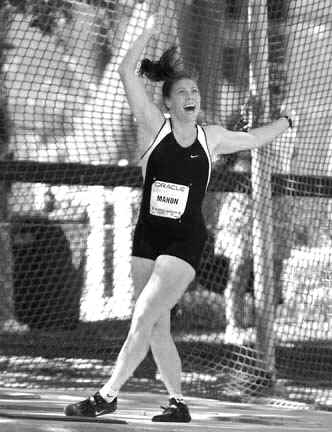 AM: Bill has been nothing but a complete help to me. We parted ways in 1999 to work some personal issues out. I never doubted, however, that he was one of the most technically sound coaches in the country or the world. He and Stuart Togher [Lance Deal's coach] speak often and have very similar approaches to the throw. I respect them both very much and feel privileged to have worked with them. Bill and I have really gotten to a comfortable, healthy place. We are able to discuss training and make great short and long-term plans. Working with Bill, plus having great training partners in Bethany Hart and Dan Bourque, has really helped my throwing.
LSTJ: Do you have certain technical points you emphasize? Do they differ between the weight and hammer?
AM: In terms of technical aspects, I am constantly working on slowing ME down and letting the ball increase in speed (letting the ball do the work). To accomplish this I try to work the ball by me off of my swings, while relaxing into the throw and getting my right foot down underneath the ball on every turn. I have had this concept for quite a while, but with the help of Bill I have really been able to incorporate it into my psyche as a thrower. In terms of different technique between the two events, I treat (in the words of Lance Deal) the weight like a light, speed ball. I think of the 20-lb. weight as a 2-kg. ball and let it go! When you really BELIEVE in that, it is amazing what happens.
LSTJ: Can you run through a good attempt? Imagine you are watching yourself on video, in slow motion. What do you see happening?
AM: That is sort of a toughy because I can always pick out problems. Even my farthest throw at [2001 USATF Indoor] Nationals wasn't what I WANT to look like, i.e.- too much on my right foot, not letting the ball accelerate enough, etc. But overall it was a good throw. Anyway, a good technical throw for me is relaxed from the beginning. When I step up into the initial part of my pendulum swings, I am patient to let the ball sling by me. I use the swings as a rehearsal for the throw, establishing big pendulums and a conscious point of the 180-degree mark. I think of putting the ball out at all times, so naturally it has to start at the swings. Off of the swings, I let the ball go by me using my right side (foot, hip, ab) to push the ball out. I get my right foot down underneath the ball, hanging on the ball for a slight instance while it is at 180 degrees. By my fourth turn, I try to be relaxed and SUPER PATIENT, really feeling the ball pull itself; I put my right foot down, feel the pendulum and push the ball up and out with my right hip.
LSTJ: Is there much of a transition from the weight to the hammer?
AM: In terms of transition for me, there really isn't. I throw the weight all year, about once a week (even "in season") and I throw hammer all year 4-5 days a week. We train hammer all the time and use the weight as a training tool. It helps identify problems (because everything is magnified with the weight) and helps reinforce good things (if you can get something in the weight, the hammer will be a breeze). So I don't find any physical changes from indoor to outdoor. I always find myself ready mentally, emotionally and psychologically for the phase of my season that is approaching. At the beginning of pre-season training, I am psyched to not have to worry about competing and I can focus on really working hard. By the end of December I am ready to have a few meets and the weight is often going pretty well by then. But by the beginning of March I can't wait to get into a hammer comp, (especially because it is warm and they are usually down south. I have a lot of fun with each aspect of throwing. That is why I am still doing it!
LSTJ: What did you struggle with the most (technically) when you began the hammer?
AM: I never really had a good conceptual understanding of the throw until I began to train with Bill. I struggled with the feeling of consistency with the throw, getting my right foot down where it should be (which I just started to really begin to do this past year). As mentioned before, I also struggled with the performance aspect. I would freeze during a competition.
LSTJ: What is your weight and height?
AM: I am 5'11" and 180 lbs. I range between low- 170's in summer to mid-180's in winter, reflecting the light to heavy lifting phases.
LSTJ: Let's talk about your weight training philosophy. Contrast your weight training as a hammer thrower as opposed to when you threw the shot and discus. What lifts are more important to you now? What are some of your best weightroom numbers?

AM: I never really trained very specifically for shot. I threw for points in college, but my best in school was only about 42' and out of school was the 43' range. I definitely learned how to lift for the hammer when I started training with Bill. I only lift twice a week, and depending on the time of year, do five core lifts: back squat, front squat, cleans, wide grip snatch and close grip snatch. Throughout the entire year I do major abdominal/core work- plate twists, body curls (or "skin-the-cat"), sit ups with plates, Danek twists, and hypers. I have a routine and follow a general periodization, which goes in three cycles. I do major circuit training in the fall for about four months, which really gets me in shape and powerful. I don't know what my maxes are in these lifts because we rarely max out. I have done 220 lbs. for a double in the clean, 345 lbs. for a double in the squat, front squats around 265 lbs. for reps, and the wide grip snatch is 155 lbs. for a double. Not super impressive, but I am a hammer thrower, not a weightlifter.
LSTJ: How do you mix marriage, teaching and training?
AM: Well, that is a good question. I met my husband through training. He was an NCAA Division II national champion in the high jump twice [1995-96] so he understands what it takes for me to maintain this level of competitiveness. He is super supportive and one of the main reasons I am doing well this year. He is a major inspiration to me. Teaching is my vocation, but I enjoy it. As long as I stay organized (which doesn't always happen, but…), I have a good time in the classroom, especially with my students. They (students and co-workers) also encourage me and help me succeed. Training is my avocation, but also needs to be taken seriously, so both my teaching and training I approach with similar attitudes- jobs that I love to do.
LSTJ: As have all Americans, you've spent a few years in Dawn Ellerbe's shadow. How did it feel to grab that first national championship (2002 USATF Indoors) in New York?
AM: Obviously, it was great to win Nationals. I was able to clear a few hurdles (pardon the metaphor) both performance and confidence- wise. I wasn't focused on beating any one person, but rather to win and get as close as possible to the world record. I achieved both of those goals so that was great. Dawn has proven herself to be the best female weight thrower in the history of the event, and it has really helped me to be able to compete against her both indoor and outdoor a number of times.
LSTJ: Can you talk about your brother Erik and how he has affected you?
AM: Having a Down's Syndrome brother is sort of a normal thing for me (because he's been there my whole life), but Erik is a very special person in my life. He has really helped shape my personality because I have always sort of had a crusade for him. Not only do I feel very protective of him (as I tend to be this way with all of my family), but I also think he is a great example recognizing the important things in life. He is a very affectionate person (hence, so am I) and hugs every woman he meets, while shaking hands (sometime repetitively) with every man. He went through a rough time while in high school (he went to public school and got a certificate of attendance when he was 21) and suffers from schizophrenia now. However, throughout his entire life, Erik has helped me recognize priorities in life, and no matter how I throw, he always gives me a hug after the meet. I consider him to be sort of a guardian angel for me.

LSTJ: With the U.S. women not throwing at an early age, how do we catch up with the rest of the world?
AM: We can catch up by starting at a younger age. The more exposure we get, the more kids will want to do it. Look at the women's pole vault. We need it to be accessible and fun for kids to get into it.
LSTJ: As with you, 95% of hammer throwers have never thrown the hammer when they get to college. What advice would you give the novice?
AM: The advice I would give ANY thrower, but especially hammer throwers, is to be patient. It takes a long time to work on all the things necessary to do well, and the throw itself has to be patient, so try to not let your emotions run away from you.
LSTJ: What are your future athletic goals? How long do you see yourself competing?
AM: I plan on competing through 2004 and then I will reassess. I am definitely interested in having a family so I may take some time off for children- or I may retire, we'll see! *LSTJ*