VOLUME 6,
ISSUE 1
July, 2003
TABLE OF CONTENTS
Letter From The Editor
Random Thoughts
NCAA D1 Report
Lady Gators push their weight around
Lady Tarheels Step Forward
Big Blu Crew doing big things
NCAA D2/D3 Report
Small schools, big performances
USATF Report
Many new faces atop the podium
Carl Who?
Mr. Brown steps into the limelight
Erika Wheeler
Veteran nabs her first national title
Murder's Row
A Prep throwing dynasty like no other
She's Got Next
She's the crown jewel of AGHS
American Hammer Throwing Critique
Installment two in the series
Throws Training Chart
Diagramming Hammer Success
Throwing The Danish Way
Danish Champion Christina Schwerin
Making of A National Champion
Tips from the coach of a two-time champion
A Blueprint for Throwing Success
A comprehensive approach to maximizing your talents
Coaches Corner
Tips from the Cybercoaches
Arroyo Grande H.S.
Murder's Row
By Glenn Thompson
The 1927 New York Yankees fielded a lineup for the ages. The Bronx Bombers were anchored by the legendary duo of Babe Ruth and Lou Gehrig who teamed up to rock the American league for an astounding 107 home runs and 339 RBIs. Ruth set a major-league record with 60 homers, while Gehrig set a big-league record with 175 RBIs. Two other Yankees, Bob Meusel and Tony Lazzeri, exceeded the 100-RBI mark. The outfield of Ruth, Meusel and Earle Combs combined for 597 hits and a .350 average — Ruth and Combs hit .356, and Meusel finished at .337. Gehrig batted .373.
That legendary team rampaged through the summer of '27, winning a record 110 games and lapped the second place Philadelphia Athletics to win the American league pennant by a mere 19 games, and went on to blitz the Pittsburgh Pirates in a four-game sweep of the World Series. That stunning team earned a nickname that still sticks today: Murders Row.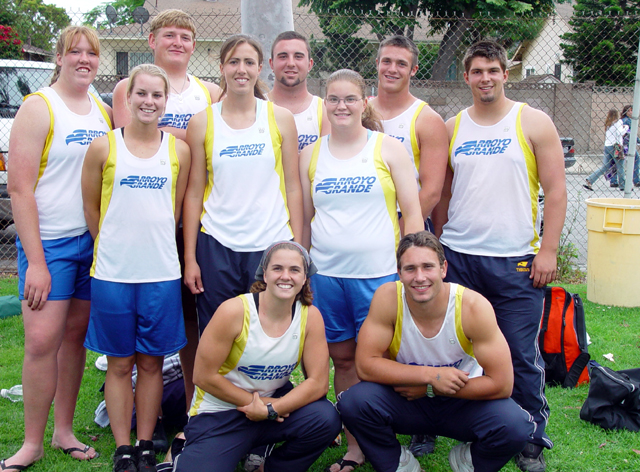 AGHS's 2003 State qualifiers.
How many high school coaches are thrilled to have to have a 50' boy putter or 135' girl's discus thrower come through their program every three to five years? Okay, you can put your hand down now. But imagine having two or three 50-footers or several 135' girls. Uhhh, you might want to wipe the corner of your mouth. Now imagine having 10 boys over 50', 6 girls over 35', 8 boys over 150', and 6 girls over 133'! Sounds like a pretty good state meet, eh?? What if I told you all this talent had attended the same public high school?! And all at the same time?! It's the stone-cold truth.
Hey, no problem. Hit the bathroom, take the magazine with you and keep reading while you clean yourself up and change your drawers.
Arroyo Grande High School, nestled on the Central Coast of California in San Luis Obispo County, mid-way between San Francisco and Los Angeles, has accumulated a modern-day Murders Row. With 2,600 students spread across four grades, there is a significant population to draw from. But there's more than a few schools across the contiguous 48 of that size that are lucky to have one 50-footer. And yes, the weather is great year round. But who else is doing this in California, Hawaii or Florida? So what's the secret in the sauce here?
The Architect
"I threw in high school," says Robert Budke, physical education teacher and the throws coach behind the AGHS program. "I was terrible. I threw 145' in the discus and didn't throw the shot after my junior year, but I worked very hard. I only threw 70' as a freshman, and like most throwers, became very passionate about it."
Passionate is an understatement. Budke started coaching right after graduation from AGHS, attending college in the morning, helping out at his alma mater in the afternoon and working in the evening. "I was very busy…can't believe I did it actually."
"I have been coaching track and field for 17 years now," continues Budke. "Since 1994 I have been in control over the entire throws program. When I first started, I just coached the discus. My high school coach Larry Will, who inspired my passion, would work the shot with the kids, and I took the discus."
Finding Talent
One of Budke's secrets is effective recruitment of talent wandering the hallways and playing fields of AGHS. How many blue chip football players spend their springs lifting weights rather than tossing implements? Not at Arroyo Grande. Budke has coached football at the feeder levels (currently the head freshman coach) for most of his years in the school district.
"I have found that [football coaching] is a very important tool in getting boys into throwing," says Budke. "I would say that 90% of my throwers have played football, and currently they all do. Most of them, had I not coached in football, would have never come out for track. Because of the relationship that I was able to build with them, they were motivated to give [throwing] a try."
"I use my older kids to recruit for me. I had Sean Shields, who at the time was the starting quarterback and off guard on the basketball team, recruit Billie Jo Grant like mad. "It didn't take a genius to figure out that she was gong to be a great one. The only challenge was to get her out. BJ, having been told her entire life what a great basketball player she was, thought that was going to be her ticket. Having never thrown before, it was a long shot, but since I had talked to her junior high coach and he prepped her for me, she thought it would be a great idea to have someone help her get stronger for basketball. The rest was easy. It is a great sport, kids love to see themselves get better, and will work hard to make sure it happens."
You'd think that over the years of having a successful program that the kids would come in droves? Not so. Budke finds himself on the recruiting trail every year, never taking for granted the student population is aware of his program. Budke posts articles celebrating the AGHS program in the weightroom. He is active scouting the lower level sports, and most importantly, he asks. "Most of the time that is all it takes," he says. If you tell a kid they might have some talent for something, they will generally listen."
Bumper Crop
AGHS has had its fair share of throwing stars. However, 2003 represents a harvest that would make any Midwestern farmer drool. Even the shortest stalks of corn are eye-high:
· 10 boys over 50' in the shot with the 12' (distances 59'1'', 59', 57'3'',56',53'8'',53'6'' ,50'10'',50'8'',50'6'' and 50'3'')
· 6 girls over 35'
(50'4",47'3'',40'9'',39'9'',38'9'',35'10)
· 8 boys over 150'
(181',179',179,178,167,166,164,151)
· 6 girls over 133'
183'6'', 140'11'',139'9'',136'10'',135'8'',133'9''
"It's the deepest group we've ever had," says Budke. "We have always had a pretty deep squad, but nothing like this. We should be pretty deep next year as well. We are only losing three senior boys and two senior girls. We had four kids throw the 10 lb. over 52 feet this year, and we have a great group of young girls. One of our freshman girls threw the disc 129'."
The honor roll of alumni is just as impressive:
· 1995 State Champion Nadia Lopez 162' discus, went to Berkeley.
· 1995 State Champion Chad Jones 183' discus
· 1996 & 1998 State Champion Stephanie Brown in the shot put 49'6 1/2'', currently at Cal Poly-SLO
· 1998 State runner up Joe Alexandrow 64' in the shot.
· 1998 State champion in the discus Stephanie Brown 181'3'' (was #6 upon graduation, now is # 8 all-time in prep history).
· 2001 State champion in the discus Sean Shields, 209'9'/64'. Also a member of the USA Junior team that year. Last year at the University of Arizona he won the USATF Junior title in the shot (second in the discus) and was runner-up at Jr. Worlds.
· 2001 Michelle Pequignot 162'2'' USATF Jr. All-American, currently at Long Beach St.
"I tell them all the time that the success that they have is directly related to the work that they have done," Budke says. "I think it is a disservice to our kids to say that the only reason they are successful is because they are part of our program. They know that the team helps in the sense that it is easier to workout with a group than by themselves, but they also know they are directly responsible for whatever they do. I don't want them to feel as if they couldn't be every bit as successful somewhere else."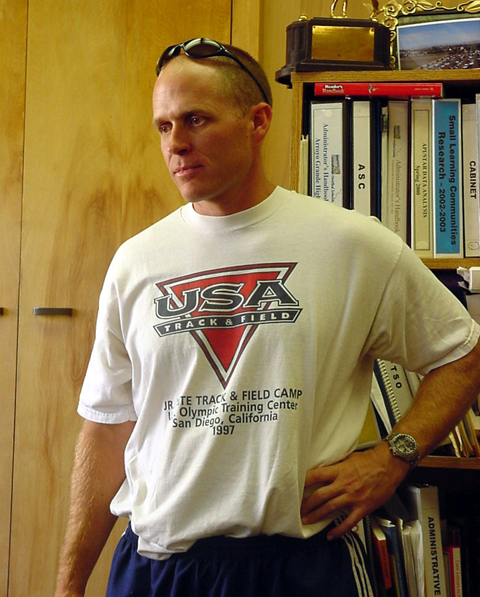 Robert Budke
When asked about overwhelming competitors, Budke is both modest and understated. "Yeah, we do pretty well at most of our meets. One of the frustrating things is that we have to leave kids home all the time who could place very well when we head to our weekend invites. With limited entries we have to juggle the line up (number one throws shot, number two throws discus, etc.). A couple of weekends during the season we will send throwers to different meets throughout Southern California. One time this year we went to three different meets on the same day and won varsity events at all of them. Opposing coaches in general are pretty good about our big squad."
AGHS's supporting cast could be big fish if they had been hatched in smaller ponds, even champions in states. Budke reminds them constantly of how special they are and they know that their coach takes just as much pleasure in their improvements as he does with a state champion.
Off-season Commitment To Excellence
"Most of my kids are two and three-sport athletes," says Budke. "I make myself available and we try to find what times work best for them to get in the weight room. Since high school sports seasons usually last around 12 weeks, we use that for our weightlifting cycles. We aren't allowed to work with our kids as far as throwing goes outside the season in our section in California unless it is in a class. Once our second semester begins, we have a class at the end of the day where we can do drills for around 40 minutes. We have to share fields, so when soccer is in season, they have priority. Our season starts in the middle of February."

"We push very hard during the season, Budke says, "so we don't throw much at any other time of the year. I just try and make sure they get in the weight room. One thing I tell our kids, "If you call yourself an athlete, act like it. Athletes train in the off-season. They know that in order to compete against our other throwers and improve, they had better prepare themselves in the off-season."
Structuring Practice
With high participation levels and abundant talent, Budke faces the challenge of maximizing practice time. AGHS has approximately 100 girls and boys in the track program, with 30 throwers this season. "Most years we have around 25, which is a nice number," says Budke. "I don't want many more than 30 though. It is not fair to the kids who have been in the program. I would be doing them a disservice."
Regarding practices, "It varies from year to year depending on the skill level of the kids," says Budke. "This year with so many good ones, and more importantly hard working ones, I have three groups of about 10. The first is a group of football guys that have a weightlifting period before school, so they get done at 2:00 pm and that is when they start. I work with them for an hour and then the rest of the group will start (the first group will go and do weight room work and all of the other non-throwing stuff. We break up the next twenty kids into two groups, beginners and vets. An assistant takes one of the groups, say the first year throwers, and works with them for around 30 minutes in one event, then the other event for another 30 minutes before they head to the weight room and conditioning. At that time the first group comes back out and works in the second event, while the vets from the other groups work in their second event. The average veteran is out there for around three hours and gets around 50-60 discus throws in and 30-40 shot throws."
If you got a passing grade on word problems, you can probably figure out that AGHS has some tremendous resources at its disposal. Try 35 each of 1.6kg and 1kg discs, 15 shots at the respective weights, plus off-weight shots. The real killer? Seven shot rings and six discus circles! But this isn't just a case of kids with silver spoons. AGHS track athletes have raised over $35,000 in the last three years and that money has gone right back into the program. Supportive families have helped as well. One father donated $10,000 for a new discus cage, nicknamed "The Thunderdome", while an uncle of another donated the concrete for the discus pad.
All this reduces stand around time, which Budke detests. "Something that I figured out along time ago, was that kids get bored if they are standing around waiting for a ring," he says. We don't have more than two kids working off a ring at any time. It has taken some time, and a lot of concrete to do that, but as everyone knows, if you build it they will come." Budke can even move the cage to best suit the wind on any given day.
Teaching Philosophy
"My philosophy is not unique," says Budke. "I teach the fundamentals. We do a lot of drills early in the season and try to include throwing in those drills as much as possible. I have a 75' long net that is 12 feet high that we throw into a lot early in the year. I have them all do the same basic work with regards to drills, but as the season progresses, we break into individual differences. I don't put kids into a cookie-cutter. I try to take advantage of their strong points and work on improving their weak points. Some kids are non-reversers, some are not. Some are sprint- oriented, some aren't. Some feel the throw, some power it out there. We spend time experimenting with what might work and what might not for each individual kid. It is a four-year process, I have never had a kid who didn't find a way to get it done, for their relative talent."

Budke places getting quality kids who are willing to work hard at a premium. "High achievers don't like to hang with low achievers. The physical resources will come in time, but it is important to start with the right type of kid."
Budke advises fellow coaches to "model the type of behavior you expect out of the kids. If you want them to work hard, you'd better tow the line. Also, buy a lot of shots and discs. They aren't expensive, and in most cases with high school kids, the more throws they get, the better."
When asked what he finds the most rewarding, Budke wastes no time in responding. "The relationships you develop with kids," he replies. "It is the main reason I coach. Believe it or not, I have been told that I seem to have a hard exterior, but to the kids I work with, they know that they are the most important part of my life. I love to help them succeed, and feel like I have a lot to offer in that way. It is in no way, shape or form, the public victories that I enjoy. It is the ones that no one outside our group of throwers knows about. Just yesterday, at our league finals, we had a freshman throw 129', a 13' PR. She was so happy and the rest of the team was elated. Even though she is the seventh best discus thrower on the team, and won't get any public recognition, we celebrated her victory. Those are the moments that are truly special.
Budke does not pretend to have invented the craft of coaching the throws. "I have modeled our program after a couple of great coaches in the Southern California area," he says. "Tony Ciarrelli at Huntington Beach High School, and Bill Pendelton at Esperanza High School, are two of the finest throwing coaches in the country and provided me with a model of what a throws program could become."

"You have to try and build a team like you build any other type of team," he continues. "Making it a family is a very important aspect. We have a lot of team dinners that the parents put on. Especially for the girls, you have to make it a family. Our girls are very committed. They are they hardest working, most dedicated athletes on campus, but if I didn't try to foster a cooperative environment, they would leave faster than they came. Our kids really support each other in reaching their goals, and I support them."

"Not all of our athletes throw as their first sport, but I let them know that by throwing, they will enhance their abilities in their number one sport. When I ask them to give it a try, I ask them if running faster, jumping higher, and generally being more powerful is important in their sport. If it is, then it is a no-brainer. If I can get them out for their freshman year, I know I won't lose them, because I will get them stronger and they will have a good time doing it."

Does Budke have advice for his peers? "Be organized," he says. "I refuse to have one of my throwers leave my program without the knowledge that I have done everything possible to make them successful. I organize and type out practice plans everyday. I let kids know what they can expect beforehand, which means I have to be prepared. I tell them when I am peaking them and put them on different plans accordingly. They spend countless hours and place a tremendous amount of trust in what I offer them, I work for them, and I wont let them down!"

Sluggers
Budke's superstar-in-residence Grant (183'6'', currently #5 all-time list, 2001 State champion discus, 2002 USATF Jr. National Champion in the discus, 5th at the worlds), says Budke has a formula for success. "It is called 'doing what you are asked.' He provides the weight workout, the throw workout, the sprints, the plyos and if a person is willing to put in the time, they will be successful. Budke can make a champion out of any type of athlete, who has the will to follow his program."
Grant describes Budke as a role model and fatherly figure to many of his athletes for his dedication and the tough road he took to complete his own education. "He has the 'that was good...but,' attitude, because he always wants to make his athletes better. All his athletes want to do their best because they want to please him, because of all the work that he puts in."

"Budke would have to be what I would classify as a hero to many young athletes," she says. "He helps kids get into college, and have their education paid for. Many that would not have the opportunity to even go to school if he didn't help them with the throws. He instills a work ethic, responsibility, and a 'never give up' attitude that no one can take away.
"Rob found me at a middle school track meet during eighth grade," says Stephanie Brown, who is now an NCAA shot and disc medallist. "At the time I was playing volleyball for the local club team and was hardly interested in competing in track and field. I was a tall, lanky uncoordinated girl, and during that track season I had managed to throw a whopping 18 feet in the shot put. My discus throw probably wasn't much farther. What Rob saw that day at the track must have been something totally different."

Brown credits Budke for "introducing me to the weightroom, more specifically the Olympic lifts, as a freshman, and for that I am grateful. A lot of high school track athletes haven't seen a clean or jerk, much less learn the technique. Most people would have left the track and gone home before the throwers had even started their lifting. I saw quite a few sunsets through the doorway of the weightroom. The throwers were known for their dedication and strong work ethic. I was proud to be a part of that group."

Brown recalls the trials and tribulations that led to her success. "Rob knows that repetition is useful in learning the basics of this sport," she says. "I remember staying long after the others went home because he knew that if I practiced long enough I would be able to throw in my sleep...and I did. I had dreams about throwing which scared me. But I never dreamed that I'd be throwing so far as I did then or now. Can you imagine a 18-foot shot putter becoming a 56-plus shot putter and still going? Rob can."

Says Brown, "The tradition of domination continues under Rob's demanding yet compassionate reign. There must be something in the water down there in AG."
Nope, its just Budke, and he's in the weightroom, on the football field, or combing the halls, searching for the next Babe Ruth, or even a sweet-swinging utility infielder. *LSTJ*