WHO WOULD'VE KNOWN?
By Glenn Thompson
Parents all across the world drag their kids from sport to sport, from season to season, hoping to find that one activity that their child can latch on to and excel at. For some it may be soccer, for others rugby. Some search in vain, never quite finding that niche.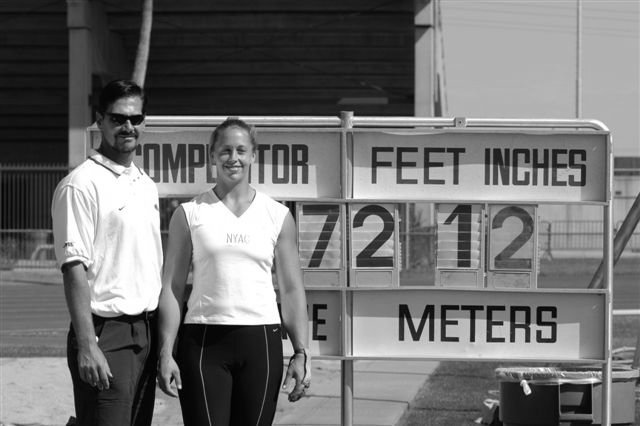 Erin marks her milestone with coach Larry Judge.
For some fortunate athletes, that niche finds them. Erin Gilreath took the long route to her dream of competing for the University of Florida. Erin saw herself as a shot/discus contributor, but upon landing in Larry Judgeís hammer/weight production line, a whole new avenue of success was laid out for her, and she took it and ran to unprecedented heights. Her journey was capped, at least at the time of this interview, by staking claim to the American Record in the hammer at 72.12 meters (236í7") at the Sun Angel Classic in Tempe, Arizona, on April 10.
In the space of four years she has gone from inactive to novice to American Record Holder. In this interview with LSTJ, Gilreath talks about where sheís been, how she got where she is, and where sheís headed.
Long & Strong: What other sports did you participate in as a child? In high school?
Erin Gilreath: As a child I participated in ballet and softball. Two of my cousins were in ballet with me as well. I was flexible, but Iím not sure I was graceful. Iíll say my lack of grace was due to not having developed my coordination yet. I was definitely the biggest girl in class. Same quads too. The softball was just a joke. For some reason the people who were running the league decided to put all the girls who had never played before on the same team. Needless to say, we were awful. I played catcher and sometimes outfield. We did have the best team name though: the Babes.
In high school I thought about the swim team, but when they told us the practices were before school at 5 AM at a pool somewhere I didnít know of, I said no. That was after getting the bathing suit, goggles and cap though. After that, Iím surprised my Mom didnít make me do it.
LSTC: How were you introduced to track?
EG: My sophomore year in high school, a friend of mine joined the team and told me about how she shot putted, did the triple jump and hurdles. I just looked at her and figured I could throw the shot further than her. My math teacher was one of the coaches and he was pushing me too. But I really decided to do it to get out of my house to escape my step dad who had some drug and alcohol problems.
LSTC: You dreamed of attending the University of Florida, but did not take the typical path after high school to get there. Can you tell us about the College of DuPage and eventually getting to Gainesville?
EG: I applied to Florida right out of high school and even did a visit with Lori Trapp, the former throws coach at Florida. Not only was Trapp not interested in me as an athlete, apparently Florida wasnít interested in me as a student either. So I just enrolled at the local junior college, College of DuPage (COD). My first year there was pretty uneventful. I didnít do much but go to class, work and home. My second year I got a bit more restless and started to get physically active. I took a couple of gym classes (cardio kickboxing and power yoga), started running and lifting each morning before class and I played water basketball once a week with my co-workers. I had a lot of fun. With my improved fitness and my pending graduation, I started thinking about track again. I talked to the strength coach at COD and he arranged a meeting with Tom Pukstys, COD and Florida alum, and AR holder in the javelin. Tom told me about Coach Larry Judge and told me of his reputation of developing great throwers. That got me excited and I contacted Coach Judge via email and he seemed really open to letting me walk on the team. I had no problem getting into Florida the second time around with an AA and a 3.8 GPA. I actually started classes in the summer at Florida, so I didnít come out for the team right away. I joined a gym and started lifting weights and preparing my self physically. I was still kind of mulling over it, as I was not sure if I was ready. My curiosity got the best of me and I walked on in October, 2001. After two weeks under Coach Judge, my shot was up to over 42' and my weight over 48'.
LSTC: Were you first introduced to the hammer in Gainesville? Did you have great expectations from the beginning? Did you think it would become your best event?
EG: Coach Judge first introduced me to the hammer in Gainesville. I think the first time I threw it I did a 2 turn and it went something like 110'. Considering I was completely ignorant about the event, Iím not sure I expected much of anything. When I came to Florida, all I knew was that I had 2 years of eligibility, an enthusiastic, knowledgeable coach and my own desire pushing me. I personally didnít really have the inkling that it was going to be my best event until the end of my last year. I was pretty excited about the shot put when I started. I only threw 38 in high school and hit 48 during my first indoor season. I improved even more and qualified for the USATF seniors outdoors my first year at UF. Coach Judge, on the other hand, might have known the hammer was going to be my best event before I did. He was excited about my gains in the shot put but kept encouraging me to keep working on the hammer and weight.
LSTC: Last year you were not the best hammer thrower on your campus. Now you are the best in the U.S. Has your rapid rise to an elite thrower taken you by surprise? With relatively modest prep bests of 38í01" in the shot and 100í09" in the discus, could you have known you would have such an aptitude for the ball and wire?
EG: Iíd have to say that my rapid ascent has taken me by surprise but thatís just because I didnít really have high expectations for myself. I did not ever expect to throw the hammer, so the ride has been kind of exciting. Sometimes itís hard for me to make sense of it all. The first time I threw 70m this year, I asked myself why am I throwing so far? I was kind of surprised that I was beating people that had been throwing much longer then me. Things have happened pretty quickly, so I try not to think too much. I know my dedication has made the difference. Coach Judge has the experience to help me put things into perspective; I work hard and make sacrifices. Thatís why I throw far. Without having yet attended a practice, I figured I would be a shot putter for Florida. Although, I came out for a jav try out very early my first year and Coach Judge seemed very excited about what I was able to do. I remember that I even called my Mom in Chicago and was telling her, "Iím going to throw the javelin!" That wasnít a total lie. I did, about twice in a couple of dual meets. It was kind of embarrassing, but it was for the good of the team. If somebody at South Carolina found a pair of jav boots near the high jump, those were mine. I abandoned them. I placed third in the meet and it was my last!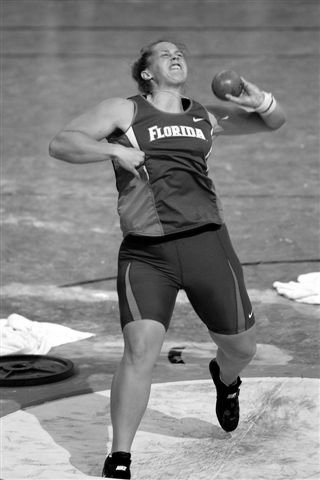 Gilreathís first love was the shot.
LSTC: Describe the training and competitive atmosphere at the University of Florida. The wealth of talent must keep everyone on their toes.
EG: The training atmosphere at Florida is great. The facilities are top notch, the weather canít be beat, and there is no throws group more talented and no coach more dedicated. The right kind of person will thrive in the training environment at Florida. When I was on the team, I learned a lot from the other girls who were better and had more experience than me. But making the most out of any training situation requires the right attitude. Itís great to have people around who always challenge you.
LSTC: Did you feel like you had officially arrived when you claimed the 2004 USATF gold in Boston?
EG: If thereís one thing I learned my last year at Florida itís that very few people care about the weight, especially if youíre not converting in the hammer; In 2003 I won NCAA Indoors, but wasnít really able to convert in the hammer because I hadnít been throwing for very long. So, I didnít feel like I had "arrived" in Boston because I knew that the real test was outdoors with the hammer and I felt like that was the place where I really had to prove myself. I feel like now I can take a little more pride in my win indoors because I have done fairly well with the hammer. I know a lot of people wrote me off as just a weight thrower and were not sure what would happen this year. It is a constant battle though. I am never satisfied and I am always working to improve my technique. There are many great competitors in the event.
LSTC: Despite your relative inexperience, youíve performed very well in big meets. How do you handle competitive pressure?
EG: Very rarely do I feel competitive pressure in meets. Generally, I go into every meet feeling very prepared because of my training and the training environment. Iím pushed to the edge a lot in practice and it only prepares me for the pressure of big meets. Some people rely on luck in big meets, or every meet. But I think that luck is a resource of the unprepared. Every result I get in a meet is worked for in practice. There are times though, when I donít handle the pressure so well. Those are the times when I try to throw outside of myself and think more about how everybody else throws than how I know how the throw. When I throw well itís because Iím thinking about how I know how to throw and what makes ME throw far. I donít have a pattern for anything else so doing anything else will not result in success for me.
LSTC: Talk about your record-setting effort at the Sun Angel Classic. Did it feel like a great throw at release?
EG: No, it didnít feel like a great throw at release. It kind of felt somewhere in the middle. I didnít feel like I had all the tension I could have had, but it didnít feel like I was totally lacking either. I expected them to say it was 68m, but when the read it off I knew right away it was the record. Before we left home for Arizona, and even in Arizona, I had had some pretty great practices. Coach Judge had really been prepping me for this all along. From the first year I was on the team, we watched video of Dawn, he told me stories about the path he and Dawn took and basically guided me though the same process. I am glad I was able to bring the record back to Coach Judge because I think heís the best coach in the country.
LSTC: Do you dabble with the other events any more?
EG: Besides the weight, no. Sometimes Coach Judge and I kid each other about throwing the shot again. The last time I touched it was last summer. But this year itís more important to put my focus on the hammer. I improved my shot 14' in two years, so maybe I will pick it up next year. At the end of my senior year I really felt like things were starting to come together; I think I can improve some more. But this year, itís strictly hammer and weight.
LSTC: What is your height and weight?
EG: Iím really close to 5í10" and my weight fluctuates between 195 and 200.
LSTC: What are your current strength levels? In terms of maxís or recent workouts in the major lifts?
EG: Rarely do we max out, but here are some of the singles I have done at the end of my workout (in pounds). I have gotten 251 for a single on the clean; Iíve done 340 for 6 on the squat. My best bench is 205. I know I am definitely not the strongest thrower, thatís why I have to do it right.
LSTC: What is your philosophy toward weight training for the hammer? Does it differ from the shot?
EG: Iím not sure I have a philosophy. If I do, itís do what Coach Judge says. [laughs] He hasnít changed my lifting workouts at all. I still bench, which I think is something most hammer throwers donít do. My back is strong so I think having pecs to oppose the muscles in my back is pretty important. Balance is good. Besides, I like the bench press because it challenges me. And if I miss my set, itís not such a big deal. So I look at bench like a bonus lift. If I get the set, great. If not, Iíll be trying something else next week. The general philosophy is to lift heavy and a lot. Itís pretty simple.
LSTC: Are you a three or four-turn thrower? Why so?
EG: My first year with the weight I did two turns, then for the hammer we changed to three. My second year throwing the weight I did three turns, and after the second meet outdoors Coach Judge added a toe turn for the hammer because he thought I would eventually be very limited by the three heel turns. He thought I could catch on by the end of the season. It felt a little awkward at first. I finally started to catch on by the Penn Relays (205') and I knew at USATF outdoors (212' 8") it was a great decision. He thought if I wanted to throw after college, I needed to make the change as soon as possible.
LSTC: What are your best technical points? And your areas that need the most improvement?
EG: Iím not sure I can tell you one of my best technical points. I guess I would say my release is pretty good. I can always get better though. I remember after USAís last year, Stewart Togher was doing the high performance center and he said, in regard to my release, "Usually you have to coach the hell out of a guy to get him to do that." As far as the areas that need improvement, I think I could go on and on. I need to feel my right side more throughout the throw, work on getting away from the ball in my earlier turns and I need to make sure I wait on the ball at zero degrees. There are tons of minor things I can do better too, but I think the minor things get better when the major problems are fixed.
LSTC: Do you have different technical approaches to the hammer and weight? How about drills?
EG: This year, Coach Judge approached the weight and the hammer exactly the same. The principles of the technique are very much the same. Itís just the timing that is different due to the length of the implements. I do the same drills for both. The only thing that might change is the number of winds if Iím doing a drill where winds are involved. Iíve still got some improving to do in the weight and I think that the training I am doing with the hammer now is going to help that because to throw hammer far you HAVE to do things right. And of course the specific strength that is gained in the weight really helps the hammer...if you do it right.
LSTC: Most throwers have a technical point or two on their mind as they begin their throw. Do you have a couple items you focus on?
EG: I consider the start of my throw to be one technical point, and the most important one. Most problems in a throw can, in one way or another, be related to an error in the start. Mostly I just try to relax and feel the ball on the winds and entry. There are a ton of other points that make up the start that I might need to cue, but my most important cues are about letting the ball pass me on the start and take me into the first turn with a loaded right leg, then making sure I get my heel down and hips under me before I go into the next turn.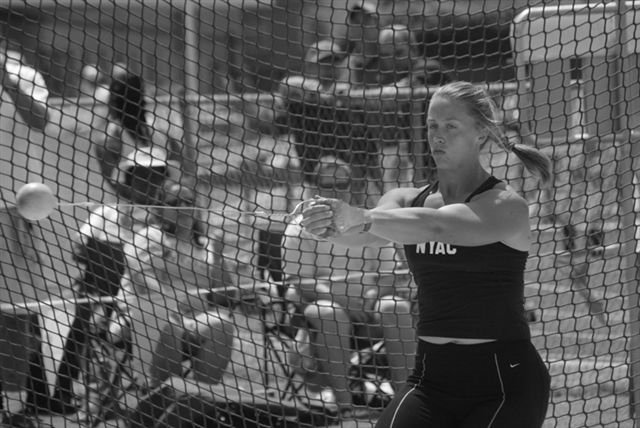 In action at the 2004 Florida Relays.
LSTC: What other hammer throwers do you admire (female and male), and why?
EG: Having Coach Judge as a coach, I canít help but look up to girls like Dawn Ellerbe and Jessica Cross. They were so intense when they trained and competed. I look up to Yipsi Moreno as well because sheís at the top of her game and she and I are the same age. On the menís side itís Lance Deal, Iouri Sedykh, Ivan Tikhon. Basically, I actively watch those who I think have the best technique. Those are the ones I try to emulate. I met Harold Connolly at USA Indoors and heís a very cool guy. He knows A LOT about the hammer and what it takes to medal because heís been there. I have a lot of respect for him.
LSTC: Obviously youíve decided to remain at Florida to train. Talk about your transition to post-collegiate athletics. Are you working? Part-time, full-time?
EG: My transition has been facilitated by the great cast of people who support me. The womenís coaching staff at Florida has been very supportive of me and Iím pretty much treated like a member of the team. In fact, the University of Florida in general has been very good to me. On top of all that, I have my family supporting me. Iím lucky enough to be able to live at home so thatís saving me a ton of money, and also saving me from going out and getting job. My family is very excited for me and supportive of me. Iím fortunate enough to have a chiropractor and two massage therapists who like me well enough to see me pro bono. The NYAC has been great as well. They have really helped me financially with travel and training expenses. Because of all this Iím able to train full time! I am a pro-athlete and that is the way it should be!
LSTC: Talk about your affiliation with NYAC. How did that come about?
EG: First off, Iím really honored to be part of a club that has a great history and tradition of backing throwers. Iím in great company there with the likes of Dawn Ellerbe, and Lance Deal, who are pretty much the pioneers of American hammer throwing. Coach Judge was the one who got me into the club. He lobbied hard on my behalf with Paul Mascali, my track guy for NYAC. Paul and the club have been really good to me so far and Iím very fortunate to have their support.
LSTC: Tell me three things the average track fan would not know about you.
EG: I love the movie Predator, I enjoy video games, and I speak Spanish.
LSTC: What are your future athletic and personal goals?
EG: Athletically, I just want to keep getting better by making improvements in my technique that will allow me to do so. I want to make the team for the Games in Athens. Everybody keeps telling me I can medal there. I am just going to take first things first. I need to get there first and then try to make the finals. I figure I can only get more confident as the season progresses, and my throws get better and more consistent. As far as personal goals, I want to be financially independent, pay off my student loan and credit cards, and I want to go on vacation in the fall.
LSTC: What advice would you give to hopeful hammer novices?
EG: Donít be afraid to work hard and push yourself. Find a knowledgeable coach. Technique is the key to success. Learn it the right way. To get good you have to take A LOT of throws and you have to want to do it right. *LSTJ*