COACHING THE BEGINNER
By Lane C. Dowell
The bandwagon piloted by Hal Connolly and labeled "USA Youth Hammer Throw" is powered by many very capable coaches and supporters around Uncle Sam's America. As it gains momentum, one can see a generous national sprinkling of youthful mastery by surveying Bob Gourley's <rmgourley@fctvplus.net> high school hammer ladder. This list was published on May 30, 2005 the deadline for submission of this article (see actual article in LSTJ).
When this article was penned, seven states were planning their own 2005 high school state hammer championship with three more on the drawing board in the not-too-distant future. The results, growth, and meet director's thoughts of these championships will be the focus of our next offering in the Long & Strong Throwers Journal.
This article is written for the many that have been captured by the mystique of the ball and wire, the most highly technical event in track and FIELD, and would like to START THROWING. I think 2005 PAC 10 Men's Hammer Throw Champion Adam Midles (sophomore from USC) best described the addiction. "It is like a unique dance of which one can not get enough. It is very difficult, but the goal of mastery keeps drawing me back."
The best thing to do to get started is to e-mail <ConnollyH@aol.com>, the USA's last Olympic gold medallist (Melbourne, 1956), Hal Connolly, who will tell you how to acquire his very easy to understand manual for coaches and for athletes who are beginning.
Employing these illustrated booklets from the wily veteran with a tip or two from a couple of Washington's finest coaches, Dwight Midles and John Schultz, should help you get the implement moving.
First, let's meet the coaches.
Dwight Midles <Dmidles@olypanel.com> threw the hammer for WSU from 1975 to 1977. Like his oldest son, Adam, he found the event very challenging. Enough so that he persisted to throw while in grad school (1978-80) where he mastered the "ball and chain" well-enough to make the 1980 USA Olympic track and field team.
John Schultz <jschultz@centralia.wednet.edu> was a high school and collegiate thrower and has been a head and assistant track and field coach for 18 years specializing in his first love, the throws. For more information on how to build a great hammer cage for under $200 and a lot of hustle, contact the venerable coach
LSTJ: Most hammer aficionados will tell you that a great work ethic is a must in gaining mastery of the hammer. When considering the hammer throw, is there a certain type of athlete that you look to coach?
Midles: No, certain athletes will do better than others, but what I want more than anything is the right attitude. Since all my time is volunteered, I do not want to work with a young person who will not live up to practice sessions or who will always make excuses as to why they can not or will not do this or that.
"While throwing at Washington State University, Dwight had a reputation for his tenacity on the field of play and in the weight-room," says Craig Dougherty, throws coach at Kentridge (Kent, Washington) High School and teammate of Midles at WSU.
Schultz: A kid with good feet that is hard working. A large number of kids try it, and the ones who are successful are the ones that stick with it and throw.
LSTJ: How do you recommend coaching the beginning athlete? Briefly describe some of your beginning drill work.
Schultz: I like what Hal Connolly suggests. We throw bats and have them turn on our turning pad. Then we wind and release, 1 turn and release, then 2 turns…etc.
Midles: Using alternative implements (a broom, soft landing hammer, chain hammer) are great ways (and much safer and easier ways) to introduce kids to the hammer. Learning the turns are the most difficult part of the hammer, so training focus on learning the turns is critical for beginners.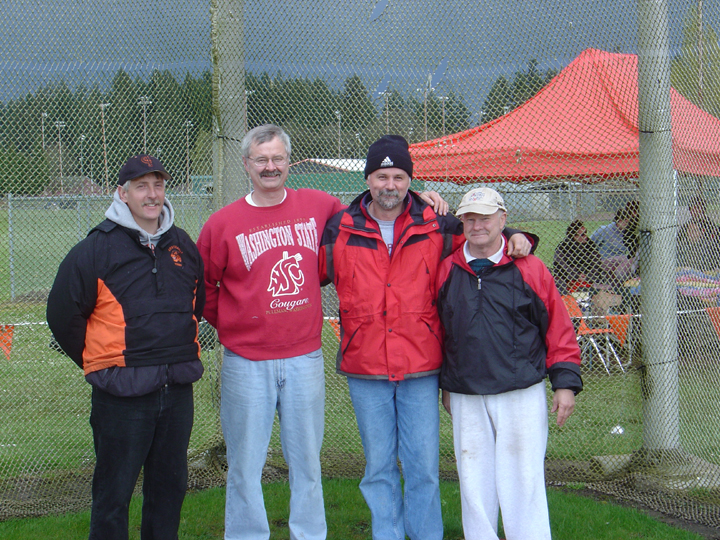 From left to right: John Schultz, Dwight Midles, Henry Midles and John Sells.
LSTJ: Each of you has coached high school athletes that have matured into fine collegiate throwers. Will you describe the progression (drills added...time spent...depth of character...etc.) of these athletes to the point where they attracted collegiate attention?

Midles: Talent helps an athlete reach NCAA D-1 goals, but the great thing about the hammer is with hard work anyone can do it. It takes a lot of practice. During the season it is important to throw at least 3 or 4 times a week. More short sessions of 1½ hours are better than one long session of 3 hours.
Schultz: Collegiate athletes, for any sport, are kids who are extremely dedicated to their sport. The ones that have gone to college throw…throw and throw. They enjoy throwing and have a critical eye to work on each part of their throw.
LSTJ: If an athlete has little time to train, which do you feel is the most important point of emphasis, technique or strength?
Schultz: Personally, I believe technique is the most important. After technique comes speed and good feet.
Midles: Technique is much more important than strength.
LSTJ: Briefly discuss the character of some of your best hammer throwers?
Midles: The successful ones love to throw and become a student of the event.
Schultz: Old-fashioned, hard-working kids.
LSTJ: Many coaches/athletes say that the hammer throw is a very captivating event. Do you agree? If so, why?
Schultz: Kids love to throw the hammer and love to throw far. It is a very challenging event, and kids like the challenge of doing something that others can't or won't do.
Midles: The hammer is very captivating for some who take the time to learn it. A few try it, feel it is too complicated and never want to throw it again. Most kids who give it a fair chance enjoy it very much.
LSTJ: From 1900-1956, the USA was a leader in international competition in the hammer. Why has America lagged so far behind in today's world?
Midles: There is very little support for the event. Even if there is support, you have to find a place to throw which can be very difficult in some areas. The event is not taught at a younger age and few people know how to coach it.
Since it is introduced to most kids when they are older, the more money-oriented sports take the better athletes and there are few left for the hammer.
Schultz: There are very few hammer coaches and opportunities for kids to throw. Safety is also a huge issue.
Also, in America kids have a tremendous opportunity to do a large variety of sports. Team sports, club sports, etc. Because of this, kids like the easy way out and get involved in a variety of "fun" activities. Running, lifting, and throwing is hard work compared to shooting baskets, playing catch, or computer games.

LSTJ:
Has there been a resurgence of hammer throwing in the USA in the early 21st century? If so, why?
Schultz: Yes, because there is a small group of people who are helping to bring the sport back.
Midles: There is some resurgence, but it is not as much as a lot of outsiders believe. In the state of Washington it is only due to a handful of people that the hammer at the high school level is alive today. These people (a few men and women) volunteer their time for no pay. Almost all of the paid coaches at the high school level have not shown much interest in the event. The meets we have put on have created interest within the kids who throw.
LSTJ: When will we see the day that Americans will again ascend the medal stand in the Olympic Games?
Midles: Not for a long time in my view. For that to happen their needs to be more support for post-college throwers, and there is very little in this country.
Schultz: I think there will be a medal in 8 to 12 years.
LSTJ: After our interview, Dwight Midles offered a few additional thoughts. A typical hammer thrower, he is very easy to get wound-up when it comes to his passion for helping kids and the ball and wire.
Midles: Holding a few special meets during a season is important to keep kids interested. Do not be afraid to charge a fee to cover your costs of medals, USATF insurance, and gas. I am not saying you have to have every meet as a big deal, but it is fun to have a few meets during the season where you arrange for an award stand presentation with nice customized medals.
Also, your first meets will only attract a few kids, but the numbers will come as you gain tradition. If you build it they will come.
There is always one thing I demand of all the hammer athletes that I volunteer my time with. I have never asked for money, but I do demand this. Just as I have given my time to them for no pay, someday, I expect them to donate their time to kids for the sake of the hammer. I always obtain that personal promise from them if I begin to spend time with them. That way I know that the volunteer seeds that I plant today by spending time with kids, will live on long after I am gone. It makes my time much more worth while to me. It also reflects well on the men who donated time for me when I was younger. When we are young we forget to thank them for that, but now that I am older, I realize how much men and women give up when they volunteer their time.
LSTJ: Wow, Dwight, your last paragraph is powerful and rare in today's play-for-pay sporting world. What could be a greater legacy than the reward of helping youngsters grow and prosper?
For those of you seeking more information on the national high school hammer throw log on to <www.hshammer.com>. *LSTJ*