Chatting with...
Amber Campbell
By
Glenn Thompson
If itís a USATF championship and the womenís hammer or weight, you can pretty much pencil in Amber Campbell. If itís the weight, you can place her in first and put it in ink with minimal worry about needing any white-out. And in the hammer sheís nearly as successful, making several national teams for the Olympics (2008) and World Championships (2005, 2009).
Her professional career is built upon the foundation she laid competing for the Lady Chanticleers of Coastal Carolina University from 2000-04, where she was a five-time NCAA All-American in the hammer and weight throw.
The engaging, quick-to-smile Campbell took some time to chat with Long & Strong about her journey through the world of track and field.
L&S:   Talk about your high school track career?  Did you participate in other sports?
Amber Campbell: My high school track career was really fun. I had a great team and we were really close.  The coaching staff was phenomenal and really encouraging. Coach Hoffman, my throws coach, always took the time to make sure that I understood the points that he was trying to convey to me. Our head coach, Wayne Angel, always made sure that we were focused and knew exactly what we needed to do to win as a team.
All four years of high school, I played volleyball and basketball as well. I always felt if I was only a little taller, I would have been a killer volleyball player, but I noticed middle blockers arenít usually 5í7"! (laughs)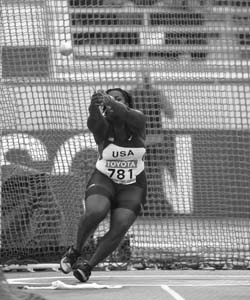 L&S:   Tell us about your first exposure to the hammer/weight.
AC: I first heard about the hammer/weight when I came on my visit to Coastal Carolina. The throws coach was Dr. David Vandergriff, and he thought Iíd make a good hammer thrower because I had strong legs and long arms. But I had no idea what he was talking about so I told him Iíd think about it. I watched a few people throw it and was convinced Iíd never be able to get it. It looked way too complicated. Anyway, I tried the hammer that fall and it hated me. But I noticed I couldnít put it down because it fascinated me.
L&S:   Do you have a preference between the hammer and weight?  Why so?
AC: I donít really have a preference.
L&S:   What are your current strength levels?  In terms of maxes or recent workouts in the major lifts?
AC: In my opinion the hammer is an event where you need to be strong enough, without being so strong that you compromise your technique. So I donít really do max lifting. I use the Olympic lifts to help me throw as far as I can. This year weíre really focusing on being more athletic than strong so the weight room is not as important as it has been in past years.

L&S:   After graduating you chose to stay in town to train and volunteer coach with the Coastal program.  Why so?  Did you consider continuing your training elsewhere? 
AC: I chose to stay because I felt like my best chance for success was here. After my coach Carrie Lane got the job at UVA, I contacted my original coach Dr. David Vandergriff to see if he would train me again. He agreed, and even helped me find a job in the Horry County School system as an Academic Interventionist. I continue to volunteer with CCU because Iím really grateful for all the unwavering support I received while I was an athlete and continue to receive to this day.
L&S: The USATF Indoors played up your having to watch the last race to see if you were going to be able to take home that VISA Series championship check.  How nervous were you?  That $30K prize must have been huge for you.
AC: I was really nervous! I knew the ladies in the 60m had been running really, really well so I knew it was going to be close. And it couldnít have been any closer. I was extremely happy to be the first woman thrower to win that prize. Good times!!!!
L&S:   Describe your technical style.  What are your points of emphasis?  What do you struggle with?  Are you a three or four-turn thrower?  Why so? 
AC: The keys to my technique are being able to move the ball well and being efficient with my feet. The thing that I can improve upon most and what Iíve been working on for years is keeping my head on the ball for the whole throw.
L&S:   What advice would you give to hammer novices?
AC: I would say to a hammer novice to make sure to pay attention to the small details early. Technique drills are essential, and watch lots of film of throwers doing it correctly.
L&S:   The most common refrain we hear about the Olympics/World Championships is that it was a "learning experience."  Tell us about your most vivid memories, in competition, and out.
AC: My most vivid memory comes from the World Champs 2009. The energy from the crowd was amazing. They were yelling and cheering after every throw, but when the German girls threw, the crowd was deafening. It was one of the most amazing meet Iíd ever been a part of so far. Then the icing on the cake was seeing the world record being broken. Of course it would have been better if I had broken it, but Iím working on it!
L&S:   What are your future athletic and personal goals?
AC: My future athletic goals include improving my placing at the World Championships in 2011 from where I placed in 2009 (11th place, 70.08m).  I think that will put me in great position for the Olympics in 2012.  Looking toward the long term, if my body can hold up, Iíd like to make a run at the 2016 Olympics as well. Personally, Iím in the fitness industry so Iím looking forward to expanding Sports Doctors, Inc. Itís a wellness facility where Iím a personal trainer. I also want to establish a foundation for overweight girls focusing on their emotional, spiritual, and physical development. *L&S*