THROWING & ATHLETICISM
By Steve Fritz

Editorís Note: Very few of us donít know the feeling. Youíre sitting somewhere in the middle of the pack in your chosen event. Not winning doesnít disturb you that much, as you know that primo stud in the lead could beat your behind if he/she were throwing left handed with a serious groin pull. No, that you can live with. Itís the one right in front of you that weights 60 pounds less than you and only picks up their implement when they can fit it into the rest of their busy training schedule. Yup, thatís a decathlete kicking youíre aó! Your hoping your girlfriend doesnít realize whatís going on. The humiliation ranks somewhere behind getting whooped by a girl on the playground and everyone at the office finding out you werenít just joking about Viagara (Iím stepping out of character on this one...).
Steve Fritz is a former Olympic decathlete and presently serves as an assistant coach at Kansas State University. Heís taken the scalps of many a dedicated thrower during his competitive years. At the Editorís request, Steve steps forward to reveal the mind of a decathleteÖ.and help throwers regain the confidence to step out in public again.
The first thing I should probably do is let some of you know my background. I didnít have what most would call the typical throwers beginning. My high school height and weight were in the neighborhood of 6í3", 170 pounds. I did a lot of different sports, but didnít spend much time in the weight room. I played football, basketball and ran track, but it was more run- oriented than strength. Needless to say when I started the decathlon my throws werenít that good.
My first year of throwing fell in line with my first year of decathlon back in 1986. My first year personal bests consisted of 37í 4" in the shot put, 108í in the discus and 173í in the javelin. These are not stellar marks by anyoneís standards. As I continued my training for decathlon, becoming a better athlete, and becoming a better technician, my marks improved to my all-time bests of 53í3" in the shot, 174í9" in the disc, and 221í4" with the spear. By this time my physical attributes had changed somewhat leaving me at 6-3, but increasing to a weight of 215 pounds. These still arenít that outstanding of marks for throwers, but arenít too bad for elite multi-eventers. I spent on average, only one or two days a week working on each throwing event. Not near as much time as most throwers do.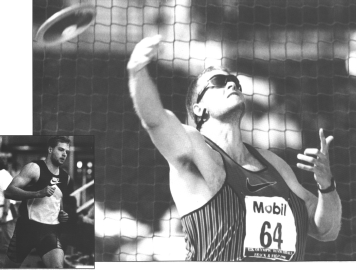 I have always believed that the quality of athlete you were made the most difference in how well you did. Technique is very important, donít get me wrong, but the physical preparation I believe is most important. We wonít get into mental preparation here, but it is very important also. This is my ninth season at Kansas State and I am amazed every year at the number of athletes in high school and college that donít do any physical training, other than lifting and throwing. The best throwers in high school are usually those athletes that participate in several different sports. Those that stay active during the school year only to get to track season and do nothing to stay in shape, resulting in a loss of physical fitness as their season progresses. There are a number of colleges that follow the same type of program also. This is hard for me to understand considering my background. Elite throwers are very athletic regardless of height and weight. One of my coaches always says, Ď Fat Donít Flyí. Thatís exactly right. To do anything athletic at a high level over time you need to reach some level of physical fitness. This is where multi-event training has not only helped me, but also helped the athletes I work with.
Throwing takes speed, power, and endurance (if you are competing in more than one event on a hot summer afternoon) to reach a high level. Speed and power dominate all but one of the decathlon events. Even though endurance only comes into play for one of the events that score, its importance is felt elsewhere. It would be virtually impossible to complete a decathlon without injury if you did not have at least a minimum level of endurance. Regardless of how fast you were and how well you could jump, without some endurance you would never recover in between events enough to continue at a high level. Similar benefits are associated with throwing. Granted they are not as obvious or important necessarily but they are still there. You may not have a great need for endurance on the day of competition, but what about during training? For instance, how hard is it to train at a high level day in and day out if you arenít physically fit? Your body works more efficiently when you are in shape. You recover faster, which allows you to do more work in a shorter period of time. Is it beneficial to a thrower to be able to do more training per week?
I think so. It would allow you to make more progress provided that what you were doing in training was beneficial to improving your performance. This is one area that most people donít think of when training throwers.
Speed is another area that most people overlook when training throwers. Everyone talks about power and strength. The weight room will get you stronger, but wonít guarantee that you will be explosive or fast. Iím not talking about 100 meter speed. Iím talking about speed of movements, leg drive, arm speed, and explosiveness. One of the most important aspects of any throw is speed of release. How do you maximize speed of release? First, all parts must work together. Second, all parts must work quickly. The old saying "a chain is only as strong as its weakest link," somewhat applies here. It changes slightly to "You are only as fast as your slowest part"Ď. A lightning fast arm isnít much good with lead for legs and the same is true in reverse. In order to become faster, you have do movements at a faster rate. Elite sprinters donít run under 10 seconds in the hundred meters by running a lot of one hundreds at 12 seconds. If you want to run fast in meets you have to run fast in practice. If you want to increase arm speed or leg speed you have to do exercises that allow those body parts to move faster than they do when you throw. Whether that is using lighter implements when throwing, medicine ball exercises in training, plyometric jumps, or sprints. Most of these types of activities people already do, and some people already do a lot of all these activities. For those that donít incorporate a good deal of sprinting in your workouts, think of it this way. Sprinting is a plyometric exercise. If you are looking to increase leg speed, sprinting is a great tool. Your response time off the ground will be much faster sprinting then when you are doing jumping exercises. In our training, sprinting is just as important as jump training and medicine ball training. This is our way of converting weight room strength into explosiveness that we can use in the ring or on the javelin runway.
Letís be honest, there are a lot of ways to accomplish the same thing. Everyoneís goal is to throw as far as they possibly can. In order to do that, you have to be not only the best technician you can be, but also the best athlete you can be. You cannot be the best athlete you can possibly be if you are not in shape. If you are an athlete, donít sell yourself short. You can be more athletic. You can get better at sprinting and jumping. You can teach your body to be more explosive. If you are a coach donít sell your athlete short either. You will be amazed at how they adapt and flourish in an atmosphere where they are challenged to be more athletic.
*LSTJ*
They are the defenders of an art form thought to be largely extinct outside of Europe. An art form that is the domain of oversized bench press champions from the old Soviet Bloc countries. In the U.S., especially at elite levels, practicioners of this method are the minority. If you check Darwinian evolution, man began throwing from the glide shortly after he began walking upright, but moved quickly to the rotational era, in which we live.
There are pockets of resistance however. One such clan is the DiGiorgio family of Bayonne, New Jersey, hard in the shadows of New York city. Name doesn't ring a bell? It's probably still warm under that rock…I suggest you crawl back under it.
The DiGiorgio family has mastered the glide and have been a constant presence on the national high school shot lists for the past six years. Eldest brother Kevin (now age 22) set the family standard, only to be surpassed by Glenn's (age 18) mastery of the discus as well. And the baby of the brood, Steven (age 15), is now in his sophomore year at Bayonne High and is a relative giant at 6'1", 220 lbs. A giant because neither Kevin or Glenn stood 6'0" or weighed more than 220 pounds at graduation. Typical gliders no, but masters of the form, yes.
Masters to the extent of having won eight national championships, a feat unmatched by any other American family. Kevin and Glenn both hold national meet records, and have every freshman through senior class record for the state of New Jersey, excepting the senior discus record, held by the New York Giants' Ron Dayne. At the National High School Championships in Raleigh, North Carolina, Kevin hit 69'8" at age 16 and Glenn set the discus mark of 213'4" at age 17.
But to understand their success, you need to know the patriach of the clan.
The Architect
Dominick DiGiorgio was born in the Bronx and moved to Bayonne at the age of four. He attended St. Peter's Prepatory school located
From left to right: Kevin, Steven, Glenn and Dominick
in Jersey City, New Jersey. Upon graduation he moved on to Columbia University in New York city.
"I was going to be a dentist but things did not work out as well as I had planned," Dominick recalls. "I was majoring in biology while I was there. During the later years of college I opened up my sports bar, DiGiorgio's, located in Bayonne, while working for General Motors at the same time. With all of this going on, I never went back to college to fulfill my plans of becoming a dentist. During the latter part of these years my wife and I had Kevin."
As a high-schooler Dominick, at about 6', 240 lbs., participated in football as well as track and field. He was a defensive lineman (All-State honors) and put the shot and threw the javelin for track team, where he earned All-County recognition. Dominick's best with the shot was 58'…..from a stand throw, "because we were really never taught the form." He was also a 170' javelin thrower. "I was a better football player than a shot putter because of the coaching, facility differentials and availability between these two sports," says Dominick. "I played football at Columbia. Track never really had my interest too much until I had my boys."
And oh, how his interests would change.
Kevin…Establishing The Legacy
"I got Kevin into the field events mainly because I thought he would win the county championships," recalls Dominick. "The distances winning the County meet were around 46 feet and I knew that if I trained Kevin properly he could easily take that distance down."
Kevin began as a freshman in high school. He had never touched a shot before but hit 44' outdoors. No one thought he would amount to a good thrower because he only stood only 5'6" and 150 lbs. Kevin, however, 'was lightning fast compared to the other kids and that is what you need in this sport to be successful," says Dominick. Kevin began the family tradition under Dominick's direct tutelage.
Kevin advanced quickly after that freshman year and was a fixture on the national scene by his junior year.
Kevin considers his first major victory to be the 1997 Indoor National championship on his last throw as a junior. "I was down by a foot or so and all the pressure was on me to come up with a big throw," he recalls. "I dug in deep mentally, saw myself hitting the winning distance past the runner-ups, and did it. I hit 64'10" on that throw. Times like those are what made me love to be in this individual sport. All the pressure is on one athlete to succeed or crack, and I loved that pressure the most of all."
Another particularly satisfying victory came when Kevin won the Outdoor Nationals that same year. "I came out determined to push the state record out further than I had done a week or two earlier," he says. "On my second throw of the meet I bombed one at 69'8" and no one came back after that one. The meet was the best of my life. All the great high school putters where there. Throwers of tremendous caliber such as Scott Denbo, Van Mounts and Reese Hoffa were all on hand. I can truly say that was like the Olympics to me; so many good throwers and you have to do your best in order to come out victorious."
After high school Kevin headed south to in-state Rutgers. "I went to Rutgers because it was close to home and the coach was pretty well known," says Kevin. "I didn't really take any visits as a senior so I could not look around to compare schools. So I decided on Rutgers. I wanted my dad and my brothers to come see me throw still, so I stayed close for that reason as well."
A difference in training philosophies lead to Kevin's departure from Rutgers after his freshman year in 1999 with a best performance of 59'8". He is now enrolled at Jersey City State College and will graduate in a year-and-a-half with a double major. "I plan to become a elementary classroom teacher and a general or private coach, while still hopefully having enough time to train myself to become the best I possibly can," Kevin says.
"Right now I am getting myself back into the best throwing shape that I possibly can," says Kevin. "I took a year off from throwing to get organized with school and such. I am the same, if not better than, where I left off at throwing-wise, and by far better off than where I was with my education."
"My immediate plans for next year are to go 63' if not better, and yes, from a glide!" continues Kevin. "I am very excited to compete again. I miss the pressure of having to win on your last throw and just the pressure of competition in general. You can't beat that feeling.
"I don't believe if someone thinks they are good or great at their sport that they will ever amount to anything successful," says Kevin. "I try to be humble about what I do and I never try to make myself think I am some special person. I just work hard and try to be good, that's all."
Glenn…And The Discus Too
"While following after Kevin's amazing high school career, I used his records as goals for me," Glenn, class of 2002, says. "While Kevin was still in high school I went to every single meet with him. When he was destroying his competition I was there learning. And while he was pressured down to his last throw to win a national championship, I was there, and he won. I learned so much from Kevin through his experience."
Unlike Kevin, who eagerly professes his disdain for the platter, Glenn has excelled at both at the national level. "I have always considered myself, and always thought, I would be a much better discus thrower than a shot putter, because for one I enjoyed it more and I also have more of a discus throwers body than that of a shot putter. While I was in Junior Olympics at around the age of 12 I was always a better discus thrower, but since entering high school I don't know what I am better at. Especially when I look and see I have won four national shot put titles and only one national discus title. I can say I do hold more records with the discus; I have two national all-time age group records as well as three class discus records in my state. If I was told I could only do one, I would say the discus."
The competitive intensity burns not too far from the surface for Glenn. Speaking of his discus meet winner of 213'4" at the National High School Championships this past June in Raleigh, North Carolina, he recalls, "I was losing the meet until my last attempt of competition. My father talked to me and said, 'This is it. All of your years of hard work are on the line. What are you going to do?' And he left me at that. So I then stepped into the squared circle, all pressure on me, all eyes on me, and I ate up that pressure and spit it out, winning the meet by 5 feet."

Glenn took the unusual path of taking a year off before matriculating to a university. "My decision to take a year off before college was not real original, since Kevin was thinking about doing the same, but never did," says Glenn. "The major reason why I did choose to take a year off is that during my senior year in high school I was training so much for all my competitions that I had no time to visit any colleges. My dad and I decided that if I had taken visits here and there I probably would have screwed up my senior year due to lack of training and I would have rushed into making a choice about college."
Glenn has no regrets about his decision. "I am very glad I chose to do this," he says. "It gave me an entire year to train like crazy and build myself up for the 16-lb. shot, while talking to colleges, taking visits and making the best decision I possibly can about what university to attend."
Glenn acknowledges the challenges presented by his 5'11, 225-pound frame. "I look at it as another challenge for me to conquer and it is on my list as we speak." His self-confidence shines through as he says, "I agree I am small compared to these 300-pounders, but the way that I will get them is through technique and speed. I know that I can slap on more muscle, but I will never get to the same size as half of these guys. So I have to use other methods to take down these goliaths."
"For my weight I am a pretty strong," he says, "but I definitely have to get that up as well. One thing I also see, especially in high school, is that these big kids may come out 100 pounds more than me and a foot taller, but they do have a lot of fat on their large frames. With me I am solid muscle and when I put on weight it is all muscle mass. I like staying solid for one main reason; you stay quick."
Despite growing up in a throws-oriented environment, Glenn shows no signs of burnout. "Next year I will be in the heaviest training period I have ever encountered and I will also be throwing in open meets. I am very excited to get started on it and I can't wait to throw against everyone in college."

Steven…The Last In Line
"Steven was 15 the majority of his freshman year and he stood at 6 feet 1 and 220 lb," says Dominick of his youngest son. " He was the biggest and strongest as a freshman. His personal best was 50' 1" and he started seriously training as a frosh. We are all pushing him and hoping he will be the first 70-footer in the family. He definitely has the strength and height. He needs the repetition and speed to be built up in order for him to achieve that distance."
"I think that my height and arm length is my biggest asset," says Steven. "I have really strong legs too, compared to my brothers at the same age. So if I develop my legs more I will be doing much better at throwing."
As to his preference, Steven takes after Kevin. "I like the shot put," he says without hesitation. "I tried the discus and did not like it that much. I think I will really focus more on the shot and see how that goes."
Steven describes himself as being more social than his brothers. I like to hang out with my friends and go out more than my older brothers do," he says.

As for the future, Steven hopes to break the 60 feet mark this year on his way to the 70' stripe.

Glide or Spin?
"Most youth throwers in this country do not really know how to perform the glide well," says Kevin. "They see it as a jump across the circle and then you just push on the ball. Knowing this, once these same athletes enter college ignorant of how to perform a proper glide, they switch to the spin. All of a sudden they see themselves doing so much better than they previously had been. But the only difference now is they have a coach who is really dedicated and the athletes have something new and exciting that is really working out well for them. In my opinion, this is one of the ways a lot of athletes get fooled into thinking the spin is the better form."
In my family we have never really thought about spinning," continues Kevin. "I tried it and dedicated myself to it 110% and never got any results that I appreciated. My body, along with others, are not built for the spin. In my family we trained our legs to the extreme. We wanted our legs to be so strong that when we glided across the circle and pushed on the ball that it felt as if it were only 8 or 9 pounds. The saying in our family is 'the faster you glide, the lighter the ball becomes'. This is a very true statement, simple but brilliant, and one many people do not even think about. We trained our legs so heavily that the glide came easier for us to perform."
My Three Sons
Dominick sees both common traits and interesting contrasts in his three sons. "Kevin was always the fastest and strongest, but the shortest," Dominick says. "Glenn, the middle man, is definitely the most athletic, as he was successful in both the shot and discus on the national level. Steven, the youngest, has more raw strength than my other two sons and is by far the tallest at 6'1" and still much more room to grow."
"Kevin's drive for success was the highest considering he was the first to start the shot-putting legacy within our family," continues Dominick. "Glenn has an extremely high level of drive as well, but he had Kevin to look up to for extra support. Kevin relied on looking at videos of ancient gliding greats and reading just about everything he could get his hands on concerning the shot put. It is still too early to fully come to a decision pertaining to Steven. I will have to wait and see what the next three years hold for him and how he will react in the same situations that Kevin and Glenn came out victorious in. I will have to see if Steven can match the deep inner drive that Kevin and Glenn displayed in order to come from behind in their respective national meets on their last throws and put out a huge one that no one could handle and top. That in my book defines a real true athlete. Something along the lines of the greatest shot putter in history, in my eyes, Ulf Timmerman, did when he won the 88' Olympics on his final throw of the meet."
"I believe that what you hit at the national meets should be your best mark of the year and an indicator of what type of person and athlete you are," says Dominick. "You have a lot of guys hitting big numbers in the first two weeks of the season and when they get to the nationals they are nowhere near that. You tell me what goes on with that. When a kid can get his PR at the National meet, that's when you want to have happen."
"There are really no secrets to our agenda," Dominick concludes. "We work very hard and are probably some of the most dedicated throwers you may ever meet. My sons are very interested in this sport and love doing it. All my sons help one another out. We are a very close family." *LSTJ*