HEAVY ARTILLERY
By Glenn Thompson
And so, my fellow Americans, ask not what your country can do for you; ask what you can do for your country.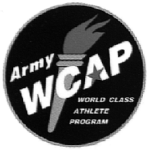 -- John F. Kennedy
Their cumulative accomplishments would be the envy of many. Victories and honors won place them in an elite percentile in their respective fields. But to view Mike Mielke, Jerry Ingalls and Tonyo Sylvester as nationally ranked throwers would be too narrow a focus. Kind of like saying Jesus was one heck of a carpenter. Instead one must pull back a few steps, to see the forest from the trees, and see these men not just as members of the World Class Athletes Program (WCAP), but also as leaders in the U.S. Army. That bigger picture, makes their exploits in seven and eight-foot circles seem coincidental at best.

Mielke

Mielke attended Holy Spirit High School in Absecon, New Jersey. Amongst his prep honors were All-State, and All-East. "Our team did not have a throws coach," says Mielke. "I went to Ocean City High School, a rival school, to get some coaching under the tutelage of Fritz Hastings. Most of the technique I used was self-taught. I made up for lack of knowledge with intensity and raw ability." Mielke graduated with PR's of 57' in the shot, and 170' in both the discus and javelin.

He matriculated to LaSalle University in Philadelphia on a full scholarship, but opted to transfer to Richard Stockton College of New Jersey (NCAA Division III), where his high school coach had become the head track coach. While at Stockton he was a five-time Division III All-American, Penn Relays and NCAA champion, and two times All-East. After graduation Mielke joined the Army. "I joined the military because I was always drawn to it", says Mielke, owner of a career best discus toss of 205'. "My father was a Green Beret in Vietnam and a career soldier, as was his father before him. I guess it was in the blood."

Mielke has gone on to participate in the Olympic Festival, become an Armed Forces champion, twice a World Military Games Finalist, finished 10th at the '96 Olympic Trials, and ranked 10th nationally in the '98 and '99 Track and Field News rankings. Mielke was injured in 2000 but qualified for Olympic Trials and participated against his doctor's advice. Mielke is currently awaiting shoulder surgery as a result of 2000 season.

Ingalls

Ingalls accepted an appointment to West Point to become a commissioned officer in the U.S. Army. "I wanted to be a leader of ground soldiers and live a life above the norm," says Ingalls with unquestionable sincerity.

Ingalls graduated from high school in 1992 with modest bests of 42' in the shot and 154' in the discus after switching from running and jumping events in his senior year. West Point coach Wayne Durrigan opened new doors for Ingalls by introducing him to the hammer as a freshman. By his junior year ('95), he had established a new academy record at 204'. As a senior he improved to 229'6", under the tutelage of coach Greg Gassner, and won the Penn Relays, IC4A and Patriot League titles along with earning All-American honors and finishing ninth at the '96 Olympic Trials.

Ingalls spent '97 and '98 completing Ranger training, watching his weight plummet from 238 pounds to 190. Upon completion of training he led paratroopers in an elite airborne battalion in the 82

nd Airborne Division. "I had the most challenging two years of my life," he says, "and I came out of it ready to make a charge for the 2000 Olympics no matter what the odds."

And defy the odds he did. After joining WCAP and returning to West Point to train, Ingalls established a new personal best and Armed Forces record of 237'11" and finished 8

th at the USATF Nationals. Ingalls trained through an injury in 2000 to PR once again at 239' (to go along with a 68' PR in the 35-pound weight) and narrowly missed the Olympic team, finishing fourth at the Trials. Ingalls elected to spend the 2001 season recovering from surgery for the 2000 injury, but has recovered well and is planning on more big things in 2002 as he relocates to Mountain View, California to train with other Army throwers and advance his technique under co-coaches Dave Swan and Mielke.

Sylvester

Sylvester graduated from high school in Daytona Beach, Florida in 1985, garnering All-State honors in football, weightlifting and track. Sylvester took the state title in the shot put and had a best of 61'7". After graduation, Tonyo competed at the '86 World Junior Olympics and in '87 he won the National Junior College Athletic Association championship with a 58'10" effort while competing for Miami-Dade Community College- South Campus.

Sylvester worked in the civilian sector for two years before joining the Army in 1990. He resumed competing for Army Sports in 1994, before taking the following two years off to meet military and personal commitments. In 1997 Sylvester emerged again with Army Sports and began to nudge his way into the U.S. rankings in the shot put, competing at USATF Nationals the last two years, including last year's Olympic Trials, which earned him a berth on the WCAP squad for 2001. The broad-shouldered Sylvester has glided his way to a career best 64'8 ˝ in the shot.

"To me the commitment to the Army and to athletics is the same'" says Sylvester. "Before WCAP, the Army needed me to be the best Combat Medic and Certified Occupational Therapy Assistant that I could be. Now I'm still serving the Army's needs, but in a different capacity. I may be doing something totally different, but I'm still committed to the Army one hundred percent."

WCAP

In 1948 Congress decided that soldiers should not be deprived of the right to represent their country in international competition and the Olympic Games. The Army World Class Athlete Program was formed in response to this Congressional mandate. The decision allowed soldiers to serve their country in several capacities and demonstrated that soldiers are valued for more than just their war fighting skills. Since its inception, WCAP has been periodically interrupted by war and conflict. As a result WCAP became an obscure memory though the regulation and its intent still survived.

In 1994 WCAP resurfaced with a new focus. Since that time, operations from higher headquarters at the Army Community Family Support Center, Alexandria, Virginia, formed a detachment at Fort Carson, Co. in 1998. WCAP' s mission is to provide soldiers with the best training focus to include the best coaching, equipment, and travel in order to place soldiers on international, Pan American, World Championship and Olympic Teams in a wide variety of sports. WCAP soldier/athletes work with the Army Recruiting Command by speaking nation wide at high schools and colleges regarding Army Programs and the role of WCAP in the Olympic movement. Additionally, WCAP'ers work on their fighting skills and pursue Bachelor and Masters Degrees.

A soldier selected for the WCAP must be certified as national class with the potential to improve to possibly make the Olympic team. This criterion is set forth by WCAP with verification of ability and ranking from the USOC and that sports national governing body. Participants in the WCAP balance their athletic training with their military career requirements; they must maintain military occupational skills, attend college or university, and are expected to represent the Army in an exemplary manner.

Since 1948, 376 Army Olympians captured 103 medals in a variety of sports from hockey to track and field, rowing and shooting to boxing. There are currently 41 soldier-athletes assigned to the WCAP. Eighteen of these soldiers are training for the 2002 Winter Olympic Games. The balance are training in summer sports. Eighty-two percent of funding for the World Class Athlete Program is from sources other than taxpayer dollars. Annual taxpayer expense is less than $300,000 for this program.

In contrast to WCAP, the U.S. Army also offers Army Sports programs to provide soldiers an opportunity to participate in a full range of individual and team sports. Emphasis is placed on mass participation at the intramural level - with instruction, practice, and competition planned for all skill levels, starting with the beginner.

Currently WCAP is developing a world class throwing facility at Moffett Federal Airfield, California. Coach Swan, former USATF Hammer Throw Development Chairman, is the architect for the facility that will include a state of the art camera system. Swan, who has had success in producing American throws Olympians, also serves as WCAP coach.

WCAP sponsors a full slate of track and field athletes, including:
· Jumps: long jumper Dawn Burrell won 2001 Indoor World Championships, made the 2000 Olympic Team, competed at the 1999 World Champs, 1999 USATF National Champion

· Multi's: Dan Steele made the 1999 World Championships team after getting third at the USATF Nationals

· Track: Dan Browne has made many cross country, indoor and outdoor national teams and is a five-time national champion on the track and in road racing. There is a full roster of runners including the steeplechase and middle to long distance running. Jason Stewart made the finals of the 2000 Olympic Trials in the 5000m and is a many time member of national cross country teams. Amy Ross got 5th at the 2000 Olympic Trials in the 800m.

· Race walking: Two high level race walkers.
WCAP focuses on the holistic soldier-athlete and education is a large part of development. Ingalls earned his M.S. in Counseling while in WCAP training for the 2000 Olympics, Mielke is working toward his Masters in Public Administration, and Sylvester will be finishing his Bachelors while training for 2004. In most cases, federal tuition assistance will pick up as much as 75% of the tab.

Got The Right Stuff?

The Army of today can and will benefit anyone that chooses to join," says Ingalls. "There are endless opportunities and WCAP is one of them. If a thrower can qualify for nationals and make a national team and has an interest in serving his/her country, then he or she should think long and hard about joining WCAP. Serving the country is an important part of being a U.S. citizen and being able to represent the U.S.A. in international competition while serving in the U.S. Army is the ultimate service opportunity for an athlete.

Adds Mielke, "The right person for WCAP is someone who truly wants to be a soldier and not someone that is simply looking for a sponsor. Very few jobs require you to swear an oath to God that you will give your life if necessary. In addition, that person must realistically be nationally ranked and possess the potential to make an Olympic team.

Sylvester adds further perspective, saying, " The type of person that should join the Army and WCAP is someone that first wants to be a soldier, and second an athlete. Once they make that commitment, the benefits of learning a job skill, school, and training in their sport full time and competing will be what they get out of the program.

The quality of a person's life is in direct proportion to their commitment to excellence, regardless of their chosen field of endeavor.

-- Vince Lombardi

* For more information about WCAP and today's army, visit them on the Internet at http://trol.redstone.army.mil/mwr/army_sports/wcap/

or drop MikeMielke (

MikeMielke@aol.com) or Jerry Ingalls (Olyalt@aol.com) an e-mail. *LSTJ*