VOLUME 7, ISSUE
2
October
, 2004
TABLE OF CONTENTS
LETTER FROM THE EDITOR
Random Thoughts

THROUGH THE FIRE
Olympic hopefuls battle weather and pressure

in Sacramento

DREAMING OF WELTKLASSE
Men's jav and discus tune-up for Athens

GLORY AND SHAME
Cuban women dominate, three champions deposed

OLYMPIC NOTEBOOK
Olympians share their stories

U.S. TEAM REPORT
The inside scoop from the team coaches

INSIDE STUFF
Don Babbitt takes us with him at the Olympics

INTERVIEW WITH CHARLES POLIQUIN
World famous trainer talks throws training

BAD HAIR DAY
Roald Bradstock recalls three decades of jav throwing

THE AMATEUR BIOMECHANIST
Paul Jensen returns for more hammer analysis

A SHORT/LONG GLIDE FOR THE YOUNG THROWER
An alternative for young throwers
DREAMING OF WELTKLASSE?
By Kurt Dunkel, Shippensburg University (PA)
I am a dog owner and am certainly a dog-lover. Often when my dog is sleeping, she will move her feet and her mouth, and sometimes makes whining sounds. Sure, this is common and most readers of this article are familiar with thE notion of dogs dreaming. Whether we are dog experts or just your average dog owner, many of us have our own unique and individual ideas about what our dog may be dreaming about. Maybe it is riding in the truck, chasing the ball, or finally being allowed to chase the javelin. Although it is very interesting and amusing to ponder, in actuality, we will never know what dogs dream about (sorry, not even the pet psychic), and it really isn't important to the scope of this article.
More important are what track fans, and in particular, fans of the throws, dream about. Whether you knew it or not (maybe you are one who doesn't remember their dreams very well), you dream of a city in Switzerland famous for watch making, cheese, world finance, and baking. You dream of Zurich. Sure, in Zurich you can find the best and most expensive watches known to man, wonderful food and drink, beautiful people, and rich history. However, track fans come to Zurich for Weltklasse. In two words, Weltklasse is "world class." The Weltklasse meet can easily lay claim to the title, "World's Best Track Meet." One look at the stadium records will find numerous current world records. Too many former world records to count have been set at Weltklasse. Letzigrund stadium is world class, as are the fans. They truly appreciate track and field. They are relentless. Between the pounding of the track-side signs, the organized cheering and chanting, and the track and field action, there was not a moment to catch your breath. Five hours disappeared almost instantaneously.
Before settling into Edinburgh, Scotland for three months of graduate work, I wanted to visit London, Munich, and Zurich. My good friend, and former javelin-throwing teammate, Jason McMullen, accompanied me. Jason was hoping to be competing in the Weltklasse meet, however his 60-meter effort from Mt. SAC did not make the cut. So we were both merely spectators, which was fine with us.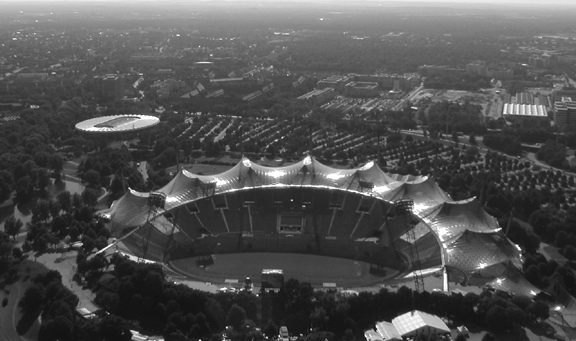 Obviously, Weltklasse was just a few weeks before the Olympic Games. This may have had quite a negative effect on the line-up of any other meet; however its effect on this lineup seemed minimal. Weltklasse has no shortage of prize money and appearance fees, so few of the big names were missing. Furthermore, Weltklasse is part of the Golden League, so any athlete who was still in the running for a gold brick surely wasn't going to sit this one out. As you know, due to scheduling constraints, the Golden League meets cannot feature all of the track and field events. So, the only two throwing events this year were the men's discus and men's javelin. Hey, life could be a lot worse. Our seats were in the standing room area of the north side of the stadium. Between throws, we could follow the exciting action of the women's high jump. It was difficult to watch Blanka Vlasic and Amy Acuff compete; however, we forced ourselves because we are true fans of the sport!
The men's discus was one of the first elite events to get under way. The competitors passed in front of us as they were led to the circle. This gave anyone who wondered what physical dimensions were required to be a world-class discus thrower the answer they were looking for. Simply, these were massive men. I laughed to myself as I watched Fazekas, whom many consider to be on the smaller side. He is by no means a small man. But hey, big men can be found in any McDonald's, on the local road crew, or at the bar. These guys, on the other hand, were immensely large, proportional, lean, fit, athletes; true statistical abnormalities. They began warming up. Standing throws near the 60-meter mark were not uncommon. Slowly, full throws started increasing in distance. 63 meters, 64 meters, 65 meters, 66 meters, 67 meters. It became very apparent early on that there were three throwers who were far and away the class of the field. Kovago, Alekna, and Fazekas were men among boys. If they were the men among boys, then Kruger and Riedel were teenagers. Not to take anything away from the other competitors, however, it was clear to any novice that there would be three throwers battling for supremacy on this day.
Back to the warm-ups. Alenkna only was in the circle about three times before he was escorted away to participate in a mid-field display for the fans. This was to highlight the top athletes at the meet. What a display of talent on the infield! El Gerouj, Allen Johnson, Hestrie Cloete, Alekna, Felix Sanchez, Chrisitan Olsson, and others. Alekna returned just in time for the start of the competition, and did not look entirely comfortable. He opened up at 66.96m in the first round, which was not entirely impressive, however, good enough to lead over Riedel (66.72m). Clearly, Lars is near the end of his career and it was obvious that his muscular development is not that of even four years ago. Nonetheless, he was genuinely a fan favorite, always smiling, laughing, and acknowledging the crowd.
Franz Kruger, Alekna, and Reidel all displayed their classic form, which sees little-to-no reverse. This East-German style almost appears slow to the spectator; however, when you are over 6'5", speed is not as much of a necessity. The young Hungarian thrower, Zoltan Kavago (watch out for this guy!), and his countryman, Robert Fazekas, were also fan favorites. Absolutely attacking from the back of the circle, they quickly were in first and second after just the second round, which saw Kovago unleash a massive throw of 68.93m and Fazekas nearly match him at 68.22m.
Germany's Michael Mollenbeck seemed to struggle with a massive collapse in the middle of the throw, while Carl Brown strained to hit a power position that would enable him to finish the throw with a high level of dynamism. The U.S. champ, Jarred Rome, did not look comfortable. Surely, this was the highest level of competition he had seen and it appeared that he tried to match the leaders rather than staying within his abilities.
Surprisingly, Kavago responded in the third round with another 68-meter effort, however, the final saw him return to the 66-meter range. This would be a battle between the two most dominant discus throwers of the past few years. It was very clear that Alekna wanted the win. Money and pride were both on the line and the Olympics were only a few weeks away. Fazekas would not be denied, however. His third round effort of 69.13m put him in the lead, but his first throw of the final closed the door. The crowd on the near end of the stadium erupted as Fazekas landed his discus nearly on the 70 meter line (69.77m). Alekna would not bow out easily. The crowd knew the stakes and supported him mightily. His fourth round throw of 69.21m moved him into second and made most of us believe that he would pull out the win. Unfortunately, Alekna tried to do too much on the last two throws and did not look technically sound at all. He wasn't able to better his fourth round effort. Winner of round 1: Fazekas. Round two awaits in about three weeks.
Only a few weeks before the Weltklasse, the men's javelin competition had true promise. Sergei Makarov, Alexandr Ivanov, Boris Henry, and Breaux Greer were all on the competitor's list. Ironically, Greer was the only one of the three to actually compete. The quality of the competitors was diminished. However, the quality of competition certainly did not suffer. There were some notable athletes present. Although Raymond Hecht looked like an absolute shell of his former self, he is nonetheless still Raymond Hecht. Anyone who has twice thrown over 92 meters and still holds the Weltklasse meet record (92.28m) always commands respect. Talented javelin throwers Eriks Rags, Esko Mikkola, and Tero Pitkamaki were also competing. The Fin, Mikkola, is enjoying a bit of a comeback as of late (as is Matti Nahri). Both competed in the NCAA. The Finnish Champ, Pitkamaki is a very talented and exciting young javelin thrower. Possessing a lean and proportional frame, Tero is athletic, smooth, and extremely quick. He certainly has a future. With a little more strength, maturity and development, Tero should be able to hit the block, which will correct his apparent problem of bailing out and launching it down the left sector line (he is right handed). With so many of the dominant javelin throwers nearing retirement, the future looks good for guys like Greer, Pitkamaki, Nahri, Mikkola, and a handful of other European throwers.
The real story of the men's javelin competition was the invisible barrier, which meet management placed at the 80 meter mark. Surely they would claim there was no such thing, but I know better. It became almost comical as approximately 25 competition throws (and countless other warm-ups) fell within a few meters (over or under) of the 80 meter mark. Two things became very clear as the competition progressed. First, there were only three throwers who were significantly better than 80 meters (Greer, Mikkola, and Pitkamaki). The other issue was in what round would Greer win the competition?
Greer, sporting the backward, Boris Henry-esque baseball hat, looked massive. The physique, long hair, and knee brace conjured up images of professional wrestler "Triple H." The difference? Greer has a much stronger arm than Triple H. In fact, Breaux has a stronger arm than any other javelin thrower in the world. Who knows? He might have the strongest arm in the world. The real test will come when he goes head-to-head with Roald Bradstock in a golf ball throwing competition. Until Greer and Bradstock can go head to head, Greer has been focusing on javelin. His arm has been making all the difference in the world since his knee injury earlier in the year.
Breaux was in fourth place until round three, where his effort of 83.22m moved him into second behind Mikkola, who also threw over 83 meters (83.60m). Often in the competition, it looked as though Greer might not go on. After each throw, he limped off the runway, clutching his knee. He then took a seat on the nearby bench. Amazingly however, Breaux was able to throw over 80 meters with a left leg which was bending to nearly 90 degrees on the block! Mikkola was looking physically stronger than at any point in his career; however, Greer just needed one mediocre block on the injured left leg in order to win. Meanwhile, Tero was flirting with contention; however, he struggled to put it all together (he had at least one sector foul on the left side – very rare for a world class right-handed thrower). He did manage to catch one in round five (82.58m), which secured him a solid third place finish. It eventually came down to Greer's last throw, who threw before Mikkola. Greer asked for the support of the crowd, who gave him their all. Greer returned the favor by seemingly ignoring the pain in his left knee in order to finally brace the left side adequately. Amazingly, the sub-par block was good enough for him to destroy the field with sixth round effort of 86.52m! It was an absolute brilliant delivery, and one of the best throws of his career. Clearly, this was a pivotal throw for Greer – as it may have helped to provide him with the confidence that even with a severe knee injury, he has the ability to compete with the world's best at the Athens Games. Obviously, Mikkola did not better Greer's mark – as he really does not have the ability at this point in his career.
Before we knew it, the evening was upon us and the meet had ended. We left Letzigrund Stadium with thousands of the best track and field fans in the world. Next on the horizon, the Olympic Games in their original home of Athens, Greece. Unfortunately, the Beijing Games are a four-year wait. However, for true track fans, Weltklasse is only a year away. Is it too early to order tickets? *LSTJ*