Success After Surgery
RYAN YOUNG MEET TOMMY JOHN
By Glenn Thompson
If you are not a javelin aficionado, a fan of UCal Berkeley FIELD and track, an avid reader of the Kitsap Sun's daily sports page, or Kathy Felix, you may never have heard of Ryan Young. On June 24, 2011 at the USATF Outdoor Track and Field Championships at perhaps the most revered and attractive theater for this great sport, Eugene's Hayward Field, Ryan Young stepped onto the big stage and kicked in the door to opportunity.
We'll let Ryan describe this shining career moment, the moment that his potential was realized.
Ryan Young: It was an indescribable feeling to finally perform the way I always knew I was capable and on that type of stage. This meet was the culmination of learning experiences from my pervious failures during my college career,
My prep going into the meet was to focus on the first three throws from a shorter approach, to get into finals and gain three more throws. Once I accomplished that on an awful technical throw (punched the power way over the top of the javelin and the angle stayed negative). That was a huge relief for me. I had qualified for finals.
There was no change in placement after Round 4. I loosened up and was ready to make something happen. Going into finals I was in 6th. I figured out the rhythm to the approach, and I turned to Coach Miller and said "I got this, I know what I need to do."
In the 5th Round Corey White opened with a 75m throw and jumped into 3rd place dropping me into 7th. That fired me up big time!
With the confidence of the 4th round throw and the fire of competition in my eyes, I moved down the runway for my 5th throw, feeling the most connected with the javelin that I ever had. I moved through the penultimate, got the feet down quicker than I had all year, and ripped on it. I knew when I let it go it'd be a good one. I just wasn't sure how good.
I saw it land and waited for what seemed like forever for my numbers to be flashed up the results board...2 (place)…Young…5th (round)…77.63m…(254'8") came up. I was ecstatic for a brief instant and then realized I had more in me.
The next two throwers both improved, Cyrus Hostetler threw 77.84m…(255'4"), and Sean Furey threw 77.99m (255'10"0). This dropped me into 4th but only 2 feet off the leader, Mike Hazle, at 78.22m…(256'7"). No one improved on their final throws. Even though I got 4th, it was still the highest I've finished in a big meet and a PR, so I was excited about the result.
Placing 4th I still have the opportunity to chase the A standard of 82m until August 8th. This will earn me a spot on the USA World Championship team. So, I'm in the process of setting up meets and figuring out how to reach that elusive A Standard. If I am unable to achieve the A standard, I should have the opportunity to represent the USA in the Pan Am Games in Guadalajara, Mexico in late October.
All things are looking up and, as you say, this year is only a spring board to bigger and better things as I push forward to make the 2012 Olympic Team in London.
Flashback with us to get a feel for the rocky road Ryan Young traveled through his collegiate years until he met Tommy John.
At the first meet of his freshman year, 2006, at the University of California, Ryan Young from Little Norway, Poulsbo, Washington, a stone's throw west of Seattle across Puget Sound, raised many an eyebrow by heaving the Javelin 232' 10". This performance was the 7th all-time best throw for an American junior (19 and under) and moved him past Breaux Greer on the Junior Leader Board. Greer is the current American Record Holder (91.29m…299' 6").
The sun appeared to be shining brightly on the javelin career of UCal Berkeley's Young, but Ryan's progress was hampered by injury after injury at California.
Recently Long & Strong spent a few moments talking with the former Golden Bear's thrower as he appears to have conquered his ailments, thanks to Tommy John surgery, and is now bigger, stronger and much more Javelin savvy.
Is Ryan Young now ready to become what the throwing community all thought he might be, America's next great Javelin thrower?
Long and Strong: How did you develop the passion for the javelin?
Ryan Young: I would say that I first developed a passion for the javelin in 2008. I had thrown it in high school and won 2 state titles and then my first two years of college, but I never really understood what being a javelin thrower meant. It was Martin Maric, a discus thrower from Croatia, and Jonas Hallgrimson of Iceland, who introduced me to lifting and javelin videos. At that point I began to watch and analyze video and make my training a priority, and I really began to enjoy it. That passion has continued to today and made me what I am and will become.
L&S: You raised quite a few eyebrows as a frosh at Cal Berkeley when you passed Breaux Greer's U-19 national best.
RY: I'm not sure what his best was at that age. I threw 232'10" as a freshman. I wasn't aware until several weeks later that I had become (at that time) the 7th US Junior all-time. It was pretty cool to know and certainly made me believe that I had potential in the event.
L&S: Summarize your career at the University of California (Berkeley)…the highs and lows.
RY: My collegiate career at Cal was certainly full of highs and lows. My freshman year was the first time that I had trained specifically for the javelin. Despite a spondy fracture in my back early in the year, which caused me to miss time training, I was still able to throw. I saw results quite quickly and threw close to 200' in the winter meet just only a few weeks after picking up the javelin.
I followed up with 224' and 228' throws at back to back all-comers meets in February and then in my first collegiate meet in March, I threw 232'10".
After that I tried to overthrow and forgot how I threw 232'10. I qualified for NCAA's, which were a great experience; however I was throwing with a torn cartilage and a beginning or a slap lesion tear of the labrum in the throwing shoulder. This injury required surgery, which I had in September of 2006.
After having the surgery rather than rushing back, we decided to use my redshirt year. It was a year that I failed to take full advantage of my time. I didn't rehab as well as I could have, which may have prevented the injury.
My 3rd or redshirt sophomore year, was a good year. I learned a lot about what it means to be a javelin thrower, how to train, the importance of weight training and flexibility. This set the framework for the rest of my career at Cal.
At this point I was still kind of chucking the javelin, but I began to understand how to throw the javelin, by better understanding kinetic movement, and how timing and speed played a role. As I got stronger and more explosive I was able to throw farther and became more consistent.
My favorite moment up to this point was at the Pac-10s in Tempe, AZ. I was sitting in 3rd place going into my last throw of competition; I remember I was feeling good but was pressing and trying to throw too hard (chucking the javelin as I call it), but Coach Miller pulled me aside and just told me to have fun. Find the focal point and just focus on alignment and hit it.
On the next throw I threw a (then) PR of 235'2" and moved into second place and helped the team secure 4th place at the Pac-10 championships (its highest finish in several years). It was only a 3 foot PR and I certainly put a lot of power into it, but I missed the point pretty badly (putting power way over the top of the javelin, so its angle stayed negative the entire throw). Had I hit it just a few degrees differently…??? I'm not sure how far it would have gone, but it certainly opened my eyes as to how far I could throw.
My junior season, I got much stronger, adding nearly 40k to several of my lifts. That number sounds outrageous but when you have very little strength like I did in high school and are just learning the Olympic lifts, going from 100k to 140k wasn't that crazy. I was able to take all that I learned the year before and apply the concepts to this year of training. I was able to PR at the Jackie Joyner Kersey meet at UCLA throwing 76.45m (250'10").
My senior year was a big frustration. Fall training was absolutely great, was probably the healthiest I had ever been throughout the winter and into the beginning of March.
The elbow started bugging me a little but never interrupted throwing. I was throwing 72m from 3 crosses and on almost every throw. It looked like it was going to be a promising season, but then in a throws session in early March I felt a huge pop in the elbow and knew something was not good.
As I later found out my UCL had torn right off the bone and would require surgery. Despite that, I used the last 3 weeks of my college career to pick up the discus for the first time since high school and threw 153' at the Pac-10 meet. I placed 14th.
L&S: Ryan, describe the sequence of events that lea you to Tommy John surgery.
RY: The UCL injury was one of the most frustrating experiences I've had. UCL injuries are usually over-use injuries. I think it started in the weight room, I remember catching a few heavy cleans, which were a bit sketchy with elbows out, then the heavy overhead squats, with a lack of shoulder pre-hab and ther-a-band work.
I started to feel pain in the elbow at night, but nothing while throwing, so I didn't think much of it. Every throw I took in March, I was throwing around 72m from 3 crosses.
Then I started to throw with a full approach. On a throw that was supposed to be a light rhythm throw, I left my arm down and pulled just wrong. That's when I felt the pop.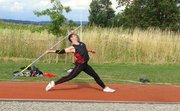 Ryan Young
L&S: What were the potential positives your doctors discussed with you? Were there any risks mentioned?
RY: Tommy Johns is a tricky surgery. Some people come back stronger than before. The reason for this is that Tommy John is an over-use injury and over time small tears in the ligament produce weakness for the total tear.
So the positives are that I would get a new ligament and have it be tighter. The risks, of course, are that it could have set me back a long time, because recovery can be unpredictable. There is also the risk of nerve damage since during the surgery the nerve must be moved.
L&S: Tell us about your rehabilitation process. How mentally and physically stressful was it? What was your focus as you drove through rehab.
RY: The rehab process was a bit daunting at first. I was in a soft cast at 90 degrees for 10 days.
The rehab was mostly shoulder exercises. The reason for this is that when throwing an implement like the javelin the run-up is used to accelerate the implement and the final block position allows the kinetic energy to be transferred from the ground up into the javelin itself. The joints in the body are critical transfer points and often the weakest link, with the elbow and shoulder usually the least consistent.
As far as stress goes, it was difficult, the hardest part was wondering if I was going to be able to come back, and there were other doubts that would creep into mind after a major surgery.
Physically, it was so stiff and sore for the first several weeks. Just getting full extension was difficult and then the muscle atrophy made the rest of the rehab process very strenuous. However I consider myself a very driven person, and I set my mind to getting back. I've had friends that have come back from Tommy John and thrown well, so that helped fuel me, too.
I hit the weight room more aggressively than was recommended but stayed within myself and backed off if I had a lot of soreness.
L&S: Did you ever reach a point where you wondered if it was worth all the blood, sweat, toil and tears? If so, what kept you going?
RY: No. There were certainly times in my career at Cal that the frustration of injury got me down and may have made training less productive. I knew that I could throw the javelin, I had so much support from family, friends and coaches, especially my mom. The desire and will to put certain things behind me and push through is something that has helped me become the thrower I am and will help me become the thrower I believe I can be.
L&S: Have you tested the Tommy John surgery and are you now the thrower that you want to be?
RY: I began throwing baseballs as part of a rehab program and then started to throw arrows in December. I began with the men's javelin in mid-January. The process was slow, but I think that it allowed me to correct technical and training issues that may have been the root of why the injury happened in the first place.
I tested it out for the first time in a meet at Cal's Brutus Hamilton Invite on April 23rd and had the 2nd, 3rd and 4th best throws of my life. It was definitely my best-ever series. My goal entering this competition was to stick 72m and hit the U.S. Nationals automatic qualifying mark.
I threw 75.33m on my first throw from a short runway, and I was very happy with the result. My second throw was a technically a better throw but was cramped on the line, and I fouled.
I feel that I am set up to throw well down the line.
L&S: What changes, if any, might you be making in your technique and mental approach to the spear?
RY: I have learned a lot about myself and ways that I can train better over the last 2 years. Javelin throwers are always trying to make technical changes. For me the biggest thing was staying in control of the speed I was bringing in so that I can make the approach a constant acceleration and deliver that into the Javelin.
Mentally, I have changed the way I approach the event. Now I take a real serious mental approach but also allow time for fun in training. Creating a fun, enjoyable training environment is a key for me. It helps keep up the desire to come to practice and accomplish everything I need to.
L&S: What assets do you possess that make you an elite javelin thrower?
RY: Well my size, strength, and speed help. My 6'6" frame is something that can't be taught. I have worked very hard in the weight room to bring my strength levels up to par with elite throwers: 125kg Snatch, 160kg Power clean, 180k Front squat, 160kg jerk, and 237kg back squat.
My dedication, work ethic, on and off the track, and focus on recovery training puts me a leg up on other javelin throwers. I have also become a student of the event, which allows me to break down my own film. In my opinion, this is a requirement to become an elite javelin thrower.
L&S: What are your goals and plans for the future?
RY: My goals for this year are to get back to a competitive level, establish myself as one of the elite U.S. javelin throwers going into the 2012 Olympic year and to be top 3 at U.S. Nationals.
I'd like to throw 80m this year, but I want to make sure I get through this year healthy and set myself up for an even better year next year, so that I can hit the Olympic A standard next season and hopefully have a shot to represent the US in the 2012 Olympics.
L&S: We know you feel strongly about giving-back to something that has been so good to you and do so by coaching and teaching youth javelin clinics. What else is Ryan Young doing in the city by the Bay?
RY: To be honest, training is pretty much my life, I wake up planning and prepping for that day's training. I go train, lift, eat and do my best to recover for the next day's training.
In my free time I hang out with friends and watch sports or comedies. I occasionally go to the beach when it is actually warm enough to do so, toss the football or play ping pong. We also have a house dog, a Rottweiler/Lab mix, whom I take for walks, play tug-of-war and wrestle.
L&S: When we last interviewed you in the spring of 2006, you were "a small town boy getting accustomed to the bright lights of the Bay Area." How has the big city and UCal changed Ryan Young?
RY: I would say the Cal has opened my eyes to some things, such as other cultures and helped me gain some perspective on the world. I am definitely more adventurous when it comes to food. I have gotten used to the noise of a city and prefer ambient noise to dead quiet.
The 2011 USATF National Championships will serve as a barometer for the development of this talented and athletic young man from Little Norway. He is healthy, dare we say bionic, thanks to his friend Tommy John and the word quit is not in his lexicon.
Ryan Young has grown as a thrower. All appears in place for this former Golden Bear to achieve his goals. Will the energy generated by a knowledgeable and very athlete friendly fan base at Eugene's historic Hayward Field translate into the medal stand for Young. Stay tuned. *L&S*