VOLUME 1,
ISSUE 2
September, 1998
TABLE OF CONTENTS
LETTER FROM THE EDITOR
Nonsense from me...
READER RESPONSES
More nonsense from you!
BITS AND PIECES
Whatís happening?
NCAAs
Coverage of Divisions I, II, and III
UP AND COMER
Finnish Putter Arsi Harju
USATFS
Godina makes a historic double
THE PHYSICAL WINDOW
Ken Sprague on Youth Training
JEREMY ALLEN
Impressive Numbers from DT Prodigy
US JUNIOR CHAMPS
Borschova remains undefeated
GOODWILL GAMES
The U.S. Takes on the world in the Big Apple
DISCUS TECHNIQUE
Masters Champ Mike Hambrick gives his formula for success
EVERYBODYíS
ALL-AMERICAN
Super Prep Nick Welihozkiy
MASTERS NATIONALS
Big performances in Maine
MASTERS PROFILE
Interview with Tom Gage
INTERVIEW WITH
KURT PAULI
The President of the North American Scottish Games Association
TOM GAGE:
NO TAMING THIS TIGER
By Glenn Thompson
Many Masters competitors know Tom Gage as a dominant hammer thrower and multiple age-group record-setter. But thereís a great deal more to the man...
Long & Strong: Tom, what was your first exposure to throwing?
Tom Gage: In my early adolescence I wanted to be a pole vaulter. I began vaulting in the 8th grade into a sawdust pit with an aluminum pole! Later in high school I went out for track and after bending several of the school's poles, the coach suggested that I try throwing. We learned together as he was a former vaulter from Slippery Rock. I still pursued vaulting (12 feed on steel pole) and was Virginia state decathlon champion, made the finals in short hurdles and dnp in the shot at states.
L&S: Lets split your career into two parts. Tell us about yourself as collegiate/open competitor.
TG: Having only a mediocre HS career, I was a walk on at Cornell University. Track there was a pretty laid back varsity sport and I did pretty much as I wanted but the coach did suggest trying this strange implement called the hammer ... so I did and have been hooked ever since. Before leaving college I did reach 59'2" with the shot and 199'11" as a senior in the hammer. I had one more year at Cornell completing my masters in Chemical Engineering, and during that year did compete in the hammer throwing 212 n Puerto Rico and something like 215 in the Open Nationals. Ed Burke and Hal Connolly were 1, 2 respectively. After the meet I drove to Montana to start my work with my employer of the past 32 years, Exxon. I also basically gave up the hammer, having no idea where or when I might ever compete again. But Fate had other ideas. Hal hurt his back and could not compete for the US Team scheduled for a meet against the USSR
and the Poles. I substituted for him. And roomed with Ed at the first meet (which was against someone else because the Soviets backed out). Ed took me under his wing that week and I improved to 220, I think. After that Ed and I were strictly competitors! But we have always remained friends. Ed was for that short week the only coach I've ever had.
L&S: Tell us about your Olympic experience in Munich.
TG: With the help of the NYAC and my family I continued to compete sporadically, as I had a family and a full time job. In 1967 I made the Pan Am team where my wife and I honey-mooned! I think my 218 was a Pan Am record. The next year is somewhat blurred. I won the Olympic pre-trials in June and was awaiting to compete at Tahoe when word came in that my father had died. I left to be with my family.
The next two years were not noteworthy. But in 1971 things started to come together. I eventually reached 233 at Berkeley (Dave Maggard was one of the few meet directors which managed to find money to fund the trip from Baton Rouge, LA). That was my best year, winning the Nationals n Miami at 228 or something like that. Then in 1972 brought the Games. I won the trials at Eugene at 230' I think.
Off to the big games. It was exciting. Marching in with the team had the neck hair at full attention. My wife accompanied me and we did a lot of touring. On qualifying day I struggled to hit the 65 meter qualifying line, making it on the 3rd and final try. Then we had to wait as the Games paused for a memorial to the slain athletes. On finals day I have one recollection: wait, wait, wait, and then wait. Eighteen throwers made it to the final day. The officials would not allow a throw if anything else was going on (heats for one of the running events were contested concurrently). Hence it was anywhere from 10-25 minutes between throws. I had had no preparation for this while to me it was obvious that everyone else there throwing had. I managed 69 meters for 2th. And as the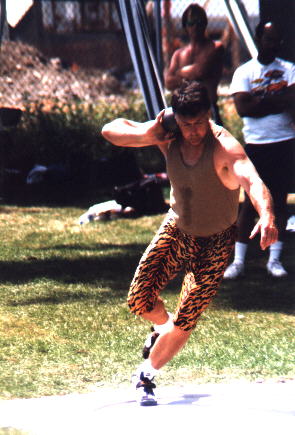 non-finalists were led from the field, I traded shirts
with a guy from Yugoslavia, went into the stands and watched Bondarchuk win at 75 meters.
L&S: What are your recollections of the hostage situation?
TG: The hostage situation was tragic. And we were all angered when the Eastern Block did not participate in the memorial ceremony in the Olympic Stadium. But I had to block most of it out in order to compete on the final day. My wife had been accompanying me into the Olympic village prior to that on a fake pass but as you might guess that came to a halt! Did not even try!
L&S: What do you think is the key to your throwing success?
TG: My main ingredient to throwing success in probably luck. But that is a copout. Of course physical characteristics, genetics, play an important part. Relatively short legs, long torso and arms contributed to good throwing. I enjoyed the success. It was an addictive thing, always looking for that perfect throw at a big meet. Persistence and determination can be more important than talent. But luck allowed me to evolve (with no coach) to a technique that made the hammer go farther. I started to feel the hammer and not throw it! What little instruction I got was through viewing others in the US and most of us were draggers! I managed to get the ball closer to mystical 180 degrees, moved the low point to 0 degrees in the entry, all by slow evolution and a little by accident. It just felt better that way. The perfect throw if I ever had one was Berkeley in '71 at 71 meters! I visualized the throw all night, sleeping but little. I was a 3 turner then, and I remember that my winds were extremely violent without detriment to the entry, so I had 3 turns where I felt almost as I were floating on the hammer. I remember seeing the sky for all three turns, as it turned 360, but I was the center! It is smooth, continuous feeling as the weight of the ball mounts before the release. It was effortless. I saw the ball enter my vision of the sky nd disappear from the field of view.
L&S: When did you decide to focus on Masters competition and forego Open meets?
TG: In 1975 I ruptured my left achilles tendon. It took a full year to heal and I lost 8 " of vertical leap. My job took me to Belgium in 1976, where I tried to come back. But the best I could manage was 65-66 meters. At the 1977 Nationals at UCLA we discovered that the hammer was to be contested at Long Beach State. I went ballistic and called the meet management all the names I could think of and then I made up some. It was my last real open meet. I remember in the middle of the 3rd throw thinking, " This is the pits. We get no recognition, no help, throw in cow pastures, and I am not having fun.". I quit.
I coached voluntarily here in Montana for a small college women's team. I stayed fit playing basketball, running, biking and lifting. And then a couple of the meets allowed unattached throwers (no hammer, of course) so I threw the shot and discus for a little fun. About the time I turned 40, Mike Carignan (throwing coach at Montana State Univ - Bozeman)
called and urged me to throw the hammer in the Montana Masters (which he organized). I did and as they say the rest is history. I had put the past behind and was prepared to have some fun throwing. I enjoy training and the mental challenge of throwing for a mark. The latter is an elusive skill as we grow older. Some days it just will not surface and the throws are mechanical and not emotional.
L&S: Contrast your weight training philosophies, in your 20's and now.
TG: Lifting was hardly known to me or my high school coaches. In college we knew we were supposed to do some but it took a power lifter to show me what ... so I did benches, squats, and deadlifts and a really new thing call isotonic, isometric combined lifts! Too late I learned cleans, snatches, and the wide variety of twisting lifts that I do now. My big problem in the weight room now is over training - going too heavy. A 55 year-old body does not recover as fast and is more susceptible to injury.
L&S: What were your max lifts when you were younger? How about now?
TG: Best lifts as a youngster: back squat 250 kilos, dead lift 275 kilos, bench 135 kilos. My early olympic lifting came in my late 30s and were: snatch 110 kilos, clean 140 kilos. Now I front squat mostly (150 kilos), seldom bench for any max, snatch 95 kilos, deadlift 230 kilos.
L&S: Do you have much opportunity to compete locally in Montana or do you travel alot?
TG: After the Montana Master's meet died a few years ago, we have only the State Games for local competition. So I travel to selected meets like Reno, Hayward, Nationals.
L&S: You own some pretty wild competitive wear. Is that any reflection of your personality?
TG: I like to make the competitions fun and funky outfits liven up the scene. In order to compete well one must be an exhibitionist, dressing the part is one way to prepare!
L&S: You appear to be taking very good care of yourself. Noticed after the hammer in Maine, you were gnawing on a block of cheese. Any hidden secrets to stayng healthy?
TG: I don't believe there any secrets. Most of the hyped nutritional supplements are mostly placebos. If you think you feel good you probably do! DHEA is dangerous and creatine has potential serious dehydration effects. Creatine occurs naturally in red meat and I love steaks and hamburgers! As you age your body makes less DHEA. So be it! Eating
healthyily only makes good sense. The 40-40-20 diet has always made sense to me. I like to find the foods that have all the good stuff and use those rather than find a pill. Naturally occuring nutrients are balanced in the food form and potentiallly unbalanced in the synthetic form. Studies have shown that Beta carotene alone has little or no effect on systemic oxidants while a balance of carotenoids (there are like 20) as in an orange which (has almost all of them) definitely reduces oxidants.
L&S: What is your profession? When not training or throwing, what does Tom Gage do for fun?
TG: I hunt, backpack, fish, bike (cross country touring), roller blade, read voraciously, coach kids, trailer camp (cross country), ski (downhill and x-country) and my work has almost always been fun. I have retired from Exxon but will pursue my career as a consultant. *LSTJ*